Steve Cooper explains why data analysis will be the key to industry-wide sustainability
When it comes to construction, green building practices have become a much bigger focus. Companies across the industry are under pressure from governments and customers alike to build as sustainably as possible – in both their design and their construction processes. There's not only a greater requirement from clients for more green buildings, but community and public expectations have made sustainability a crucial part of any construction company's corporate social responsibility (CSR) initiative.
Sustainability regulations and carbon targets, designed to tackle carbon emissions that come from the built environment, currently standing at around 40 per cent of the UK's total carbon footprint (according to the UK Green Building Council) have made sustainable development methods a high priority. To manage this challenge, construction companies could look at data analytics as part of a solution.
Data is key
The construction industry has an interesting relationship with data. Where some industries have become extremely mature in terms of the way they're using data analytics due to the nature of their work, many construction companies are not as established in their adoption. At a basic level, businesses across the sector are turning to data for carbon counting, showing where they are against sustainability targets – a compliance measure for companies looking to reduce the risk of being penalised for being in breach of UK carbon regulations1.
But so much more can be done with data across the industry – in fact, if used to its full potential, data analytics can overhaul the way we construct not just individual buildings, but entire cities and major public infrastructure projects. Rather than using data to simply look at how sustainable we're being with our construction methods now, we can turn to data analysis and apply those insights to the entire construction lifecycle through the plan, build, operate phases, making sure any new builds run as sustainably as possible in the long term. Used correctly, data will be the key to moving the construction and engineering industries towards sustainable development methods.
We can see this in the construction of smart cities. As we start to get smarter in the way our will rely more on data analytics in everything. That's because many smart cities have access to live data from the built environment providing insights into efficiencies, emissions and how citizens are using the city.
They're designed to operate as efficiently as possible because they run according to how their inhabitants and citizens want to live. They take and create data in a cyclical fashion: using information to inform how they should run – but also sending new insights back, so incremental changes can be made to improve the way they operate.
Cities like Amsterdam are a great example of this. They've become 'smarter' by bringing technology to their centuries-old infrastructure, becoming more sustainable by making changes after analysing data from city-wide IoT-empowered edge devices, improving aspects such as traffic congestion, energy use, and water waste.
But these insights aren't just taken to help construct more sustainably in the present. Indeed, the data these devices capture, when analysed, can help to inform the future development of any new capital asset or city in its entirety, sustainable from the word go. Take cities like NEOM and Al Qiddiya in Saudi Arabia, both are being built from the ground up. They provide a great opportunity for construction companies involved to analyse and use data from existing urban cities, so they can build sustainably from the beginning.
Getting smarter
On a smaller scale, any building or piece of infrastructure that's constructed from here on in can be built using data analysis for maximum sustainability. That can be in the construction itself: using data to constantly refine development methods to be 21more sustainable, or to constantly address carbon footprints based on insights from previous projects. Data analysis can also be used to reduce waste throughout the construction lifecycle. If we can take data from existing smart cities and buildings to understand human needs, trends and behaviours, then the buildings can run as resource-efficiently as possible, and significantly reduce carbon footprints.
The pressure is on, but construction companies have the opportunity to adopt data analysis to help them build more sustainably. There's so much information available to not only improve construction methods, but to acquire a better understanding of what humans really need from buildings and cities. Data analytics will change not only the way things are built, but what will be built. As the world gets smarter, we'll reap even more data from these environments and, if we're analysing and applying these insights to future builds, we'll naturally become more sustainable in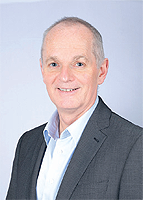 our approach, not only being greener today, but laying the foundation for a greener industry in the future.
1 https://www.designingbuildings.co.uk/wiki/Carbon_dioxide_in_construction
Steve Cooper is VP for Oracle Construction and Engineering Europe. Asset owners and project leaders rely on Oracle Construction and Engineering solutions for the visibility and control, connected supply chain, and data security needed to drive performance and mitigate risk across their processes, projects, and organisation. Its scalable cloud solutions enable digital transformation for teams that plan, build, and operate critical assets, improving efficiency, collaboration, and change control across the project lifecycle.
For more information, please see www.oracle.com/construction-and-engineering