Prioritising quality and safety, Fred Champion Groundworks celebrates 40 successful years.
As one of the largest groundworks contractors in Cornwall and Devon, Fred Champion Groundworks (Champion), continuously strives to demonstrate industry leading performance and exceed client expectations.
The business is involved in various developments across the region, from roads and sewers infrastructure to hospitals and student accommodation. Three of its latest projects are within major housing developments, which have boosted its order book by a whopping £17 million alone.
Established in 1983 by its current Chairman, Fred Champion, the business began with a single machine and three employees. Today, it has recently celebrated 40 years, and we sit down with John Cheffings, Commercial Director at Champion, to reflect on the company's journey to success.
"It all started with Fred purchasing his first machine, a second-hand Case 580 G wheel digger, in 1983," begins John. "The first swing shovel, a 580 D Hymac followed two years later, and we initially completed works for local housebuilders and developers.
"We quickly grew over the years and built a positive reputation as a reliable construction company, delivering high quality services to commercial and residential clients throughout Devon and Cornwall. As our clients grew their respective businesses, we grew alongside them, and many of those initial customer relationships still form our customer base today.
"Throughout our growth, we have endeavoured to maintain our core family values, which we believe are at the heart of our success," he reflects. "Having started with one excavator and three men, it's amazing that we now have 320 direct employees, an annual turnover in excess of £70 million, and we've just started working on our 402nd site."
John continues: "Turning 40 is such a huge achievement for us and one of which our entire team is immensely proud. The construction industry inevitably has difficulties, and like any business that has traded for a long time, we've had to navigate some challenging periods. However, we have been fortunate that our experienced teams and strong client and supplier relationships have seen us through those difficult times.
"Our people are our biggest asset; without them, we wouldn't be where we are today," he states. "Several of the original members who started with the company in 1983 have been with us for decades and those who have left have only done so due to retirement.
"We'd like to take this opportunity to thank all our workforce, past and present, for their incredible contributions that have got us to where we are today.
"As well as our employees, we'd also like to highlight our various clients for the opportunities they've presented us and all our subcontractors and supply chain partners," he adds. "We're now focusing on the next 40 years, ensuring our business model is fit for purpose and will enable us to continue on our positive growth trajectory."
As groundworks, bulk excavation, scaffolding, and in-situ concrete specialists, Champion boasts the necessary expertise to work on several types of projects,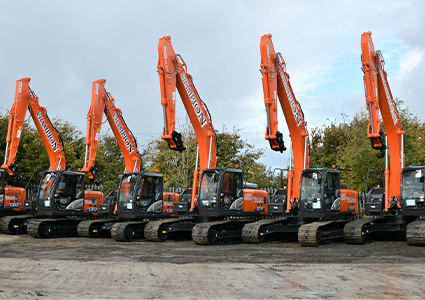 including those with complex requirements. "Our management team works closely with our clients, offering initial budget advice and value engineering solutions throughout the numerous design phases," John explains.
"At site level, we undertake a range of groundworks operations, ranging from bulk earthworks and remediation of brownfield sites, through to deep drainage and stormwater attenuation systems and foundation solutions.
"We also work on retaining structures and carriageway construction, as well as main services installation," he elaborates. "Towards the end of a project, we can also carry out plot finishes, completing either hard or soft landscaping."
John details: "Most of our sites comprise groundworks and civil engineering works for housing developments, ranging from 20 to more than 300 units per site. Our most notable project is the Sherford Development in Plymouth, which we've been involved with since 2016. It is a housing site that will eventually house 12,000 residents.
"In the past few weeks alone, we have successfully secured three new projects. We'll be working with Wain Homes on a development in Trevemper, Newquay, and with Countryside Partnerships on a similar project in Long Rock, Penzance. We're also excited to start working on a social housing project, Taverners Field in Exeter, in partnership with E G Carter."
An area that the business is particularly passionate about is health and safety, which is reflected in its impeccable safety record. "We emphasise health and safety across all levels of the company and we're extremely proud that our accident statistics are consistently low," John says. "The management team has invested heavily in reducing accidents, so that we can deliver maximum value to our clients.
"We pride ourselves on our ability to complete projects on time and within budget, while maintaining our exceptional reputation and safety record," he goes on. "Part of this is continually investing in the training and development of our employees, to ensure their personal standards meet, or even exceed, those of the company."
Aside from safety, Champion has also invested significantly in new equipment and innovative technology. "One of our key investments has been in the area of GPS machine control for most of our big earthworks and roads or sewers projects," John reveals.
"This has been a game changer for us, as once our engineers upload the GPS model to the cloud-based system, the operators are no longer required to wait for pins to be installed to give them line and level details. This has not only increased our productivity but has also led to us being more efficient onsite, as we instantly have everything we need on a screen right in front of us.
"We have also invested in two vacuum excavation units via our sister company, JAW Hire, which is another step in enhancing our health and safety systems. With much of our work involving existing live services, the introduction of vacuum excavation has changed our processes, making these jobs much safer operations.
"We're also currently in the process of rolling out a new resource management app, with the vision to go completely paperless," he adds. "Moving over to this modern digital platform will assist with safely and efficiently transferring all information from worksites to our office."
Looking to the future, John proposes: "We have exciting plans for the company, as we're looking to invest in a new plant for our fleet, which will see us expand into the ground modification and stabilisation market. This involves soil treatment, using binders like lime and cement during the earthworks process to improve the strength of existing soils. We believe this work will add significant value to the business and create opportunities to work on sites with challenging conditions.
"We've always believed in keeping hard work and high-quality service at the heart of our operations," he concludes. "However, we're always striving to improve what we do, finding innovative ways to streamline the business and the projects we complete."