A unique opportunity
The challenge of urban regeneration: redefining sustainability for the 21st Century. By Paul King
---
The challenge of urban regeneration: redefining sustainability for the 21st Century. By Paul King
Cities are increasingly having to confront a myriad of social, economic and environmental challenges, with housing shortages, rising unemployment, and the impact of climate change, among others, at the forefront of government priorities. As a result, society is demanding intelligent investment and innovative ideas, which can help inner-city locales to flourish.
Dubbed by some as the capital city of the world, London has long dealt with the challenges that go hand-in-hand with urbanisation. A study published by the Greater London Authority in 2009, Capital Consumption, showed the city needed to achieve a 90 per cent reduction in carbon emissions by 2050, the date by which the Climate Change Act commits the whole of the UK to at least an 80 per cent reduction against 1990 levels. While some 30 years off, we still have a long way to go to stand any chance of meeting that target.
But in London or elsewhere across the UK, our generation has an opportunity to redress the imbalance and start acting with the future in mind. This begins with the realisation that human development cannot ignore environmental limits. Although it is essential that urban areas are regenerated and rejuvenated, it is vital they are done so in a way that will continue to meet people's needs for years to come. Creating sustainable, resilient communities that stand the test of time should underpin our approach to urban renewal.
But what does it mean to be truly sustainable in the 21st Century? First coined in the Brundtland report of 1987, the term 'sustainable development' is understood as "meeting the needs of the present without compromising the needs of future generations". Traditionally, we have tended to view sustainability as being synonymous with 'green-ness' and the environment. Although true, this is too simplistic a view. Sustainable urban regeneration must, of course, be considered within the context of economic and social sustainability, too.
By nature, urban renewal requires a multi-pronged approach. One that incorporates resilient design and infrastructure, job creation, and enhanced community cohesion as key priorities alongside fundamental environmental considerations. In order to future-proof urban developments, the focus must be on improving, rather than just replacing.
And if cities and citizens are to realise their full potential, it requires new forms of collaborative effort. Some of the public-private partnerships – which bring together industry, politicians and communities to agree current and future needs – at the heart of today's large-scale regeneration projects are leading the way in delivering long-term positive social and economic change, building inclusiveness and resilience into city frameworks.
Our own £2bn regeneration Elephant Park masterplan at Elephant & Castle, which we're carrying out in partnership with Southwark Council, is a case in point. We're constructing highly sustainable homes and buildings made with the innovative materials like cross-laminated timber, which are designed to respond to resource scarcity by using renewable natural materials, conserving energy and water. And, overall, we've committed to reduce and offset more carbon emissions than will actually be generated by those that live and work in the completed development, by deploying technologies and initiatives that extend from solar panels to an onsite CHP system that provides net zero carbon energy. However, our approach goes far beyond 'green' sustainability.
We have taken a tenure-blind approach to home ownership and almost 50 per cent of the development area will be publicly accessible space, for the enjoyment of both local people and residents. We're investing in local infrastructure and strategic transport upgrades, community facilities, tree planting and landscaping, all of which are designed to create a beautiful and healthy place where people will be proud to live and happy to visit.
We have a strategy for active use of parts of the site during construction – from an interim public park that will open while construction is still ongoing to a thriving small business incubator, the Artworks Elephant, which is already home to 38 new start-up businesses. And we're further supporting local employment opportunities by both helping long-term unemployed residents from the area into construction jobs and partnering with Southwark Council to house a Construction Skills Centre on site that will train 1000 local people a year. The development will create 6000 new jobs and, to date, we've already employed 500 local people since 2013, almost half of whom were previously unemployed.
We've done all this in close consultation with the local community, taking into account their needs and what's important to them – at the start and throughout the project. And that's why this approach works: we're enabling local people to play a part in the future shape of their community, which in turn is helping us to ensure that ElephantPark is successful and continues to prosper long after construction is finished.
Our generation has a unique opportunity to act positively in response to a changing world. Although we cannot predict the future with any certainty, we can focus on the trends that are already evident: climate change, resource depletion, rising inequality, and economic disparity. If we seek to create places that are flexible, adaptable and efficient, as well as beautiful, they are far more likely to survive longer than many built in the second half of the last century.
Sustainability in urban regeneration is by its very nature complex. We know we don't have all the answers to the challenges of inner-city regeneration, but we're confident we can find them by working in partnership with the communities in the places in which we are working. We're confident that by pooling our collective insights and solving problems together, better places for people will always emerge.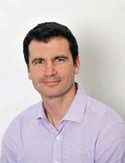 Paul King is Managing Director of Sustainability & External Affairs at Lendlease, a leading international property and infrastructure group, listed on the Australian Securities Exchange and operating in four key regions – Australia, Asia, Americas and Europe. The group has more than 11,900 employees worldwide. In the UK, it is the only fully integrated retail, residential and commercial provider delivering end-toend property solutions. The company has core capabilities in development, investment management, construction, asset and property management.
For more information, please see www.lendlease.com/uk