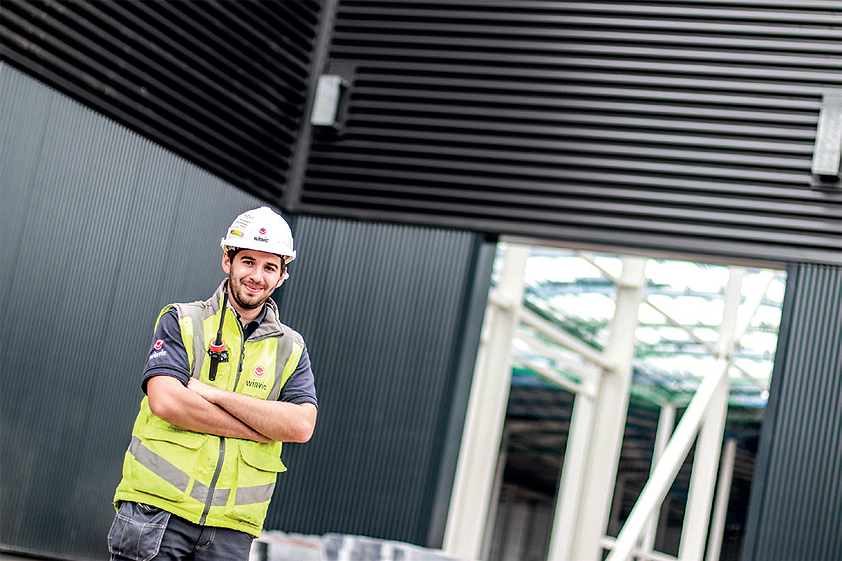 For some, social value is still a tick box exercise but for a privately-owned company like Winvic, that has always been driven by the founders' vision – to be a firm that pushes itself beyond contract requirements and 'does the right thing' – leaving positive legacies that extend beyond a physical building has been easy to embed into the culture. During this developing age of social value, we have worked with tens, if not hundreds, of local schools, colleges and universities, created jobs, donated benches for parks, picked litter, supported sustainability days,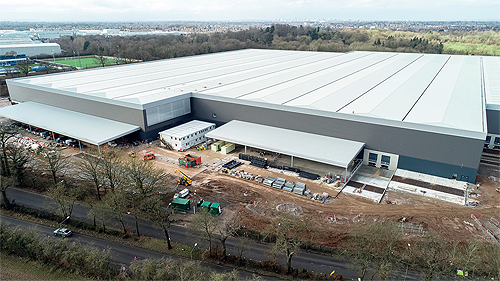 supplied community focal points with defibrillators, given materials and our time to improve sports clubs and public facilities, built allotments for schools and much more.
Furthermore, as we have historically been leaders in delivering industrial warehouse schemes, we have often had to work that bit harder and more creatively to bring benefits to those in surrounding areas. When constructing a project that is geographically very close to people's homes, businesses and schools – for example one of our multi-room student accommodation schemes or a commercial office – opportunities to add social value to communities are on the doorstep. Logistics and manufacturing parks are often located close to motorway corridors or on the outskirts of towns, so we have become adept in scouring wider areas for projects to get involved with. It's crucial that local employment, training, supply chain employment and material buying strikes a balance between being locally ring-fenced and being too local; the latter could result in activity not being inclusive of the people it should be embracing, and it's not responsible to have a narrow approach. However challenging or time hungry it is, Winvic has never shied away from the importance of social benefits when working on an industrial, or any other sector, project, and our investment last year in an in-house social value team reflects this.
Placing high significance on meeting communities' economic, environmental and social wellbeing needs, in a variety of ways, is a quality that clients hold in high regard, and in 2021 main contractors must work closer than ever before with industrial developers and end users to align corporate and project level social value ambitions. Similarly, contractors should look for synergy with their supply chains and, increasingly, comparable ethics are putting added strength into ongoing relationships. For some clients like Prologis – whom Winvic has worked with for 20-years – this element of social corporate responsibility is high on the agenda. Just like us, Prologis annually reports its progression on environmental stewardship, social responsibility and governance (ESG) across its platform: it was also the first property company in the UK to require its entire supply chain to sign-up to a Social Value Charter, meaning suppliers actively consider, demonstrate and measure social value at every stage of their involvement with a project: from sourcing goods and labour locally, where possible and providing job opportunities for those furthest from the job market, through to being a force for good in the local community. I am pleased to say that this is our aim, regardless of a signed agreement.
One current project we're undertaking for Prologis, due to complete in Spring 2021, is a new, 988,000 sq ft Logistics Operations Centre (LOC) in Solihull. Once complete, this building will be occupied by a leading automotive company. Since we started on site in January 2020, we have worked closely with all of our suppliers, naturally with an emphasis on engaging those from areas surrounding Solihull, to realise the greatest local support within the 30-mile impact area. Local employment opportunities were maximised, we were able to provide work experience and year out placements, and a large percentage of materials were sourced from within the region. We try very hard to follow these processes on every project, but of course sometimes we do have to look further afield for materials and specialist suppliers, and the project location understandably effects this. It has been very disappointing that we've not been able to host site visits or present in schools and colleges due to Covid-19 restrictions, but we have adapted to offer video call presentations. I also think it's important to note that utilising the services of Social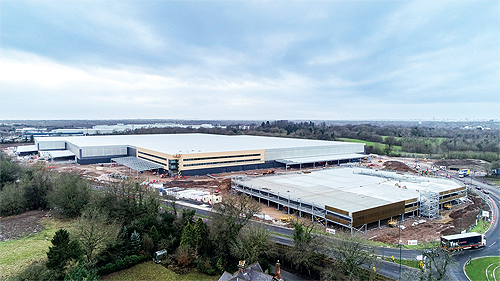 Enterprises wherever possible is a growing desire. The mutual benefits are numerous, and they have many tools at their disposal to develop stronger local economies, create local jobs and create local wealth and assets.
Local employment, training and spend is at the core of many social value project plans, and rightly so, but it's often the so-called 'softer' endeavours – the ones that make you feel good – that make the biggest difference to largest number of people. At the LOC project, the list of how Winvic and its subcontractors have assisted nearby organisations with a variety of activities is long. Examples include helping the adjacent food bank, The Barn, by replacing a timber decking walkway, repairing shelving and fencing, fixing a problem with their water supply and providing man-power and use of a fork lift to help them with off-loading deliveries. At Sean McDermott's Gaelic Athletic Association, we've reinstated the dugouts, replacing the Perspex, and at Exiles Rugby Club we've donated road planings and supplied a digger so they could extend their car park and erect new lighting on their practice fields. Then there's the road gully and catch-pits cleaning on Damson Parkway, as well as lots of hedge trimming and footpath clearing. We also created a 4×4 practice obstacle course for a local weekend rally, held a raffle to raise money for The Barn and Loros hospice.
There will always be a local individual that needs a job, a young person needing to be trained, a small, nearby businesses that benefits immeasurably from an order or a community group that needs a little help to make a huge difference to its members Sometimes we have to put extra effort into finding these people and projects when working on an out of town industrial scheme, but delivering social value is inherent in the Winvic way ethos, no matter where the scheme is located.
Danny Nelson is Winvic's Head of Industrial. Winvic Construction Ltd is a leading main contractor that specialises in the design, build and fit-out of industrial, multi-room and commercial projects, and the delivery of large-scale, complex civils and infrastructure schemes.
For more information, please see: www.winvic.co.uk