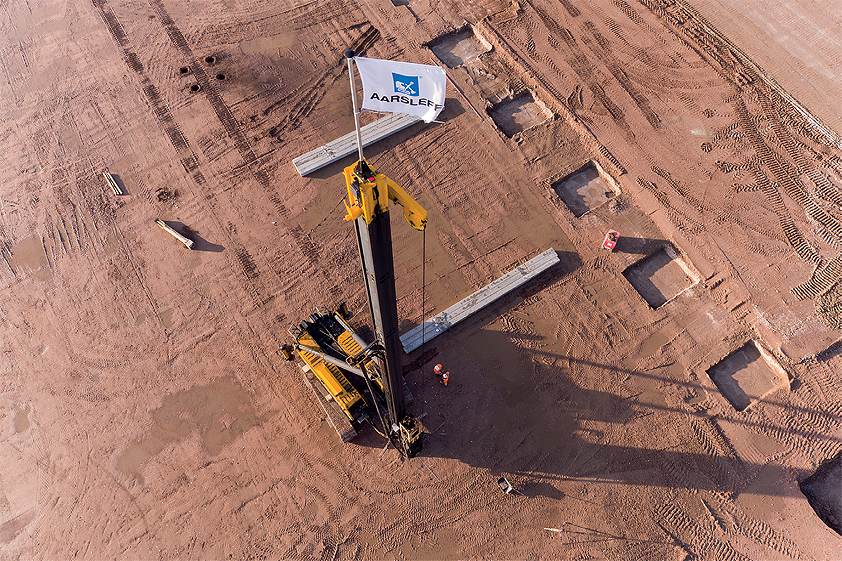 Aarsleff Ground Engineering
Value engineering
Characteristically resilient in the face of volatile trading conditions brought on by Brexit and Covid-19, Aarsleff Ground Engineering continues to bring confidence to those constructing the landscape of tomorrow
As Aarsleff entered 2020, everything seemed to suggest that the company could expect one of its strongest years to date. In the two years prior, the piling and foundations contractor had maintained its revenue levels, while focusing on a number of key end markets that offered – and continue to offer – major growth potential. Through this period of complete transition and progress,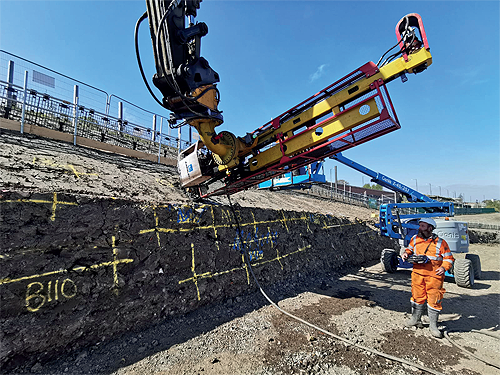 Aarsleff added complimentary services to its offering and developed its technical capabilities.
"In a nutshell, the last two years have been about realignment, fine tuning, and restructuring," says Managing Director Kevin Hague. "An example of this was when we made a strategic decision to bring an end to our ground beams service. It meant we had to absorb an exceptional cost to dispose of it out of our system, but it was better for the company in the long term. We took the view that it wasn't working, therefore we stopped and instead started focusing on the positive activity that actually works for the business.
"During this time, we also made key staff acquisitions to complement our services with the aim of getting to an ideal platform for our next level of growth. We then started to focus on some of the more technical projects, as well as the high profile, civil engineering, Tier One contracts. Everything we did was about setting ourselves up for a very busy year," Kevin declares, before adding, "and then Coronavirus hit."
Like most businesses, Aarsleff has felt the impact of the Covid-19 pandemic. Still, Kevin argues that the changes the company was making pre-Covid-19 – and subsequently implemented during Covid-19 – have all been positive. Where other businesses might see the commonplace introduction of new processes and practices as a disruption, Aarsleff's management team has seen them as a learning opportunity.
"Six to nine months ago we were in the office daily, as well as spending a lot of time on the road in the UK and Europe. What this pandemic has taught us," Kevin explains, "is that we can actually do a lot of our work remotely and online. That doesn't mean we will operate this way forever – being around other people is absolutely key for learning and gaining inspiration – but we are working on striking a balance between the two. Our model is to increase employee freedom as we grow, rather than limit it, so we have a better chance of long-term continued success. Results matter more than where we produce them."
Benefitting from what Kevin describes as a 'dynamic' team with a 'can-do attitude', Aarsleff reacted quickly and positively to the Coronavirus outbreak in early 2020. Working in line with government guidelines and regulations, the company continued to support its valued clients through the completion of ongoing projects.
"We became resilient very quickly. It was almost like we went into survival mode in March and that got us through," Kevin reveals. "We put together client and staff safety packs, implemented individual travel to construction sites, and changed the way accommodation was booked. Our team became noticeably more productive immediately.
"We tried, and succeeded, in looking after everybody and by the middle of April we were back to around 60-to-70 per cent trading levels, and then in June and July we had two of the best months we have ever had as a business. We are grateful for the trust we received from our customers and for the lessons we've learnt along the way. Longer term, I think all businesses are going to have to change the way they operate to an extent and we are already exhibiting more flexibility."
On a personal level, Kevin believes 2020 can be viewed as a chance to develop his skills and is confident that the experience he has gained from living, and working, through such unprecedented times will prove invaluable in the future.
"It's been a lesson in true leadership," he states. "It's taught me about the importance of leading by example and leading from the front. There were some pretty interesting decisions we had to make, but on reflection, I think we did the right things at the right times and protected our workforce. The outcome is that we have set ourselves up stronger for the rebound."
The approach Aarsleff took in 2020, and the two years preceding it, has cemented its reputation as a piling contactor of choice, as well as a trusted partner in e-commerce and distribution shed markets. Over the course of the last three years, Aarsleff has worked closely with a variety of just-in-time contractors in areas such as logistics, online shopping, ecommerce builds, and data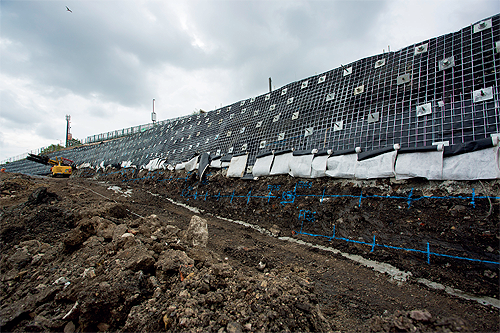 centres.
"We work very closely with these clients and our complementary services work hand in glove with what their build strategies demand," Kevin reports. "We have built up a portfolio and a deliverable service offering that is almost tailor-made to this type of industry. We also work very well within the civil engineering and industrial marketplace, both complementing and servicing those end markets."
Amongst its long list of former projects, Aarsleff counts the delivery of some of the biggest industrial units in the UK for one of the largest online retailers. More recently, the firm secured a four-year framework with the Coal Authority dealing with sub-surface mining related issues. Of all the company's latest projects, Aarsleff is perhaps most proud of a highly technical ground engineering scheme currently underway in Sunderland.
"It's what we would call an iconic project for the business," Kevin remarks. "One of the biggest specialist ground engineering projects in the UK, it has involved some very challenging design requirements, which we self-delivered, including around 1500 soil nails and 130 large anchors – all designed in-house.
"We are onsite right now executing the project, which has been well publicised in the press. It is a good platform to showcase our technical capabilities, but internally, one of the biggest success stories has been our team here. We're a very strong, technically-led company with tremendous staff who are all focused on the needs of our customers. Everyone that works here has been hand-picked for a reason. Everyone compliments each other."
Driven by this skilled and spirited workforce, Aarsleff has become renowned as a values-led firm with a strong company culture centred around unity, hard-work and high performance people. It is a shared ethos that pervades all areas of the business – a fairly unique achievement in the modern business world. The company refers to this culture as 'Step into the Blue', an ongoing campaign designed to communicate its values, mission, and ethos across the entire company.
"Everyone understands the core values of the business and behaves consciously with those values in mind," Kevin claims. "I'd be very surprised if you spoke to anyone within the organisation who didn't know our core values and I think that is key. In my view, health and safety should always be top, but core values and culture act as a natural extension of this because if you're getting your core values and culture right, your safety record is going to be better and your commercial record is going to be better too. I think it's a very different approach to a lot of companies in construction, but we see it as a big positive and we see the benefits daily."
Having – up until now – successfully negotiated the pitfalls of a challenging and unpredictable year, Aarsleff is hoping to fashion a strong ending to 2020 for the business. Thanks to the company's flexible and diverse offering, Aarsleff is not as reliant on the housing market and can instead enjoy the resurgence of the commercial and civil construction sector. Scheduled to perform infrastructure improvements on HS2 and other rail networks in the near future, Aarsleff also sees the ecommerce market as a fertile area for future growth.
"In the UK at the moment, around 20 per cent of people regularly shop online, but we can see that demand growing and growing in the next few years," Kevin asserts. "We'll also be introducing a larger rotary piling rig in the next few months, to meet our customers' demands."
In the longer term, Kevin hopes to develop Aarsleff into a position where it is the market's first choice ground engineering firm. In order to achieve that goal, the Managing Director believes the company must stay focused on a strategy catered towards quality and speed.
"We don't want to be the biggest, but we want to be first choice and remain niche at the same time," Kevin indicates. "We know we are not always going to be the cheapest, but in terms of speed, quality, and safety, it's what we are set up to deliver – we are the perfect choice when it comes to delivering large driven piling projects quickly, accurately, and safely. At Aarsleff, we use the idea of strategic lighthouses to measure our progress over long periods of time, but our overarching laser-focus three-pronged approach to running the business is we are outward facing and always engaging with our customers, we are a low-cost base but high capability business, and we are quick and nimble to react."
Aarsleff Ground Engineering
www.aarsleff.co.uk
Services: Piling, ground engineering, retaining walls and foundations contractor