From its humble foundation in a garage in Kokkola, Finland, 60 years ago, Ab A. Häggblom Oy has developed its expertise and services to become Northern Europe's leading manufacturer of undercarriages for earthmoving systems
Ground breaking service
From its humble foundation in a garage in Kokkola, Finland, 60 years ago, Ab A. Häggblom Oy has developed its expertise and services to become Northern Europe's leading manufacturer of undercarriages for earthmoving systems
An expert in track and undercarriagetechnology forearth movingmachinery andheavy-duty transport systems,Häggblom today is also one of thefew European bucket and track application manufacturers capable of providing a full package to itscustomers. Certified under ISO 9001, the company not only delivers a turnkey service, with the skills toprovide any service from design to reliability maintenance, it also stocksthe widest range of wearparts in Northern Europe.
Committed to constant innovation and continuous improvement, Häggblom's buckets and undercarriages are designed to handle the most challenging and rough environments. In fact, the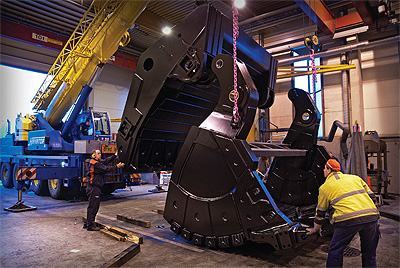 company's design service is able to prepare structural drawings for the most complex steel structures and machine components througha fast and efficient design processthat offers flexibility and quality thanks to its well-qualified design team and the utilisation of the most up-to-date design software. Hightech equipment used by Häggblom includes SolidWorks with Simulation (FEM) add-in for 3D design and IGRIP UltraArc for remoteprogramming of welding robots.
Within Häggblom's workshops expert personnel strive to deliver a wide range of high quality services, such as flame cutting, welding, edging, machining and assembly. The flame cutting line specialises in the processing of high-strength steel grade workpieces and the manufacture of wearparts forearth-moving machinery, which is done through flame-cutting the parts from wear-resistant Weldox, Hardox and AR steel. Flame cutting equipment includes CNC-operated, state-of-the-art units, which have six-piece nozzles or four-piece plus a plasma arch torch. This equipment enables Häggblom to cut the thickest and longest steel plates with absolute precision.
The edging line works to turn steel into bucket bottoms and sections for use in challenging structural applications through the utilisation of a CNC-operated 800 tonne edging press. Taking up a working area of six metres, the edging press bends steel into bucket bottoms and other sections for a number of uses; the business segment also boasts special tools for Hardox and other wear-resistant steels. Meanwhile, Häggblom's machining department handles large workpieces with small tolerances and boasts a number of CNC column milling machines, a CNC lathe, a reamer, lathe and two radial drills. Furthermore, the company boasts five modern and efficient assembly lines that can turn small and large sub-assemblies that have been constructed from in-house components as well as second-sourced parts into wholly completed products in a timely manner.
Using high-tech expertise, the company leads the way in manufacturing the largest and complex of buckets, with each product made to precise customer specifications according to the machine and its intended use. Using its exceptional design and dimensioning skills and a complete knowledge of boom geometry, the company confidently makes backhoe and face showel buckets with capacities of five to 30 m3 and wheel loader buckets with capacities of five to 20 m3. Moreover, through sturdy construction, efficient safeguards and replaceable Esco wearparts, Häggblom can offer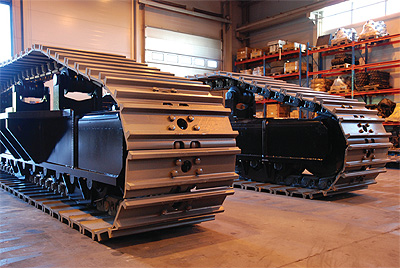 significant service life extension to these expensive buckets, thus delivering both quality and cost efficiency. On top of this, buckets exposed to heavy-duty use are returned as good-as-new thanks to Häggblom's highly efficient and effective maintenance services.
Benefiting from six decades of experience, the company has succeeded in creating a production and service system that offers vast improvements to the productivity of machine manufacturers and earthmoving operators. Furthermore, by generating long-term relationships with leading manufacturers of earth moving machinery across Europe, Häggblom has been able to develop innovations and gain advanced technical expertise, benefits that are then passed on to its customers. The company's impressive client base includes firms such as Metso Minerals, Junttan Oy, Mantsinen, Allu Finland; it also boasts a coveted list of first-rate parts suppliers such as Berco SPA, ESCO, SSAB and Bosch Rexroth. These complementary partnerships strengthen Häggblom's own skills and major investments to ensure a high standard of quality as well as a superior level of customer service that is delivered across the globe.
To further strengthen its service to customers, the company has carried top-of-the-range tyre protection chains in its product range; manufactured by Erlau AG of Germany, the chains significantly increase the service life of tyres used on wheel loaders that operate in mines. With these protection chains and large buckets required by the same operators, Häggblom is in an enviable position to increase its market share in the mining industry.
A recent major development for the firm took place in 2014, when John Hagnas, CEO of Häggblom, retired from his role in June to become a senior advisor for the company, while Jukka Karhula was appointed the new CEO. Previously responsible for spare part and wear part sales at Haggblom, Jukka has the knowledge and expertise to move the company forward by focusing on strong customer relationships, close co-operation with suppliers and through retaining highly skilled, motivated and dedicated personnel."
Ab A. Häggblom Oy
Services: Designs and manufactures complex steel structures and machine components