With over 20 years in operation, AB2000 Limited has grown to represent Scotland's largest privately owned business in the field of operated plant and equipment hire
Planting opportunities
With over 20 years in operation, AB2000 Limited has grown to represent Scotland's largest privately owned business in the field of operated plant and equipment hire
From its head office and main workshop facility at Cambuslang in South Lanarkshire, AB2000 Limited works as a trusted partner in the hire of operated plant and equipment ranging from plant and crane hire to specialist rail and machinery movement solutions. Managing Director Adam Bruce, who has over 40 years of industry experience in the operated plant hire industry, founded the company during 1995 and AB2000 has grown into Scotland's largest privately owned operated plant and equipment hire business with depots throughout the country.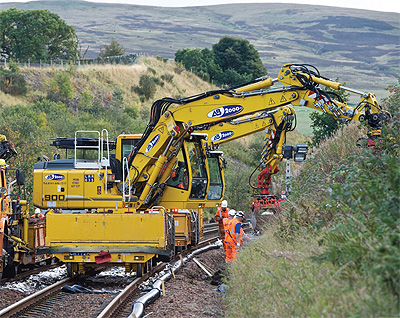 Its Cambuslang head office and workshops provide excellent access to the motorway network in central Scotland, while the company's depots at Tipperty, Aberdeen and Nairn service the North of Scotland. Over the course of two decades, AB2000 has continued to grow from strength-to-strength and earned a reputation as a reliable and experienced industry player.
"AB2000 Limited today operates four 'trading divisions', comprised of its core construction plant and equipment; mobile crane hire, as well as test weights and equipment moving; railway; and its northern business, including Ellon Plant Hire Limited, Phoenix Weights and Phoenix Marine as trading subsidiaries of AB2000," explains CEO Jim Houstoun.
"The company's turnover, profit, and operating margins have grown steadily since 2013 following the economic downturn and continue to increase in the current financial year as a result of expansion and investment in the plant and equipment available for hire. In 2014 AB2000 was awarded Scottish Business Insider's fastest growing SME award and was ranked in 2015 as the second most successful SME in Scotland."
The AB2000 core plant hire division has over 300 units of operated and non-operated plant for hire from 1.5 tonne mini-excavators to heavy equipment including dozers, tracked excavators of up to 55 tonnes, wheeled excavators, articulated dump trucks of up to 30 tonnes, soil stabilisation equipment, rollers, 180 degree machines, road brushes, tele-handlers and rotators. The division supplies plant and equipment to civil engineering contractors, public authorities, ports, builders, quarries and energy companies for use on construction projects extending from motorways, commercial and retail developments, house building to earthworks, ground stabilisation, coastal and flood protection, water, drainage, foundations, roads, bridges, wind farms, electricity substations, overhead cables, railways, power stations, rock crushing and bulk muck-shifting projects. "AB2000 is on Scottish Water's framework agreement in each of the geographical areas in which it has depots and Scottish Water recently extended this agreement for a further five-year period. The core plant hire division also has long-term hires for forklift trucks and access platforms and further owns a range of tractors, HIAB's, flat-back lorries, and low loaders, which are hired as well as being used to deliver and collect the company's plant and machinery from customer's sites."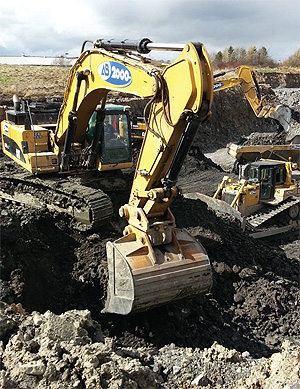 Jim says all of AB2000's 225 plant operators hold CPCS accreditation for the equipment they operate and many also have quarry passports and PTS railway accreditation.
The company's crane division has 14 mobile cranes ranging from 35 tonnes to 200 tonnes plus ballast and includes a test weight subdivision with over 250 tonnes of certified metal test weights from 0.25 tonnes to seven tonnes, as well as test weight cradles from 30 tonnes to 100 tonnes. This division undertakes contracts for lifting, rigging, and machinery movement by appointed persons, lift supervisors and qualified riggers. Its Phoenix Weights subsidiary located in Aberdeen has 250 tonnes of test weights and cradles for hire or sale on and offshore.
AB2000's rail division includes road/rail vehicles (RRV) and excavators, mobile elevated work platforms (MEWPS) and has a wide range of trailers, specialised equipment and attachments for use on railways. The plant of this division is operated by CPCS and PTS certified operators and hires to Network Rail, BAM Nuttall, QTS, TRAC Engineering, Balfour Beatty, AMCO, Babcock Rail, Story Contracting and Stobart Rail.
In the north of Scotland, AB2000's northern division supplies all of the equipment owned by the company from its depots at Nairn and Aberdeen. Ellon Plant Hire Limited and Phoenix Marine companies based at Aberdeen are managed, operated, and reported as separate limited companies. The geographical coverage, investment, industry knowledge, acquisitions, new depots, people, and ideas have been key factors in the growth achieved by AB2000 throughout its operational life.
"AB2000 annually invests over £10 million in buying new equipment to extend our range of plant to replace equipment. This has been essential in achieving the growth and development of the business. Recent investments include soil stabilisation systems, rotators, tele-handlers, a range of Kobelco and 20 tonne SANY tracked excavators," Jim concludes. "In its present format AB2000 is capable of further increasing its turnover, profit margins and profits over the two or three year period to 2018. Market challenges include recruiting and restructuring the business to allow it to continue to progress further and to take the opportunities that a growing economy provides."
AB2000 Ltd
Services: Hire of operated plant and cranes, plus specialist rail and machinery movement solutions