Offering customers everything from a midi excavator or 200 tonne mobile crane to a 60 tonne tracked crusher, AB2000 Ltd's vast range of machinery and services has cemented its role as the ideal partner for hiring construction plant and equipment
The ideal partner
Offering customers everything from a midi excavator or 200 tonne mobile crane to a 60 tonne tracked crusher, AB2000 Ltd's vast range of machinery and services has cemented its role as the ideal partner for hiring construction plant and equipment
Established in 1995 by Adam Bruce, AB2000 was originally created to provide the Scottish construction industry with a comprehensive heavy plant hire service. Since its early days, the company has grown beyond recognition, thanks to continued investment in new plant as well as a number of strategic acquisitions. Moving to a purpose built depot in Cambuslang, near Glasgow, the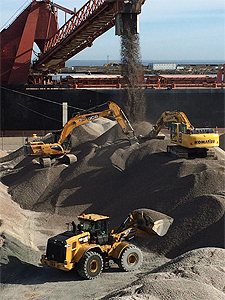 company benefited from more capacity to not only grow and develop its fleet but also enhance the fleet support and services it provides. Today, alongside its headquarters, AB2000 has depots in Nairn and Aberdeen, which enables it to offer more efficient services to the North of Scotland.
Elaborating on the company's operations is Jim Houstoun, CEO of AB2000: "We operate five trading divisions: core construction plant and equipment, including test weights and equipment moving; mobile crane hire, railway, Northern, including our trading divisions Ellon Plant Hire Limited, Phoenix Weights and Phoenix Marine; we have also recently added a new mobile concrete pump hire division this year. Turnover, profit and operating margins have grown steadily since 2013 as a result of expansion and investment in the plant and equipment available for hire. In 2014 AB2000 was awarded Scottish Business Insider's fastest growing SME award, ranked in 2015 as the second most successful SME in Scotland and number six in their 2016 survey."
Despite the significant growth that AB2000 has enjoyed, particularly over recent years, the company remains family-owned and run and maintains its commitment to delivering a personalised service to customers in the many sectors that it operates in. Services include plant hire (operated and self-drive), crane hire and contract lifts (CPA), rail plant hire and services; machinery movement and installation services; test weight hire and proof load testing services, and heavy haulage. Striving to deliver a complete plant hire service, the company's sales team and hire desk team are the one-stop-shop base for each customer's hire needs.
Proud of the accuracy and speed of service that it provides customers, AB2000 goes the extra mile to satisfy each customer's demands every time. One way the company has ensured this level of accuracy and efficiency is maintained is through splitting the organisation into five trading segments: core construction plant and equipment, mobile crane hire, railway, machinery movement and mobile concrete pump hire.
Recently added to the business segments within AB2000, the mobile concrete pump hire division has a range of pumps and booms, with experienced operators available for hire throughout Scotland and the North of England. Equipment includes various boom lengths of Schwing/Putzmeister pumps; these mobile pumps allow customers to deliver concrete directly saving money, time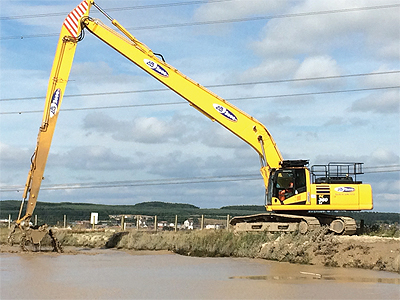 and labour. Pumps are supplied with highly competent operators to ensure accurate, efficient and flexible concrete delivery solutions, no matter how big or small the job may be. Since its establishment in September 2016, the division is developing positively and is actively seeking out new customers and further business.
Discussing the activities of other divisions, Jim comments: "The core plant hire division has more than 350 items of operated and non-operated plant for hire from 1.5 tonne mini excavators to heavy equipment dozers, tracked excavators up to 55 tonnes, wheeled excavators; articulated dump trucks, soil stabilisation equipment, rollers, 180 degree machines, road brushes, telehandlers and rotators. This division supplies plant and equipment to customers including civil engineering contractors, public authorities, ports, builders and energy companies for use on construction projects; these include motorways, house building, windfarms, earthworks, ground stabilisation and electricity substations."
The core plant hire division is also on Scottish Water's framework agreement for supplying plant in each of the geographical areas that it has depots; this has recently been extended for a further five years and involves long-term hire of forklift trucks and access platforms. To ensure optimum operations, all of AB2000's plant operators have CPCS accreditation for the equipment they operate; many of which also have quarry passports and PTS railway accreditation.
Jim continues: "The crane division hires out 14 mobile cranes from 35 tonnes to 200 tonnes (plus ballast); this also includes a test weight subdivision with more than 250 tonnes of certified metal test weights from 0.25 tonnes to 7.0 tonnes and test weight cradles from 30 tonnes to 100 tonnes." The division also undertakes contracts for lifting, rigging and machinery movement, services provided by appointed persons, lift supervisors and qualified riggers. "Major customers within this division include Synergy Lifting, MacTaggart & Meikle, JKR Contractors, Thomas Menzies and Timber Frameworks.
"Meanwhile, the railway division supplies RRV's (road/rail vehicles – excavators), MEWPs (mobile elevated work platforms) and has a wide range of railway trailers and specialised equipment and attachments used on railways. Clients of this division include Network Rail, Babcock Rail, BAM Nuttall and QTS. Finally, the Northern division supplies all of the equipment owned by the company from our depots at Nairn and Aberdeen. Customers include AWPR, Glassgreen, William Donald and D&E McKay."
With AB2000's turnover increasing from £13 million in 2013 to more than £27 million in 2016 and the company achieving marks of up to 100 per cent at recent Achilles UDBV and Link Up audits for both core and railway plants, the future looks certain to involve further growth. The company recently invested in five new Leibherr cranes, costing up to £1.2 million each, six new Leibherr RRVs and a range of predator trailers; additionally it has acquired MEWPS, Leibherr, Bell, CAT, JCB, SANY, Kobelco, Volvo and Hyundai excavators and a range of other construction plant & equipment.
"It is not intended that the company should repeat the rate of growth achieved since 2013 over the next 12 months. However, in our present form, we are capable of further increasing turnover, profit margins and profits in the period to 2018. Our strategic vision is to maintain turnover and profits at current levels while recruiting and training management to continue taking the business forward in future," concludes Jim.
AB2000 Ltd
Services: Specialists in construction, plant, rail/road machinery, crushing and screening equipment and the supply of mobile cranes throughout Scotland and the UK