Abbey Pynford Geo Structures
With a number awards to suit, Abbey Pynford Geo Structures focuses on quality, health and safety to remain a leading force in a competitive industry
A structured approach
With a number awards to suit, Abbey Pynford Geo Structures focuses on quality, health and safety to remain a leading force in a competitive industry
Since its creation in 1988 Abbey Pynford has built its reputation on providing high quality and innovative ground engineering services, an approach that over the years has seen the Group go from strength to strength and expand throughout the South East of England. The same high standards are shared by Abbey Pynford Geo Structures, a subsidiary that recently celebrated three years of operation and is gaining industry award recognition due to its outstanding work.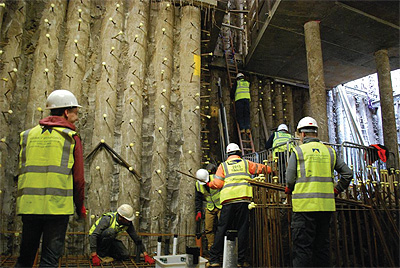 "Geo Structures was created to provide a focused underpinning and basement service as a consulting contractor with the same core principles of integrity, honesty and flair for innovation that Abbey Pynford has become renowned for," explains Lewis O'Connor, Managing Director. "In addition to these principles we have placed robust health, safety and well-being management practices at the heart of all our business processes. One of our key themes is to ensure the elimination of avoidable harm."
This ethos was recently reflected in the achievement of RoSPA Silver award for the company in 2015 as well as a RoSPA Guardian Angel Award for Mr O'Connor himself and a nomination in the Construction News Specialist Awards 2016 within the Health and Safety Excellence and Training Excellence categories. "The positive feedback we've received encouraged us to put ourselves out there by entering the awards. It's not often in our industry that you gain this kind of conspicuous recognition from your peers," adds Mr O'Connor. "It's important to us because we've completed our third year of trading as a company and this is a clear demonstration of our achievements in such a short period of time."
As for how the Abbey Pynford Geo Structures company has been able to hit the ground running so successfully, Mr O'Connor explains that youthful exuberance coupled with experience has been a fruitful formula. "We're a dynamic team combining the enthusiasm of nascent engineering careers with the wisdom of empirical knowledge. We're therefore very much of the mindset that there isn't anything that can't be done provided we work as a team and put the maximum effort in. We've also been keen to empower everybody in the team to be part of the decision-making process and ensuring that every member of the team treats each project with a shared sense of ownership. This ethos has enabled us to achieve much more than what might have otherwise been possible and has allowed us to quickly overcome any hurdles that may have occurred, particularly in terms of thinking outside of the normal constraints. We share the challenges just as we share the successes.
"As Managing Director I strongly believe in creating a role to suit the individual and enabling the team to work to their strengths. This kind of free-thinking and open-mindedness has enabled us to achieve so much more than if we'd taken a more traditional approach placing everyone within the confines of a generic job description."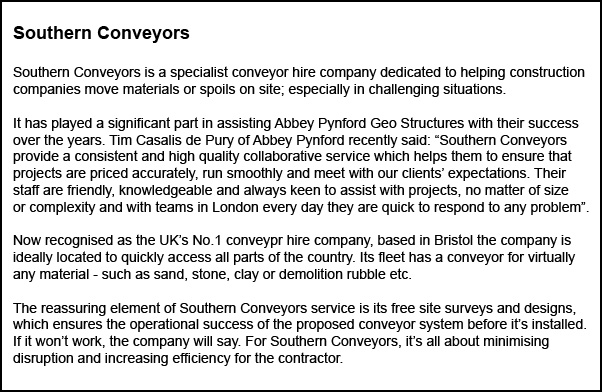 Although there has been a lot to be positive about there have been some challenges that Abbey Pynford Geo Structures has had to contend with: "In the last few years there's been an influx of companies into the London refurbishment sector that have not previously operated in the area nor undertaken the works we do. Competition for projects has consequently increased significantly. To counter this we changed our strategy and tailored our service to like minded companies that have the same expectations of high standards regarding quality, health and safety," Mr O'Connor explains.
This approach has assisted Abbey Pynford Geo Structures to grow by 63 per cent and secure a number of prestigious projects showcasing state-of-the-art geotechnical engineering. "We have the capabilities to carry out projects across the foundation engineering spectrum; from complex retrofit basements below the phreatic surface requiring soil stabilization to underpinning projects and lifting houses with all of the ground engineering work in-between. The emphasis I have placed on the team is to capitalise on this and diversify the projects that we take on," says Mr O'Connor. "This diversification enables us to be dynamic to changes in our marketplace.
"The potential offered as a result of our diversification is limited by a shortage of competent operatives with the skills and proven experience we require to undertake the works on site. We are therefore investing in organically developing our existing workforce with a training plan extending throughout our workforce for every individual and team."
In 2015 Abbey Pynford Geo Structures invested significantly into training with an expenditure increase of 2683 per cent from 2013 to 2016. "Investment in the development of our team, both on-site and in the office will continue to be a major area of concentration," he continues. "We will also be making sure that we raise the base competency threshold for health and safety from everybody.
"We're committed to maintaining the quality of our product so our focus is to enhance our capabilities continually to enable sustainable growth next year without undermining our core principles. At the same time we're also investing in the development of our health and safety management procedures by digitalising our system.
"The new target for the company in 2016 is to complete the implementation of this health and safety system that links work tasks, to documentation, required competencies and generates a H&S file automatically together with identifying those competent to undertake the work on site."
With such a wide-ranging and forward-thinking approach it is easy to see how the award nominations have been achieved and it will continue to set the business in good stead moving forward.
Abbey Pynford Geo Structures
Services: Leading ground engineering solution providers