Built on a solid foundation of engineering expertise and an in-depth research and development culture, Abbey Pynford provides comprehensive ground engineering solutions across several construction industry applications
Total support
Built on a solid foundation of engineering expertise and an in-depth research and development culture, Abbey Pynford provides comprehensive ground engineering solutions across several construction industry applications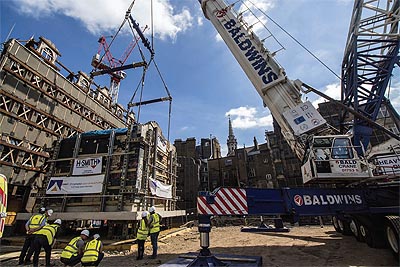 Operating from its headquarters based in Hemel Hempstead, Hertfordshire, Abbey Pynford is an established leader in the provision of bespoke ground engineering solutions that are delivered to clients across several industry sectors. The company was jointly founded in 1988 by Paul Kiss and Phil Jones, who formed the business based on their mutual civil engineering experience specialising in ground works and underpinning. Abbey Pynford today offers a service portfolio that is divided between two main areas, which are comprised of operations taking place within both open and restricted sites.
Within the field of open site works, Abbey Pynford Foundation Solutions undertakes operations that involve piling, basement construction and proprietary newbuild foundations for housing, as well as generally more complex structures within the education, commercial, industrial and retail sectors. Within this market Abbey Pynford Foundation Solutions provides two main service lines, which consist of its highly successful 'Housedeck' and 'Comdeck' applications. These services reflect the fact that traditional pre-designed schemes provided by consultant engineers are increasingly being replaced throughout the construction industry by modern design and build solutions that are bespoke to individual client requirements, as well as to the needs of particular site conditions and geotechnical information. Indeed, Abbey Pynford Foundation Solutions is able to take on and fully understand the specifications and unique requirements of its clients to develop several concept schemes and price each one accordingly. While price is always considered to be a driving factor, the company also places further emphasis on important areas such as speed and environmental impact.
This allows Abbey Pynford Foundation Solutions to provide finely honed projects that offer innovative execution and the greatest value for money. Housedeck for example, represents a one-stop-shop for foundation solutions for housing and is designed specifically for use in the development of homes and flats to be able to support all forms of construction, including brick built, timber frame, steel frame and bespoke modular build systems. The Housedeck system is a proprietary house foundation solution that incorporates specialist innovation and versatility that replaces the need for either traditional strip foundations or pile and beam construction, while further negating any associated brickwork and flooring. Housedeck also offers the same desirable benefits as other popular foundation systems in terms of cost, sustainability, time and quality, while further limiting the environmental impact of operations by offering significant reductions in the carbon footprint of sites.
This service is complemented by the Abbey Pynford Foundation Solutions Comdeck proprietary foundation system, which has been specifically designed for use within commercial applications. The system again removes the requirement for either traditionally excavated foundations or pile and beam with associated flooring works and represents a more efficient, economical and reliable solution, which offers additional advantages in terms of quality and environmental considerations. Indeed, Comdeck provides a proven foundation system that affords clients several highly desirable advantages that include:
A value engineered approach
The opportunity to cut programme times by up to half
Reduced preliminary activities
Far less excavation and resulting debris to be cleared
The potential elimination of engineered piling mats
A greener approach
Innovation and minimised costs
A complete service package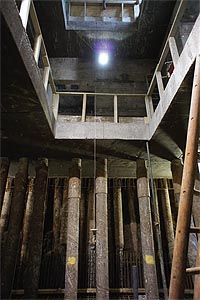 This commitment to offering a compete service package allows clients to work alongside Abbey Pynford Foundation Solutions with the confidence of knowing that the company is on hand to offer expert support and bespoke problem solving solutions.
The proven competence of Abbey Pynford in the field of open site works is further enhanced by its expert foundation solutions within the arena of restricted site operations. Indeed, Abbey Pynford Geo Structures represents a recognised industry leader within the foundation and complex geostructural engineering sector. The business delivers targeted services across two dedicated divisions that are comprised of its basement engineering specialists and underpinning solutions, while its geo structures team offers a full spectrum of engineering solutions that range from developing multi storey retro-fit basements through lifting and moving buildings to piled or excavated underpinning operations. This comprehensive package of services further affords clients a full operational portfolio, which is boosted by close on-site support and includes:
Basement construction
Commercial and industrial foundations
Restricted access works
Party wall checking engineers
Piled underpinning
Lifting and moving structures
Geostructural engineering services
Foundation repair and replacement
Traditional underpinning
Basement impact assessments
Throughout its history Abbey Pynford has taken a leading role in providing expert ground engineering solutions, while further working to champion the wider ground engineering industry. Indeed, both Paul Kiss and Phil Jones have been involved in the formation and operation of the independent ASUC trade association, which was formed by a number of leading contractors to promote professional and technical competence within the subsidence industry. The company has also undertaken several highly publicised projects including an operation to lift the historic 150-tonne 'Smithy' building by Crane in London during 2016, which further led to the business receiving several awards from its industry peers in ASUC as well as at the 2016 CN Specialists Awards.
Further to boasting an impressive portfolio of completed projects, Abbey Pynford is also currently engaged in undertaking several major projects including operations for both commercial and residential buildings, as well as contracts for rail and piling work. Indeed, with a strong order book that has been achieved by leveraging the company's solid industry reputation, 2017 is set to be a highly successful year for Abbey Pynford. During the coming months the business will seek to continue to build on this momentum, while further investing in the training and development of its staff at both operational and management levels to ensure the strength and continuity of the company for years to come.
Abbey Pynford
Services: Bespoke ground engineering solutions