Known for its excellent finishes and ability to utilise a range of materials for its new builds, Abbeymill Homes is enjoying a period of sustainable growth
Excellence as standard
Known for its excellent finishes and ability to utilise a range of materials for its new builds, Abbeymill Homes is enjoying a period of sustainable growth
The projects that went Abbeymill Homes' way when the new builds developer was still in its infancy have allowed the Milton Keynes-based company to hone its skills due to the exceptional quality requirements it had to satisfy. Managing Director, James Pacifici, recalls: "Back in the day, we would work on one-off builds, delivering just two or three per year, but those were high-end homes
where the level of quality and finish had to match the expectations of our clients. Being involved in these projects has been key in our growing of an ethos where high specification is a centrepiece and we now apply this philosophy across the small, medium and large homes that we primarily do these days."
Pursuing growth
For more than 15 years after its inception in the early 1990s, Abbeymill Homes would focus on completing just a handful of high-end developments per year. It was not until James joined the business founded by his father Peter and a partner, that aspirations for entering other sectors and pursuing more significant growth appeared. "We had the right mix of the founders' expertise and my youth and ambition that provided the platform to build upon," James claims. "Over the last decade, we have placed special emphasis on hiring key personnel who share our values and whose expertise and efficiency allow us to take on more work. In addition, we have retained our traditional builder profile, but have, in the meantime, constantly been looking to incorporate new and more sustainable methods in our work.
"An example of the latter would be the extensive use of timber framing in our projects at the moment," he continues. "The technology is widely spread across continental Europe and it is now finding an application in the UK, too. Where possible, we also install solar panels and LED lighting, and make sure that we deliver high levels of insulation. By doing this, we demonstrate our compliance with the various regulations we need to work around, but, together with this, we also try to go the extra mile and provide solutions that exceed their framework."
The variety of materials and techniques Abbeymill Homes is skilled in using when building its properties gives the company extra advantage in the market. Whether it is stone or brick, it can achieve the traditional look it prides itself on and create lasting structures that are guaranteed to stand the test of time. In order to materialise its ideas, however, Abbeymill Homes ultimately needs a capable workforce that can be entrusted with the developments. "By and large, we use the same select group of contractors who have proven their abilities over and over again," James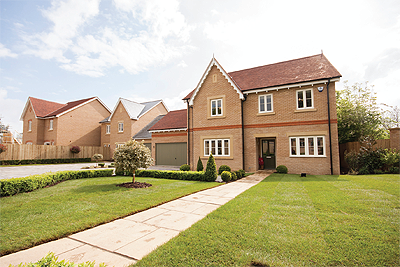 maintains. "We never go for the cheapest and we are not trying to drive the prices down for the contractors, because we know they have to make money, as well. Our experience has shown us that there are immense benefits to working with a limited number of familiar contractors and paying fairly for their services, because this stimulates them to deliver the job to the standard we expect."
He goes on to cite several projects that highlight Abbeymill Homes' competences. "Not long ago, we worked on two completely different types of developments simultaneously, achieving the same quality and finish across both. The first scheme was for 33 units in Old Stratford and the second was in Tanners Lane, Burford, for six high-end well-proportioned family homes. We treated both projects as equal and did not compromise with the quality of our work at any point of their execution.
"Another project that catches the eye for its aesthetics, involved the conversion of three really rundown and derelict barns in Ravenstone into beautiful properties. What was significant about this programme, was that we managed to keep a lot of the barns' existing features, thus creating a sense of continuity on the site," James adds.
Positive outlook
Having expanded considerably in recent times, the company recognised the need to create a land bank, so that it has a long-term certainty over the availability of plots it can build its clients' future properties on. "We set up a special department with in-house planners, designers, and land managers who have been tasked with finding suitable sites where we can design buildings as we would like," James explains. "It has become a bit harder to convert land opportunities, not least because of Brexit, but we still have a positive outlook for the future and we can see us continue to grow, albeit at a slightly slower rate.
"In my opinion, we will see the results from establishing the land team in a few years when we will have established an ample land bank and secured multiple sites to deliver through the pipeline. Crucially, we want to carry on building a sustainable business and retaining our highly-valued people will be key in achieving that," he sums up.
Abbeymill Homes
Services: New builds developer