Having celebrated three decades in business in 2017, AC Plc has evolved from humble beginnings into one of Europe's A class apart pre-eminent subcontractors
A class apart
Having celebrated three decades in business in 2017, AC Plc has evolved from humble beginnings into one of Europe's A class apart pre-eminent subcontractors
Starting with just seven employees, AC Plc has grown to employ around 100 office- and field-based full time staff, with upwards of 450 specialists managed from its Bedfordshire-based head office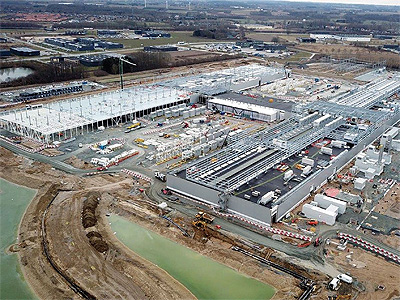 at any one time. The company's robust experience in a variety of disciplines remains unmatched; including but not limited to cladding, roofing, flooring, waterproofing, and a variety of bespoke joinery and weld projects.
These services are provided through six divisions operating in Europe and the UK, each with their own expertise and specialisation:
AC International – Roofing, cladding and façade installation arm, specialising in Data Centre campuses across Europe
AC Waterproofing – Specialises in roofing, waterproofing, façades, metalwork and joinery, curtain walling, windows and stone work
AC Build – Provides design and build services for new build developments as well as refurbishment projects ranging from full envelope construction to high end commercial fit-out
AC Interiors – Specialises in the installation of floor and wall finishes, sub floor preparation and levelling screed
AC Manufacturing – Offers specialised joinery, metal fabrication and architectural metalwork on an individual project basis
AC Developments – Delivers high quality, sustainable projects that draw on existing expertise throughout the business
Vision and ambition
Having grown steadily since it was created, it has been over the past four years that AC Plc has really seen exceptional evolution, resulting in the creation of nearly 300 new jobs and quadrupling its turnover. 2017 then saw a substantial expansion of its international turnover from £10m to over £40m making AC Plc a major global exporter of UK consultancy and construction services.
Thanks to this dedication to expansion and development, the AC International and AC Build divisions have been involved with prestigious projects overseas, and the business has been working as far afield as Denmark, Holland, Germany and Ireland with further European projects in the pipeline. Supporting these works are several satellite offices across Europe to and AC has plans in place to open further sites in the future, with France and Sweden at the top of the list. AC plc also opened offices in Central London in January 2018, headed by Richard Caines, 25, AC Build's director. "To have the opportunity to work with Andrew Laing, a CEO with such far reaching vision and ambition has been unparalleled. The AC commitment to innovation and excellence is enshrined in its commitment to its staff development and recognition of ability, regardless of age or background."
Design and development
Such has been the rate of the company's sustained international growth, that in 2018 it was presented with the Queen's Award for Enterprise: International Trade. One of the most prestigious
awards a business can receive, the Queen's Award for Enterprise is bestowed on those businesses that excel in international trade, innovation and sustainable development. The company is thrilled with the honour; not only does it reflect the incredible amount of hard work and dedication that the team has invested, but also illustrates to the world that AC Plc operates at a superior level – guaranteeing a degree of professionalism and service that is a step above the competition. This was further bolstered by AC Plc's inclusion at number 40 in The Sunday Times HSBC International Track 200, which ranks Britain's mid-market private companies with the fastest-growing international sales, measured over their latest two years of available accounts.
These awards, plus the range of respected accreditations that it has earned, clearly demonstrate that AC Plc works to the highest standards, and this is also reflected in the blue-chip names of its client base. AC Plc has had the privilege of working with Tier 1 contractors across London and the UK, as well as internationally. Customers include Mace, Skanska, Balfour Beatty, Laing O'Rourke, Kier, Vinci and Brookfield Multiplex – partners that expect nothing less than world-class service.
They also demand the most state-of-the-art solutions and approaches, and to this end, AC Plc has always looked for cutting edge design and development technology to aide and assist the completion and quality of projects, regardless of their size. As an early adopter of BIM in design and construction, AC has carried this experience into its design remit on its international data centre portfolio, offering multiple benefits including increased value for money, improved safety, and more efficient construction processes.
Sustainable systems
Having examined the operations of AC Plc, the theme of continuous excellence can be found running through every division, from the management team to the project floor – and this philosophy also permeates into the organisation's total commitment to both sustainable systems, and to health and safety.
AC Plc has created an expansive range of measures that ensure responsible environmental management throughout its operations both domestically and overseas. These include a policy of minimal or zero waste placed into landfill, special arrangements with leading manufacturers to collect waste for recycling, and ongoing internal initiatives to reduce and minimise packaging waste.
Caring for the environment works hand in hand with caring for staff – and AC Plc's commitment to Health & Safety in the workplace is exceptional. The company employs its own in-house employed NEBOSH qualified Heath & Safety division, whose team members visit sites on a regular basis providing feedback on performance and highlighting any other concerns that may be present. Contract managers and site supervisors are sent on relevant courses to keep their sites safe, and all staff, from the top down, are dedicated to ensuring that operations are undertaken in the safest way possible.
These policies are crucial when working on the types of prestigious projects that AC Plc is awarded – recent examples show not only the significance of the client and their high expectations, but also the wide variety of skills and services available from AC Plc. The latest case studies available include the cladding and roofing fitted on a state-ofthe-art data centre in Ireland; the installation of highly complex elements as part of an extension development at Exeter College, an extensive scope of works for the brand new, state-of-theart
Royal Papworth Hospital on the Cambridge Biomedical Campus; and Soft Flooring finishes packages on a Balfour Beatty development at the Royal National Orthopaedic Hospital in Stanmore. Further noteworthy sites include Brighton and Hove Albion Football Club, the University of Oxford's Bodleian Library, Gatwick Pier 5 at Gatwick Airport, and The Shard in London.
As we head towards 2019, over 30 years have passed since the seeds of AC Plc were sown by the founder Andrew Laing, who remains CEO to this day. He has maintained the drive to grow and improve since those very first days, and he sums up why clients return to the group time and again: "We've worked tirelessly to build an outstanding reputation, and our continued involvement with the very best in the industry reflects that. The AC Group has adapted and grown over the years, but our mission has remained the same – provide quality service as part of the most competitive packages. We understand this sector, evident through our extensive portfolio of accomplished projects and the repeat custom we have with our clients."
AC Plc
Services: Subcontractor specialising in various disciplines