With an expert team of industry specialists and boundary pushing designers, Acorn Property Group has cemented its status as one of the UK's leading design-led developers. For over 20 years Acorn has been creating bespoke developments that complement their environment whilst embodying sustainable architecture
Different by design
With an expert team of industry specialists and boundary pushing designers, Acorn Property Group has cemented its status as one of the UK's leading design-led developers. For over 20 years Acorn has been creating bespoke developments that complement their environment whilst embodying sustainable architecture
Acorn's 'Different by Design' ethos illustrates the company's strong focus on design, from creative placemaking to understanding how people use their private space, "If there is an opportunity to improve the quality of homes that we build; the quality of the places that we create, then we will strive to achieve this. We don't stop designing until the project is finished. This is reflected in how projects develop with well-rounded design solutions developing out of an organic process," discusses Acorn's Design Director Julian Hampson.
Acorn has a strong reputation for considerate but practical design. "Considering day-to-day human activity – how people use their own homes, is core to the design process at Acorn." This is reflected in Acorn's commitment to key design principles which focus on people, places and partners.
Acorn builds in urban and rural locations, brownfield and greenfield sites, building new build and conversions, listed buildings and residential and commercial schemes. Each scheme is unique and personal, committed to striking design which complements the social, historical and architectural environment in which it sits.
Key to Acorn's growing reputation and something which it makes as a point of difference is commitment to community engagement. "Engaging with the local community is really important to us. Working out local concerns and aspirations for asite allows us to develop a design solution which balances the needs of the community with that of future occupiers. We aim for designs that fit their environment and that the community can eventually be proud of," says Julian. "We pride ourselves on some very favourable reports from local people and parish councils, once they see that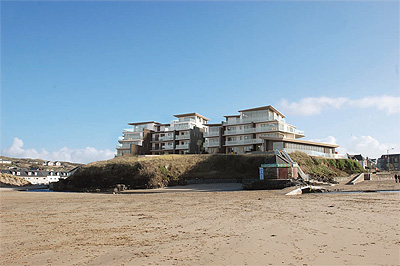 we are committed to high quality design. They can see that we are trying to make a positive contribution to the area. It is a sensitive subject, often challenging, but we feel it is always best to start openly."
Creative regeneration is ingrained in Acorn's 'Different by Design' philosophy. The independent developer has restored several historic and landmark buildings, preserving facets of an area's history whilst breathing new life into derelict sites.
"Working on historic and listed buildings is not always the most predictable form of development, and one that many developers shy away from," explains Julian. "We have some wonderful historic projects and we are proud to restore many neglected sites, bringing them back to everyday use."
Acorn's Hepple & White development in London's historic Borough and Bankside upholds this ethos. "Two of the oldest houses in the area (c.1732) had been crudely converted to offices in the 1970s. We are returning them to the original use of single family dwellings, restoring key historic features such as fireplaces and stairs but also, where the historic content has been completely removed, providing contemporary insertions to restore the ongoing line of history."
With a broad portfolio spanning a range of sites and buildings, Acorn's expertise is underpinned by its team of committed professionals. "At the heart of it all is a passion to do a good job and we are building within Acorn a huge wealth of experience. We have been expanding recently to make sure we have all the key disciplines in the business: Architects, Planners, Project Managers, Quantity Surveyors and M&E consultants. They are spread across Acorn's five regional offices but they are all on tap to the rest of the Acorn family, available for anyone who needs advice."
Having such a team of skilled professionals, working collaboratively across the industry, allows Acorn to fine tune all aspects of its developments. Planning consultations are thorough, designs are continuously scrutinised and improved, construction is methodical and efficient. Assembling the right talent and encouraging it to grow within the business is at the heart of the company. Acorn has a low staff turnover, and passion for the job and pride in the business is high.
"Reputation is everything," adds Julian. "We do a lot of repeat business meaning developing with the same partners, consultants or local authority."
Establishing and maintaining good working relationships is at the heart of Acorn's day-to-day operations. With its collaborative team ethic, strong focus on design and pride in each of its developments, Acorn has established itself as a flexible and experienced joint venture partner to a wide range of individuals and organisations, including landowners, housing associations, charities and public bodies.
"We treat our partners as clients so we can identify their needs and deliver the optimum value for their land assets. We tailor finances to suit our partner and have acquired the confidence to do this from working for a long time with a range of finance providers. Recently we have been working with a long-established charity who were interested in retaining the land and a long-term income stream from retaining several of the units for rental. With our flexible approach, we have enhanced the value of their asset by over 80 per cent through a tailored development agreement, a well-considered design solution and a successful planning process," concluded Julian.
Acorn Property Group
Services: Design-led development group