Originally a carpentry company, Adserballe & Knudsen A/S has diversified its services to become a major contractor for construction, roofing, interior renovation, demolition and balconies projects across Europe
Home makers
Originally a carpentry company, Adserballe & Knudsen A/S has diversified its services to become a major contractor for construction, roofing, interior renovation, demolition and balconies projects across Europe
Founded in 1962 by two experienced engineers, Georg Adserballe and Jens Preben Knudsen, Adserballe & Knudsen A/S was created to enable both men to improve quality in the construction industry. "In the beginning we were predominantly a carpentry company, however, over the last six years we have developed rapidly and doubled our turnover a number of times. Although we were originally based in Greenland, we are now based in the greater Copenhagen area," explains Frederik Spanning, development director at Adserballe & Knudsen.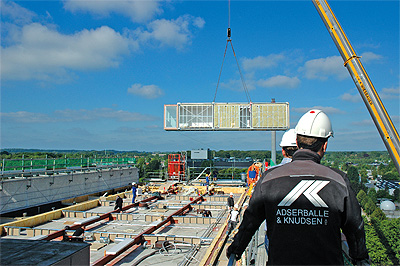 Acquired by Karsten Hjarsö and Mr Laursen in 2006, the company was relocated to Ryttermarken 6 north of Copenhagen in 2007 before it expanded with a department for building services and maintenance. In 2009, Morten L Hansen joined as a partner, a development that led to the establishment of A&K Engineering, PSN A/S, the same year, A&K Service and Maintenance in 2010 and Rudersdal Murerenterprise A/S in 2012. Today employing a total of 300 employees, the group is a powerful entity within the construction industry, with competencies in total renovation, roofing, interior renovation, mechanical and electrical and new construction making it capable of taking on increasingly challenging contracts.
Elaborating on Adserballe & Knudsen's strengths, Frederik states: "What makes us competitive without a doubt is our ability to perform combined construction and production services as we have our own carpenters, bricklayers and mechanical and electrical in affiliated companies, who work in close co-operation with the building process. This means there is essentially close access between top management and building sites. I will also add that during refurbishment and renovation projects not all solutions are found at the start; we are very good at navigating around issues that may come up during a project so we can continue and complete a contract. Not only does this take knowledge, but also the ability to work with clients and consultants to find a solution quickly."
Due to its competitive edge in the market, the diverse firm was awarded its largest ever contract in March 2014 to expand housing department Brunevang in Rödovre with a further 114 new homes. Representing $183 million, the contract, which includes construction and renovation, will involve increasing the four existing apartment buildings from two floors to four floors. Meanwhile, the existing blocks will be thoroughly renovated, with new balconies and galleries. On top of this, homes facing the highway have been promised strong noise-reducing windows, which will allow residents to let air out, without the noise entering. Thanks to the façade being secured with 200-250 mm of mineral wool, the overall noise will be minimised to 58 dB.
Known as facaderenovering, the used of mineral wool, new windows and new façade shelters protects the housing department from noise and energy waste and will provide residents with not only a modernised home, but also a reduction in indoor noise by 50 per cent, a reduction in energy consumption and cheap electricity via solar cells on the roof. The strong sound absorbent windows, known as Russian windows, are double glazed and built together in two layers. The windows can be opened without the noise entering.
Discussing the project, Frederik reveals the reason why Adserballe & Knudsen was awarded the contract by Boligselskabet Brunevang: "This is the largest contract in the history of our company; we are the main contractor on this project but we will be using sub contractors for the areas we don't have our own production. Not only is it the largest contract for us, but it is also the biggest project we have won in a public tender bid. I would say 80 per cent of the reason we won was on price and the remaining 20 per cent was based on issues such as the business process, quality assurance and so on. This was the first project where we described how we would deal with the process and we won the contract as we offered the most advantages. You could say this is the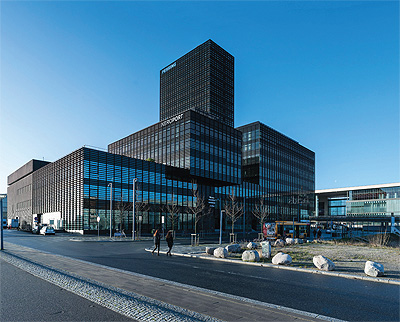 beginning for us as a pusher for major renovation projects, a lot of which are in Denmark where housing needs to be renovated so people can live in improved homes with more comfort and enhanced energy performance."
Dedicated to finding ways to handle energy renovation that exceeds normal building standards, the company believes passive renovation is the way forward, as a passive house offers a range of benefits to homeowners; these include the implementation of a continuous airtight layer, which protects against weak spots such as connections outside and inside walls, outside woodwork and the connections for the sewage and ventilation systems. Moreover, passive housing supplies the home with fresh air via a ventilation system, which keeps out irritants such as dirt and pollen. By providing the best insulation, windows and equipment, passive housing and renovation delivers minimum energy costs with maximum comfort.
Frederik states: "Passive housing is a way of building and renovating where we need very little heating in order for the house to be warm enough to live in. For this to be effective we combine the way the building is designed and positioned towards the sun; you also insulate the buildings and make them air tight in a way that is good for the living environment. This involves putting in ventilation systems that change the air. We like to go above and beyond the normal legislation and standards, which is important because in our part of the world the majority of energy is used in our old or existing buildings."
As the renovation market continues to grow in Denmark thanks to the Danish government's bold ambitions to become independent from fossil fuels by 2050, there is ample opportunity for organisations such as Adserballe & Knudsen to continue growing through the delivery of energy efficient, safe and comfortable social housing, as Frederik concludes: "The focus for Adserballe & Knudsen is to maintain our stronghold on renovation and existing building to the clients we have now, while also trying to find new projects so we can work with passive housing and more green ways of delivering renovation works. We also want to work on newbuild projects, so it is these three key areas that will lead to further growth. Although renovation is our bread and butter, there are certainly strong opportunities in these other areas of the market."
Adserballe & Knudsen A/S
Services: Major contractor for a range of construction related services