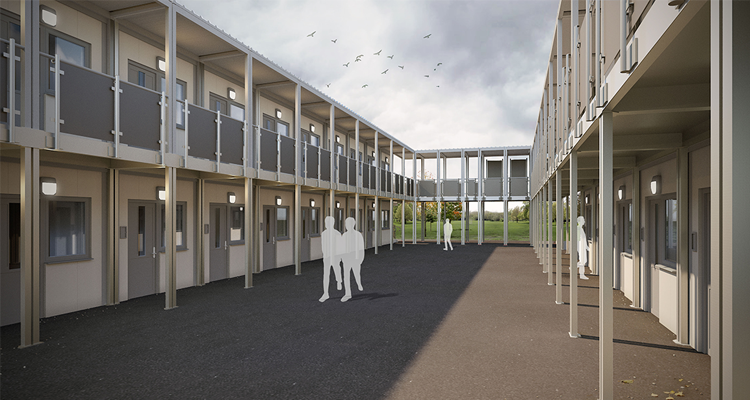 Algeco UK is transforming the rapid construction market, one module at a time
Algeco UK (Algeco), formerly known as Elliott Group, is a leading supplier of portable and modular buildings, offering accommodation and turnkey solutions for both temporary and permanent use. The business has experienced significant success since its inception in 1955, growing to its current esteemed position as Europe's market-leader of modular solutions.
Headquartered in Peterborough, England, Algeco operates 22 hire depot sites across the country and is part of the Modulaire Group, Europe and Asia's leading modular infrastructure business. In the UK, the Algeco UK business (formally Elliott Group) has over 65 years of experience providing Algeco UK with unparalleled resources and the expertise to best serve its clients. With the recent acquisition of Mobile Mini UK, Algeco is the UK's largest modular hire company.
Algeco UK also has the OSS (Offsite Site Solutions) division, which is the permanent construction part of the Algeco UK Group. Operating out of the Leeds office, OSS has three-modular manufacturing centres across the UK, with a major facility being in Carnaby, East Yorkshire. OSS offers full turnkey solutions, acting as Principal Contractor, across all major UK construction sectors including Education, Defence, Justice, Retail, Commercial and Infrastructure.
Modular benefits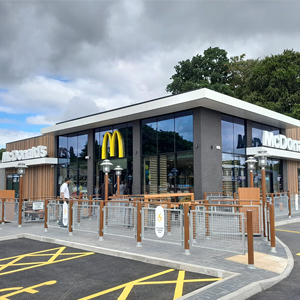 Modular construction is a process whereby individual modules are built off-site, typically using steel, before being transported to the appropriate work site for installation. The modules are joined together to form complete buildings; hence, the process is often likened to creating buildings with a giant Lego set!
So, why choose modular? Modular buildings have grown in popularity over the last decade or two because they offer a modern, flexible, and sustainable space solution that can be customised to a client's specific needs. Construction can be completed up to 50 per cent quicker than traditional construction methods, resulting in less disruption and a quicker return on investment.
Algeco offers its clients even more flexibility with its enviable reputation of delivering turnkey buildings for all sectors. The business refers to its wide range of building solutions as its 360 service, as the modules can be completely customised to meet demand. Some of its interior hire solutions include climate control products, first aid kits and defibrillators, fire safety equipment, furniture, hygiene screens, washrooms, white goods, and even temporary commercial kitchens.
Modular buildings have a vast variety of applications across numerous industries, such as education and healthcare. They can be stacked six storeys high, and are often used as classrooms, emergency care facilities, offices, restaurants, and for social accommodation. OSS is the home of SEISMIC, the latest in modular solutions and a product that is the only platform design solution that is recognised within the Construction Playbook. SEISMIC offers all the usual benefits of a steel framed modular solution but also provides enhanced sustainability characteristics, is lighter in mass than the previous Ibex solution, offers better productivity through its assembly lines, and is an open source interoperable modular solution due to its patented corner connector blocks.
Significant contracts
One such application is for major repeat client, McDonald's. In 2021, Algeco played an integral role in delivering the UK's first carbon net-zero restaurant, McDonald's in Market Drayton, Shropshire, which was also the first net-zero building constructed using Algeco's modules. As part of its sustainable approach, the business used responsibly sourced and recycled materials to create a lightweight steel framework, minimising the need for traditional carbon-intensive foundations. Also, because the modules are 80 per cent constructed off-site, the foundations could be laid during production, which halved the build schedule in comparison to an on-site build.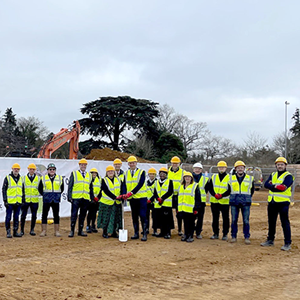 Iterating the myriad uses of its modules, Algeco has very recently secured a contract with the Ministry of Justice (MoJ), totalling £33m million, to supply secure units for the Rapid Deployment Cells Project. This project was initiated by the MoJ to create an innovative design that can be quickly deployed to various sites, helping to meet the short-term demands on the prison system.
In a recent press release, Minister for Prisons and Probation, Damian Hinds, commented: "We're rolling out a thousand rapid deployment cells to create extra spaces quickly, and the first rapid cells at HMP Norwich are already boosting capacity." The company's Cannock facility plans to use lean manufacturing techniques to build the modules before they are transported and installed on site.
Additionally, the business secured a £27.6 million contract to construct a school in partnership with Northamptonshire County Council, on behalf of the Department for Education. 210 Seismic modules will make up the main teaching areas, whilst a hybrid structure will be utilised to create large, open plan internal spaces like the assembly hall and sports centre.
The business has also secured £32m of projects for modular Single Living Accommodation (SLA) for the DiO (Defence Infrastructure Organisation) procuring on behalf of the British Army. Algeco will act as full Principal Contractor delivering much needed updated accommodation for both Beacon Barracks in Stafford and Kinloss Barracks in Forres, Scotland.
In Algeco and Mobile Mini UK's public announcement, Mark Higson, Group CEO of Modulaire Group shared his view on the acquisition: "Mobile Mini is a strong, strategic fit for Algeco and the combination of the two companies will drive significant value for both customers and stakeholders. It will help us further deliver the Algeco vision to be the market leader in modular and temporary accommodation operating as a trusted solutions adviser to customers."
Furthermore, Algeco has entered a strategic two-year partnership with Galliford Try in February 2023. Over two years, the business will supply Galliford Try with a full range of temporary buildings across all sectors, such as highways, water, judicial, rail, commercial, telecoms, and urban living. Strategic Key Accounts Director at Algeco, Andy Brind, shared his insight with the public, commenting: "It's clear that Galliford Try is a forward-thinking company that is committed to inclusivity and sustainability and it's part of our mission and purpose to make sure our site accommodation has a positive social and economic impact."
As Andy implies, the business is passionate about integrating sustainability into all aspects of the business. To recognise its duty to leave a positive impact on customers, the environment, and the wider community, the business has established a series of Environmental, Social, Governance and Sustainability (ESGS) goals. For instance, it is committed to the improvement of employment practices to ensure equality, diversity, and inclusion across the business. Additionally, it operates a circularity model, 'Loops within Loops,' to reduce its carbon emissions by 2.5 per cent year-on-year, with the vision to achieve Net Zero by 2050.
With an abundance of projects on the horizon, the future looks bright for Algeco. As it continues to win contracts throughout the UK and Europe, the business will no doubt have expanded its portfolio and grown significantly by the time of its 70th anniversary in 2025.