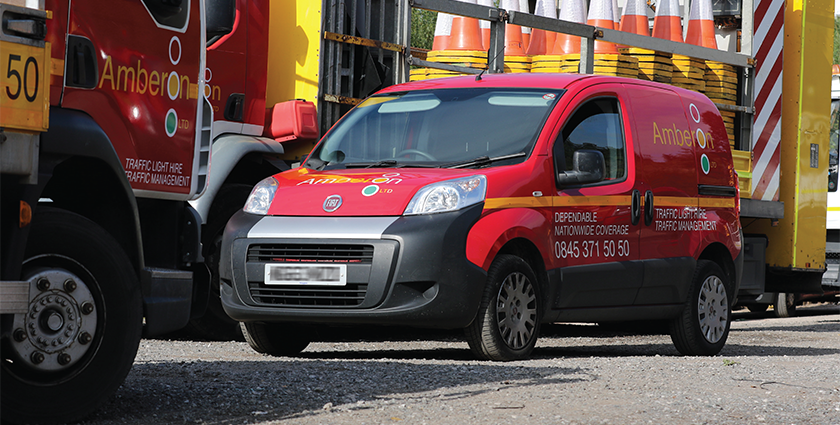 Giving innovation the green light
As it celebrates its 20th anniversary this year, leading traffic management provider Amberon is targeting a host of new innovations across AI and sustainability
When Amberon was first established in 2002, it was in order to satisfy a growing demand for portable, battery-powered temporary traffic lights. Based in Devon, the company soon grew to include locations in South Wales, North Wales, and Cheshire, responding to yet further calls for increased safety by expand its offering into a complete traffic management solutions service.
Positioned within the Core Highways Group of Companies, today Amberon boasts a strategic network of 28 depots operating across England and Wales. "We offer everything traffic management-related, from temporary traffic light systems, road closures, and stop and go in an urban environment, to full motorway works on the national network," says Dan East, Commercial Director at Amberon. "We're incredibly customer-focused, tailoring our approach to best suit our wide range of companies across all sectors working on the highway. We put strength in relationships, and seek to understand our clients' pressure points, with the aim of developing an effective partnership approach."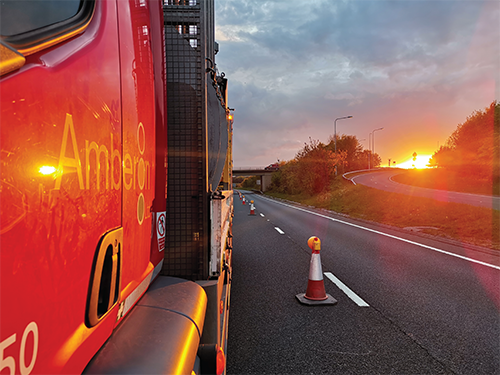 Classed as an essential service throughout the Covid-19 pandemic, it's nevertheless been an unusual few years for Amberon, as lockdown restrictions and heightened safety procedures have brought an added level of complexity to the company's workstreams. "We had to be inventive in our internal communication strategies, implement social distancing, and manage the impact of an often-depleted workforce," Dan continues. "To that end, we introduced a new digital platform called 'The Core Training Hub', which has allowed us to deliver vital information such as toolbox talks, safety briefings, and in-house training modules directly to staff via their mobile devices."
But the impacts of Covid-19 weren't only felt internally. With supply chains creaking and projects disrupted, Amberon had to work more closely with its customers than ever before. "It was a natural bi-product of the situation for us to seek out greater visibility of demand, and thus enable efficiency in our scheduling," Dan reflects. "It's a development that's stuck with the business to this day."
But this is by no means the only innovation that is set to shape the future of the company, and traffic management. Advances in technology continue apace, and Amberon sits at the cutting-edge, with a focus on solutions to enhance safety and capitalise on the opportunities of AI.
"There's no doubt that we're experiencing a time of excitement in the highways industry at the moment," Dan confirms. "Innovations around safety are coming to the fore, and we've recently introduced a series of practical technologies to ensure we remain class leading. One such technology is Samsara, an AI-powered vehicle telematics and driver coaching aid. Incorporated across our fleet, Samsara includes fatigue monitoring software and alert systems to keep our drivers safe. Similarly, intelligent fingerprint scanning for drugs gives our clients confidence that we have the best and most robust processes in place.
"We have also upgraded our entire fleet of traffic lights to include the latest in telematics technology, allowing us to remotely monitor battery life, phasing, and timing," he indicates. "We've had an innovation working group in the business for the last five years. It's in no small part thanks to their efforts that we've been able to successfully roll out new developments at pace, and adopt the latest technology."
With an active customer base in excess of 600, ranging from tree surgeons undertaking a short-duration job on an urban street, to blue-chip clients working on the national motorway network, Amberon has a number of projects on-the-go. But Dan is keen to highlight the work of the company's dedicated Rail Project Management Team, one that he describes as an "enabler" between the highways and rail networks.
"It's a team that epitomises the Amberon approach to partnership and collaboration," he adds. "They provide all of the planning and project management to allow our rail industry colleagues to work on the highway during the maintenance of rail assets."
It was amid the ongoing pandemic-induced disruption that in July 2021, Amberon announced its strategy in relation to a different problem: sustainability. Known as the '2021 Sustainability Initiative', the seven-part plan seeks to formalise the company's commitment to going green into a defined set of objectives. Part one of the initiative sought the removal of all non-biodegradable packaging from PPE and other equipment in regular use at Amberon – but that's just the beginning.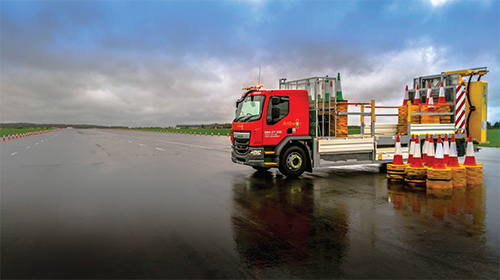 "As a company, we recognise that we have an impact on the planet, and it's something we're working hard to address," Dan tells us. "To date, we've already removed 96 percent of non-recyclable packaging from our supply chain, and we've introduced eco-workwear made from recycled plastics and bamboo.
"Measurement of our fleet-based carbon impact has been enabled through the introduction of Samsara, and assessments have commenced on the feasibility of EV vans, HVO, and hydrogen," he goes on. "Of course, our ultimate goal is to become carbon neutral, and we are working behind the scenes with a number of experts to develop our full carbon strategy. By partnering with our Tier 1 customers, we also help to share and promote best practise across the industry."
With these strong foundations, Amberon is looking forward to a prosperous future. "We're committed to growth," Dan insists. "We recognise there is an opportunity to expand our depot network even further, as well as to continue to improve our offering through innovation and collaboration."
In doing so, the company will need to grapple with an industry that has been by no means immune to the skills shortage affecting the wider market. Nevertheless, Amberon is confident in its ability to continue leading the charge with regards to identifying and training new talent. "Encouraging more young people to explore a career in traffic management and our sustainability initiatives will also be central to our improvement plans in 2022," Dan notes. "We regularly engage with the DWP on recruitment, and were one of the first companies to complete the Government-led SWAP and Kickstart Scheme programmes.
"We have a clear goal: to be the recognisable market leader in the traffic management space," Dan concludes. "That's not just about the size of our business, it's about being the best possible partner for our customers. Over the next five years, we'll improve and adapt as the highways and construction markets change. In doing so, we'll be as reliant as ever on the time, effort, and belief of our incredible staff, from the front-line teams out deploying traffic management in all weathers, to the back-office support staff who enable our business to function 24/7, 365 days a year."
Amberon
www.amberontm.com
Services: Traffic Management