Switzerland headquartered Ammann Group launched its first motorised roller in 1911 and has since developed a comprehensive range of innovative products for the construction industry
Positive vibes
Switzerland headquartered Ammann Group launched its first motorised roller in 1911 and has since developed a comprehensive range of innovative products for the construction industry
Enjoying international success since its inception in 1869, family firm Ammann has spent the last 135 years developing its product portfolio, supply network and services through strategic acquisition to become a leading global supplier of asphalt mixing plants, compaction machines and services for the construction industry. Conducting business in the building industry through Ammann Construction Equipment and Avesco AG, the group has utilised its entrepreneurial spirit to establish itself in new and emerging markets with sales, services and local production in areas such as North America, Latin America, India, Southern Africa and South East Asia.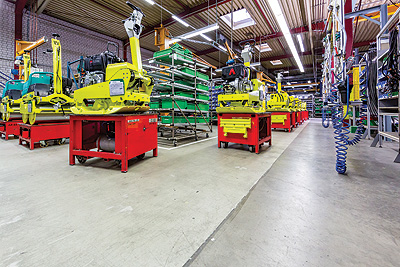 Elaborating further on the group's history managing director of Ammann Verdichtung GmbH Bernd Holz begins: "Ammann was founded 130 years ago and has acquired a number of companies throughout this time; the entity I manage was added to Ammann's group of companies in 1984 and was previously known as Duomat GmbH. It also acquired Alfelder Iron Works in Germany in 1984, before acquiring Societa Italiana Macchine SIM, in Bussolengo, Italy, in 1991. More recently the group acquired Stavostroj in Nove Mesto, Czech Republic, in 2005, and started paver and trench roller production in Langenthal in 2010. Aiming to further develop its presence in strong markets, Ammann founded Ammann South Africa, Ammann Brazil, Ammann Bulgaria and Ammann Singapore in 2012 and opened a manufacturing facility in Gravatai, Brazil, and founded a joint venture with Ammann Apollo India in Ahmedabad in 2013."
He continues: "The division I operate in Germany is a small part of Ammann, operating as a production facility for light compaction equipment such as small rammers, weighing between 60 to 80 kilos, vibrating plates, which can only move forward, and reversible plates, that can move both forwards and backwards. We also produce very heavy, fully hydraulic driven plates, which have a maximum weight of 850 kilos." Powerful, economic, operator-friendly and ergonomic in design, Ammann rammers are the ideal compaction machine for construction projects involving trench construction, backfilling and sub-layer compaction for basements and industrial buildings as well as road and pathway repair. All rammers provide fatigue-free operation through an elastically supported guide and a sure-grip, vibration-insulated guide handle.
Meanwhile, the group's vibratory plate product portfolio includes a broad range of equipment, from remote-controlled vibratory plates, which provides operator safety and a powerful performance through its diesel engine, to forward moving vibratory plates, which are hydraulically powered and user friendly to ensure high machine performance. However, it is the group's fully hydraulic attachment systems that Bernd anticipates increased demand for over the coming years. "Within our product portfolio we have attachments that can mount on an excavator, such as vibrating plate attachments, and we are seeing that these fully hydraulic attachment systems can increase efficiency on job sites by eradicating the need to jump out of the excavator and attach manually by hand. Tools can be changed quickly and the system is easily adaptable on all excavators from two tonnes to 30 tonnes. We are not unique in this market but we are the best and we anticipate increased demand for this technology once it becomes better known in the market," he highlights.
Approximately 40-45 per cent of annual production at the facility is sent to the German market, with the rest being delivered to international markets such as France, Poland, Switzerland and Austria. "We produced approximately 15,000 units last year for our core customer base in Europe," says Bernd. "We also sell overseas to Latin America for countries like Brazil, but these are emerging markets for Ammann; we began operating there two years ago, so it is a growing market, step by step."
Boasting the claim: 'Productivity partnership for a lifetime' Ammann retains core values of independence, sustainability and credibility through maintaining a sustainable service network and delivering credible commitment to its customers around the world. With factories in Germany, Czech Republic, Switzerland, Italy, India, China and Brazil, the group ensures its expert personnel are in close proximity to its customers and relevant markets 24 hours a day; it also has more than 60,000 spare and replacement parts in stock, with a spare parts service available at any hour of the day. Customer service and product reliability are critical keys to the group's success and it is proud of the ongoing close relationships it has developed with clients through understanding their demands and striving to meet them every day, as Bernd highlights: "The reliability of our products is a major strength of the group, which is known for quality and lifetime cost effectiveness. Our slogan means we sell these products mainly through our distributors and dealers, with whom we have a long-term relationship alongside our end users; we work together, we are like a family. We are also committed to long-term results and don't jump in and out of markets to gain over the short-term."
Indeed, this commitment to long-term results led to Bernd finding opportunities for improvement within the production facility when he joined Ammann seven years ago; viewed as his biggest achievement so far while operating under the Ammann umbrella, Bernd introduced a lean manufacturing system that heightened efficiency and ensured the facility could reach targets during busy periods. "When I began working here in 2007 it was a booming year for road construction equipment, so we focused on issues on the production side of operations and recognised that we were unable to produce enough units a week or month that our sales required. We also noticed that lead times were too long and that a lot of material was involved in the process so there was a lot of carrying material three or four times before it was assembled on the assembly line. This way of working was inefficient so we began a complete analysis alongside a third party consultant and also trained our personnel to understand the meaning of lean productio ."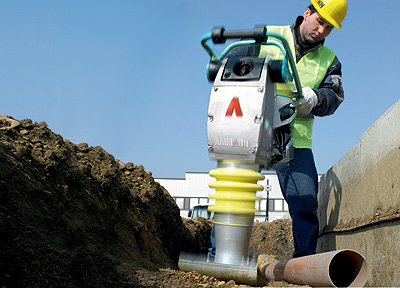 Using the medium sized vibrating plate product line for a test run, the facility set up new shelves with production tools and materials in close proximity to personnel; this simple improvement massively boosted efficiency through eliminating the need for staff to rush back and forth to get the item they required. "In addition we reduced long lead times in the facility through ensuring there is someone who will come and refill empty material boxes. These improvements led to reducing our inventory level of unfinished goods by 35 per cent and improving lead time production by 20 per cent; we now produce more machines with the same people on board as before."
Keen to understand the needs of its major client base, the group regularly develops its products through innovative collaborations with experts to optimise product lines and also offer advantages to clients by listening to their issues. "After summer 2014 we will launch a new fully hydraulic driven plate, which will weigh in at 850 kilos and will have a water cooled three cylinder diesel engine," enthuses Bernd. "This is a new development for us, having previously use one cylinder Hatz diesel engines, so this product is much more powerful and will in fact be the most powerful vibrating plate on the market. A lot of customers will use this big plate because it is cost effective and, judging from our calculations, far more efficient than a seven tonne compactor. The marketing campaign for this will begin in July 2014 and production will begin a few months later once testing has been completed."
Renowned around the globe for its high quality products, the group has recently enhanced its presence with a major marketing campaign under the title 'My Ammann', which involves satisfied end users standing next to their product, as Bernd highlights: "Starting in 2013 the 'My Ammann' campaign came from our headquarters in Switzerland and involves one of our many customers standing next to a machine from our product range and saying they are proud of 'My Ammann'; we are very proud of this campaign and have noticed that one of our competitors is now doing a similar campaign for their own products."
Having set the foundations for ongoing growth around the globe, the future looks positive for Ammann as it focuses on further developing its impressive product range and becomes increasingly more competitive in a growing market. "After 2014 we will be completing a new range of small forward moving vibrating plates; in addition we will be focusing on being competitive in overseas countries by developing new products that can be produced not only in Germany, but in our facilities in India or China," concludes Bernd.
Ammann Group
Productss: Compaction machines, rollers and soil compactors