CCE shares some expert advice from Landmass on how to get the best interior design for a small space
Most people would agree that small space living requires a certain amount of flexibility and creativity. However, when done right, there's no reason why even the tightest of spaces can't showcase a design worthy of acclaim.
Whether you're trying to figure out how to put a personal spin on your new studio apartment or need some guidance on making the best use of space in a not-so-spacious house, follow the tips below for decorating a small space and make your home shine.
1. Consider one colour
Covering all the walls in one colour will make it feel larger. Consider using a warm and rich or soft and soothing hue to cover most of the room, including the ceiling. Highlighting one unifying colour fades defining lines, which enhances the cosiness of the space. Additionally, using that wall colour at least one other time in your space — either in a rug or a piece of art — will pull your style together while continuing to let it feel open.
2. Focus on lighting
A small room can really open up with the right lighting. In addition to letting natural light shine in through the windows (skip the blackout blinds!) use additional lighting throughout your space to bring in some additional warmth. If you don't have the room for floor and table lamps, choose lighting options that don't take up any prime real estate, like string lights, wall sconces, or pendant lighting.
3. Make it multi-functional
Furniture that can do double duty will save both space and money. And thanks to the tiny house/tiny apartment trend, there is no shortage of ingenious furniture items that either serve multi-purpose uses or fold up to make space in your home when they're not in use. Desks, dining tables, and even king-sized beds come in styles that can easily be put away to make more room to move around. Likewise, you can find furniture that serves a variety of purposes, such as beds that can convert into couches and side tables that can convert into desks.
4. Mirrors are your friend
Speaking of double duty, mirrors add both additional light and the feeling of additional space into rooms by reflecting back natural and non-natural lighting and giving an illusion of more square footage. They're also practical on their own. Use one large mirror or arrange a few smaller ones throughout a room. You can even create a gallery wall of mirrors like you might do with art.
5. Get rid of stuff & declutter
One of the big benefits of living in a smaller space is that it forces you to cut down the number of belongings you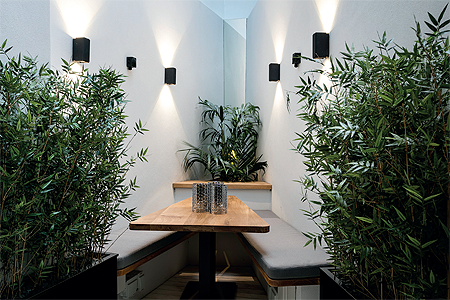 have in your home. You want to keep the general amount of stuff you own to a minimum when you don't have lots of room to work with. Get rid of things that don't serve a purpose in your life – be it because they're impractical, useless, or just don't bring you joy.
Further to this, be mindful of leaving plenty of open space, both for ease of movement and for maintaining utility. This applies to all visible areas, from the floor to your countertops to the amount of space you allow between furniture items. Less is more when it comes to creating a well-designed small space.
6. Use large rugs
Decorating a small space is all about tricking the eye into seeing more than there really is. When you use small rugs in a small space, you see—and think—small. Decorating with large rugs, however, give a sense of grandeur and the feeling of a larger room. Ultimately, the shape of a room and the furniture within it will dictate the best size rug to purchase, but always aim to go as big as you can.
7. Take advantage of vertical space
Don't neglect your walls. Making the most use of vertical space means both playing around with taller items and affixing your walls with things like shelving and art that add vertical depth in addition to the spaciousness you've worked to create on the floor. If you have a piece you really love but can't find a place for—a beloved vase, for instance—hang up a secure shelf and put it on there instead. And when you're hanging drapes, install the rod only about 2 inches below the ceiling or crown moulding, which adds an illusion of extra height.
8. Brighten with plants and flowers
Adding greenery and flowers to your small space can breathe additional life and style into it as long as you don't overcrowd. However, bear in mind that dead or dying plants have the opposite effect. If you won't be able to keep up with the responsibility of maintaining your plants and flowers, there are great options for fake ones that look like the real thing. Don't worry—fake plants are no longer a design taboo.
Work with your intuition when decorating a small space, and don't try to work in anything that doesn't feel or look right. Ultimately, the goal is to take as much advantage as you can of the space that you do have, maximising its possibilities and really showing it off at its best. And while no design rule is set in stone, the tips above should help you do just that.
Landmass was founded in 1998, by managing director Alan Waxman. Based in Soho, it is a multi-award-winning multi-disciplined real estate company offering architectural and interior design, project management, construction and property sourcing via its in-house team. Operating predominantly in Prime Central London, Landmass provides a single point of contact to deliver private luxury properties
For more information, please see:
www.landmass.co.uk