With an industry leading team, and one of the largest fleets of plant and equipment available in the UK, Ardent Hire Solutions is delivering game-changing, smart hire solutions that can't be found anywhere else
Challenging the status quo
With an industry leading team, and one of the largest fleets of plant and equipment available in the UK, Ardent Hire Solutions is delivering game-changing, smart hire solutions that can't be found anywhere else
In the eyes of Jeremy Fish, CEO of Ardent Hire Solutions (Ardent), the hire industry in the UK today finds itself at a crossroads. "My own view of the hire industry is that, in recent years in particular, it has failed to innovate or invest appropriately and thus has become somewhat stagnant," he states. "This has come at a time when prices have remained either static or have declined,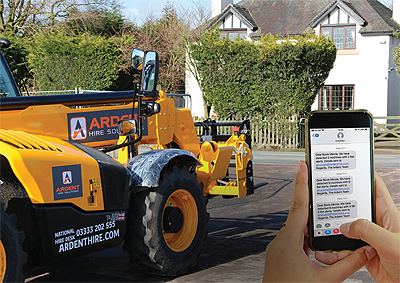 while businesses have had to deal with inflationary pressures relating to things like labour and the rising capital cost of equipment. I believe this to be a major problem for the industry, but one that can be aided by a business like ours which is prepared to do things differently."
Since Ardent last featured within Construction & Civil Engineering back in the late summer of 2016, a fair few things have occurred, but what has not changed is the ethos of the Enfield-headquartered owner of one of the largest and youngest fleets of telehandlers, excavators, loaders and other associated plant. "Our success in recent years has been down to a combination of delivering excellent service, having first-class equipment, our team of passionate people that truly care, and our belief in challenging the status quo of the whole hire industry," Jeremy adds.
Package of information
This approach and subsequent success manifested itself in July 2019, when the company was presented with the Digital Construction Excellence Award at the 2019 Construction News Awards, in recognition of its industry leading Site Manager platform. Site Manager is the company's unique Management Information and Telematics System (MITS), specially designed by Ardent to be the only software tool in the hire industry that provides a practical solution for improving productivity, reducing operating costs and eliminating risk.
"We have long had a desire to help our customers improve the safety of their sites, manage their costs more effectively, and be more productive with their assets, and we are working to make this possible by using Site Manager to encourage behavioural change and provide said customers with better value out of their hires," Jeremy explains. "Our Site Manager innovation does not require complex systems or software, so long as a site manager has a mobile phone it allows us to send real-time texts and emails alerting them to plant incurring unnecessary cost, equipment idleness or any impending risk to safety.
"An example of how the platform can assist site managers is how we can help them reduce the number of rental days they buy rather than the price they buy them at. A utilisation threshold is set within the system, when a hired in machine from Ardent falls below that threshold on a certain day a text alert is sent to the site manager along with an electronic off hire prompt that can be clicked to off hire the machine in question. This may go against the traditional hire industry mentality of having customers renting equipment for as long as possible, but what it is doing is helping to reduce their costs at a time when this is of paramount importance. By taking the telematics data of the manufacturers' equipment and blending it with our customers' own data, we are creating what we describe as a 'smart hiring' environment that delivers a package of information to the right people, in the right place, at the right time."
Video technology
Site Manager forms one part of the journey that Jeremy and Ardent wants to help take the hire industry on, and it is far from the only innovation that the company has introduced. "Another example of how we strive to do things differently comes in the form of how we are helping to tackle machine downtime," Jeremy reveals. "Under the typical model, if you experience a downtime incident, you would call the relevant customer service team and a fitter would be sent out to site in around two-to-four hours, during which the machine sits unused. We have developed an alternative solution called Ardent TV, which utilises unique QR codes inside all of our equipment that direct users to a series of one minute self-help videos that we have produced in English, Polish and Romanian.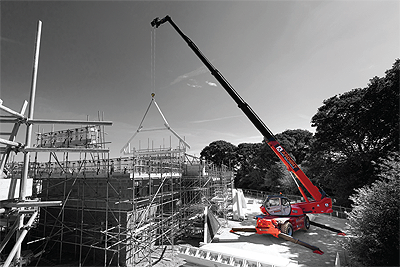 "These videos provide a breakdown of how to fix a number of common issues experienced on site, which significantly reduces the need to call out fitters to site. This solution typically helps when it comes to things like hand brake adjustment, machine lock outs, water getting into the fuel, or other actions such as how to attach a breaker or a bucket to a piece of plant. As anyone with experience on site will tell you, even the simplest of things can sometimes go wrong, and these can soon add up to downtime and unwanted costs. Using Ardent TV, our videos can restrict this downtime to a matter of minutes and potentially save customers hundreds of pounds over time."
Fleet investment
With the company growing, it has also made significant investment over the last four years or so, spending approximately £220 million in new fleet. This has been channelled into telehandlers, excavators, dumpers, rollers and a new roto telehandler fleet, some of which has been used to expand Ardent's capabilities, while a percentage is used to maintain an average plant age profile of between two and four years. An example of the scale of this investment was seen in July, when the company confirmed that it had placed the biggest single order of telescopic handlers ever made by a UK customer with JCB, a part of a two-year deal worth more than £75 million. Further announcements are expected within the coming weeks and months with other leading manufacturers.
New sites
The company's investment has also extended to its people and infrastructure. "In the case of the former, we have invested capital into apprentices, and staff training and development," Jeremy says. "Meanwhile, in terms of our facilities, we have just opened a new state-of-the-art depot in Fareham, which is three times the size of our previous location in the area, and we are about to move into a massive depot in Midlands, which will assist us in preparing for HS2 and expanding our business in the region. Other developments have included the opening of sites in Glasgow, Leeds and Haydock, and we have successfully expanded our depot footprints in Bristol, Oxford and Kent in the last 12 months."
Model disruptor
The above steps also represent part of Ardent's aim to firmly establish itself as the UK's premier hire company. However, as Jeremy tells us, it plans to achieve this in its own unique way. "We are not necessarily looking to reach our goal by being the biggest company of our kind, rather we want to do it by providing the best quality of equipment and service, and by thinking outside of the box. Our view is that there is not really space for just another plant hirer in the industry today, but there is for one that embraces doing things differently and is comfortable in being a disruptor of traditional models. The results of this approach are already becoming apparent, and it helps us to stay true to our values as a company, which are passion, pace and performance, and that is what we at Ardent are all about!"
Ardent Hire Solutions
Services: Construction equipment and plant hire