Formed from the amalgamation of two industry renowned operators, Fork Rent and One Call Hire in August 2015, Ardent Hire Solutions has been established with the goal of creating the largest and youngest fleet of machines for hire in the UK
Passion for plant hire
Formed from the amalgamation of two industry renowned operators, Fork Rent and One Call Hire in August 2015, Ardent Hire Solutions has been established with the goal of creating the largest and youngest fleet of machines for hire in the UK. The business trades from 12 depots nationwide and provides over 5000 units for rent with a financial value of approximately £150m. The initial acquisitions of Fork Rent and One Call Hire were led by Searchlight Capital Partners and Duke Street together with key management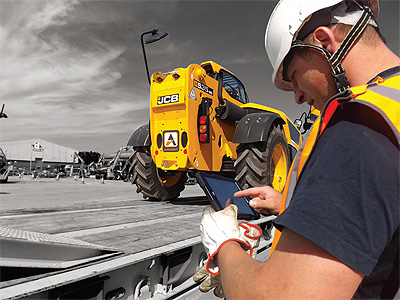 Since August 2015, Ardent has gone through a period of consolidation and today is the UK's largest telehandler provider and has one of the largest excavator fleets in the country. The company is also backed by more than £100 million of new investment to further strengthen the fleet, which boasts an average age of two years.
"Since the initial acquisitions, subsequent merger and consequently the birth of Ardent, we have kept the existing brands very much alive due to the recognition they had within the industry," comments Anuj Patel, Group Marketing Manager at Ardent Hire Solutions. "Our presence in the market is growing rapidly, which is partially thanks to the growing number of depots nationwide. We have now opened a new depot in Middlesbrough, with Leeds scheduled to open in September and by November we should have secured representation in Scotland, which would mark a key milestone in our expansion plans. Our strategic network of depots manages over 5000 assets; the largest contributor of this being telehandlers and excavators, which makes up just over two thirds of our fleet.
"Indeed, thanks to continued investment and the existing fleets of Fork Rent and One Call Hire, Ardent has been able to maintain one of the largest fleets of excavators in the plant hire market, from 0.9t Micro Diggers to 35t Heavy Excavators. We run the UK's largest and most extensive range of telehandlers & Heavy Lift Telehandlers (4m-20m), Roto Telehandlers (18m-32m) which is further complemented with Rollers (Rammax-20t, Smooth & Padfoot), and Dumpers (1t-10t, Straight & Swivel). We have built partnerships with industry leading manufacturers supplying the fleet including JCB, Manitou, CAT, Hitachi, Komatsu, Kubota, & Volvo. These partnerships will ensure we continue to offer our customers the latest and most technologically advanced machines on the market."
Operating in sectors such as housing, construction, events, government, industrial, infrastructure, energy and renewable energy, Ardent is investing to continuously meet demand. "We are highly responsive to market demand and continue to invest in the latest machines equipped with the latest Health & Safety standards and innovative technological solutions to help save our customers money on running costs," says Anuj.
As a result, part of the company's £100 million investment in the extension and improvement of its fleet went towards acquiring 60 Kubota Mini Excavators, 25 CAT Excavators, 50 Hitachi Excavators, 20 Volvo Excavators, and 35 Manitou Telehandlers since January this year. These were some of the first units to join Ardent since the merger that carried the new corporate branding.
Now, taking over from Fork Rents 10-year reputation as JCB's largest telehandler customer in western Europe, Ardent is further strengthening its relationship through a £40m order of new Telehandlers and seeks to continue investing in the most advanced machines on the market. Anuj comments: "We've made investments with all of the UK's leading manufacturers of modern and compliant machines. We are on an innovative drive to supply our customers with the safest and most economically compliant machines in the market. We want to offer value with each hire, and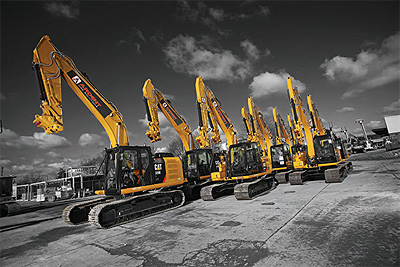 investing in that means we can help our customers meet their targets."
Alongside these investments which have strengthened customer relationships between key suppliers, the company is also investing in its own operations to ensure it is running a modern and sustainable service fleet: "We have invested in a service fleet of vans and have increased our operational teams to support this growth. Moreover, we are investing in products and software to enhance our service offering to customers. In fact, our sales team is also growing rapidly to ensure we meet demand. Our investment is not only committed to machines, service and depot expansion, we also have an acquisition strategy in hand which we are working through. We recently entered into an agreement to purchase Speedy Hire's mechanical plant assets. This acquisition will see Ardent Hire buying 750 assets made up of excavators (3tn and above), dumpers and rollers. This agreement will also give us exclusivity in the supply of self-drive equipment to Speedy customers, nationwide. We are very excited to strengthen our relationship and this marks a milestone in Ardent's progression.
"We chose our brand name to reflect all that is best about our new company, and what makes us different from our competitors," explains Anuj. "Ardent is strong and eager, shown by our hunger to grow. It is enthusiastic and passionate. It can even be zealous in its pursuit of the very best. These are all characteristics that sum up our fresh and positive approach. We are a company that seeks to go above and beyond to provide better service and smarter solutions that will make us stand out in a crowded marketplace. Our goal is simple; to work closely with our customers to give them a superior plant solution while saving costs and increasing efficiency. As relationships continue to strengthen and opportunities increase, Ardent is in a great position to secure a strong future within the plant hire industry," he concludes.
It is clear that the once family owned companies are on a journey for big things. Ardent is seeking to lead the way the hire market works with innovative new ideas and strategic solutions so as to become the recognised supplier of choice by providing industry leading equipment and reliable services.
Ardent Hire Solutions Ltd
Services: Specialist in self-drive plant hire machinery