Arena Central is an ambitious mixed-use development site designed for work, leisure and residential
Arena Central has big plans for Birmingham
Arena Central is an ambitious mixed-use development site designed for work, leisure and residential
After a difficult few years during the economic crisis it appears there is more confidence in the construction industry with an increase in demand for largerscale building work. One of the most exciting is Birmingham's Arena Central, a mixed-use development project in the centre of the city being delivered by ACDL, a joint venture led by Miller Developments.
A number of award-winning companies are working in collaboration on the scheme – from masterplanners and landscape architects, to contractors and project management firms – and Arena Central looks set to become a key location for work, leisure and residential applications.
It has been a long journey to get to this point as Andrew Sutherland, Joint MD of land and development company, Miller Developments, and lead Director at ACDL overseeing all aspects of the project, notes: "We had been tracking the site for some time and acquired it in 2001. We felt there was a chance to create something special in terms of a mixed-use environment and forming something out of what was a bit of a concrete jungle."
Unfortunately progress at Arena Central was significantly delayed by the financial crisis of the mid-2000s: "We were talking with an occupier about a major pre-let and then a little thing called the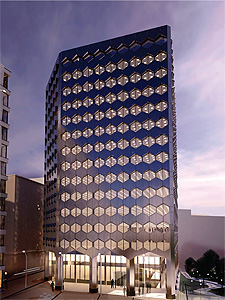 financial crisis came in and put things on hold for a while," Andrew admits.
Ambition
Covering nine acres this is a huge undertaking and already the site has been in demand with the headquarters of HSBC UK's new ring-fenced UK bank set to move into the scheme's first building, 1 Centenary Square, in March next year and the government committed to take the full 240,000 square feet 3 Arena Central, both of which are currently being developed.
For Miller Developments this represents the start of a new and encouraging era as Andrew explains: "After 2012 we started to see other activities we were involved with around the UK start to pick up and in terms of creating new space in Birmingham city centre there was actually relatively little competition. At that point we were dusting off the plans again, saying 'We need to be ready for this' and as consequence we went ahead and started getting new planning consents. Completing the deal with HSBC UK in 2015 was the catalyst for physically starting building work on the site."
There is ongoing debate around whether Manchester or Birmingham is England's second city and Andrew feels that Birmingham deserves morerecognition: "Investors have come in and although there has always been competition between Birmingham and Manchester and I feel that this city is leading the way now. We've been working closely with Birmingham City Council throughout the 16 years we've been working on the project and we have found them to be one of the most proactive and progressive councils we have worked with. I can't sing its praises highly enough."
The future
In terms of infrastructure one of the most talked about and debated projects has been HS2, a scheme that has been touted as a very potent method of connecting cities such as Birmingham with the rest of the country and increase the amounts of visitors to the area.
However Andrew is keen to stress that this is not the only factor in attracting more people, "another development is the University of Birmingham when it bought what was called 301 Broad Street and the university want that to be a hub within the city centre and that's going to be a fantastic addition to the master plan. It was always going to be hard as it is a listed building and as a former bank there are also ties with HSBC UK, so it's appropriate that's being reused," he states.
Increasingly sustainability and the environment have also become additional concerns when it comes to any form of infrastructure planning and this is something that Andrew insists is being strongly considered during the entirety of the Arena Central project: "HSBC UK's new building at 1 Centenary Square is being delivered to LEED Gold standard, an American standard we've been asked to work to. This means we have to incorporate sustainable requirements for the buildings to make them as efficient as possible. Equally we're seeing car parking space reduced as a consequence of the site's location in the city centre. The government has asked us to remove a number of the car parking spaces and replace them with cycle racks so we're starting to see more mobility in terms of walking and cycling as opposed to cars and public transport," he confirms.
Essentially what Arena Central represents is a benchmark in part of Birmingham's Big City Plan – what Birmingham Council hopes to achieve is that by 2031 'Birmingham will be renowned as an enterprising, innovative and green city growing its economy and strengthening its position on the world stage.'
It is clear that Andrew shares this vision, stating that: "What we hope is that we see Arena Central as not just one of the best office locations in the city but a place where people can live, work and play, a vision that is supported by the welcome addition of the 320 apartments currently being delivered by Dandara on the site."
With the support of the city council and two high-profile pre-lets already secured, it is clear that this bold and ambitious project is being supported by people with a genuine drive and passion to achieve it.
Arena Central
www.arena-central.com
Services: Mixed-use development project