Founded in 1991, Arkoni Metalwork of Brighouse in West Yorkshire is facing its silver anniversary in a rude state of health with burgeoning demand from across the UK for its fire-rated glazing systems and architectural metalwork
Anything is possible with Arkoni
Founded in 1991, Arkoni Metalwork of Brighouse in West Yorkshire is facing its silver anniversary in a rude state of health with burgeoning demand from across the UK for its fire-rated glazing systems and architectural metalwork
Formed by current MD Mark Prentice and former business partner Tony Paget, Arkoni derived its identity from a conglomeration of the first names of its founders and initially focused on manufacturing and supplying architectural and bespoke metalwork including staircases, balustrades, canopies and balconies.
In recent years the company's focus has shifted to fire rated glazing systems, bulletproof security glazing and stainless steel window and door sets, and business has never been better. Five consecutive years of 25 per cent plus growth have helped cement Arkoni's position as one of the fastest growing manufacturing firms in the north of England.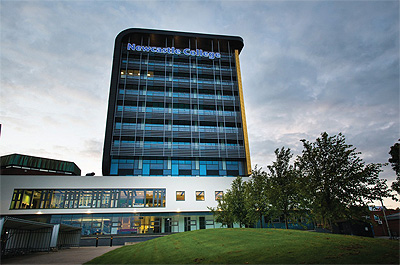 "We came through the recent recession successfully and have thrived as a result of a contraction in the post credit crunch market," explains Mark Prentice. "There are far fewer suppliers out there to service the commercial construction sector with metalwork and glazing systems. We are a good bellwether for the state of the manufacturing and construction industries across the UK and boast excellent relationships with glazing system suppliers including Vetrotech, KMS Forster and Schueco Jansen.
"Arkoni is in a perfect position to continue its expansion but we have had to be very careful and diligent in how we manage our operations as runaway growth can present major challenges," adds Mark, who currently employs 60 full time staff.
Accessing available grants has contributed to Arkoni's increase in business with a perfect example being a recent £250,000 expansion in workshop space and investment in machinery thanks to £30,000 of financial support from the Leeds City Region Local Enterprise Partnership (LEP).
Mark goes on: "A new 1600 square metre workshop was opened in 2014 incorporating hi-tec CNC cutting machinery and a machining centre. After 12 months of running at almost 100 per cent capacity this gave us space to breathe and it helped to deliver even more potential for growth. As a result, we featured in a LEP video aimed at fast growing firms across West Yorkshire.
"More recently we invested over £100,000 in a new Morgan Rushworth Pressbrake and Guillotine, supplied by Bison Machine Tools. It is helping us to deliver increased capacity and has the ability to process up to four metre long pressed metalwork in response to customer demand."
Arkoni has adopted a similarly enlightened approach to its administration and management with a number of key, strategic appointments and full engagement with industry accreditations such as ISO 9001, Construction Online and the Achilles Building Confidence programme.
Mark adds: "It's vital that our day to day office operations mirror the growth in our manufacturing capabilities. It not only means we can offer peace of mind to customers but it's a reassurance to ourselves that we are doing it right behind the scenes."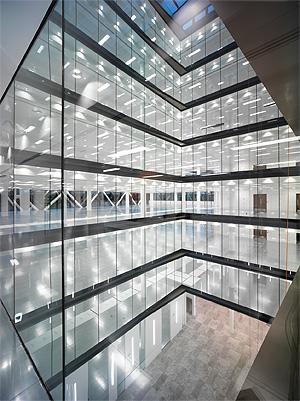 Proof, if it were needed, comes in the form of a long list of prestigious and significant, recent contracts including the new Alder Hey in the Park children's hospital on Merseyside, the brand new Broadway Shopping Centre in Bradford, Derby's recently opened and iconic Sports Arena and Forbury Place, a landmark commercial development in Reading.
"It is the largest butt jointed fire-rated glazing installation in Europe covering eight floors around a stunning atrium area. We recently completed the first of the two new build office complexes and expect to be back on site for Number 2 Forbury Place in the very near future.
"It was a £1.5 million contract that represented our biggest job to date and recognition has been forthcoming in the form of the Construction News 2016 awards. Forbury Place has been named as a finalist in the Project of The Year (sub-contract up to £2,000,000) category," continues Mark whose firm has picked up a number of regional and national accolades in recent times.
Arkoni has also recently expanded into Ireland with a distribution partnership secured with Dublin-based Linham Construction. Arkoni Ireland is already successfully tapping into demand from across the Irish Sea. "We foresee only growth across Ireland in the short to medium term with our profile set to expand in partnership with Linham," Mark exclaims. "We are very much on the same wavelength!"
The company also engages closely with the local communities around Brighouse and Bradford, sponsoring a number of local sporting teams and getting behind Team Arkoni motorcycle racer Dave 'Brooky' Brook who competes nationally at Thundersport GB level. Up and coming Bradford indy band Kascarade have also benefited from Arkoni's generosity with support for their soon-to-be-released, self-produced debut album and studio facilities.
"All businesses should engage in sponsorship and support of their local communities," explains Mark. "Our backing of Brooky and Kascarade have proved very fruitful for all concerned. It's exciting to be playing a part in their achievements."
Looking forward, Mark is eyeing up further managed growth for Arkoni. "Demand for fire-rated glazing systems continues to grow and we are well placed to take full advantage with our extensive CAD design resources, manufacturing capabilities and installation expertise making us the 'go to' guys for architects and construction firms," he says. "Long may that continue but we will never get too big for our boots or take our eye off the ball when it comes to providing a high quality product that fulfils its function for our clients."
Arkoni Metalwork is an example to construction and manufacturing businesses across the UK as to how to effectively manage rapid growth. The only way is up, it seems, for this ambitious Yorkshire firm.
Arkoni
Services: Specialists in the design, manufacture and installation of innovative and practical metalwork solutions