Artificial Intelligence and the construction industry
The next step
It's been 21 years since Steven Spielberg's film A.I. Artificial Intelligence was released. At the time, many of us watched with disbelief that we could ever become so reliant on technology.
Fast-forward to now, and AI technologies are hugely prevalent across all industries. The construction industry has historically been quite behind with the use of technology, instead relying on traditional skilled tradesmen to do the job.
However, AI is slowly infiltrating the sector with the introduction of 3D printing and bricklaying robots, building information modelling (BIM) systems, intelligent HR systems and much more.
Bricklaying robots built an entire house in High Wycombe in just 33 hours last year and the creators believe that time could become up to four times faster.
So, what does this mean for the industry?
Sharing his opinion on the subject, Parm Bhangal, Managing Director for Bhangals Construction Consultants, commented: "In the construction business, it's all about strategy and planning. We always plan 12 months, three years, five years ahead and look at how our business is going to evolve over the next period.
"As part of that forward planning, it's important to make sure that you are making the most of any opportunity that comes your way. Perhaps you're a bricklayer, and you could ensure that you are trained on the operation of any new equipment as soon as possible. That way, you'll be at the forefront of pioneering approaches to modern construction, as they come along.
"It's important for us to train our workforce on new modern technologies.
"Bricklaying robots could mean loss of jobs for a skilled workforce, but I believe there is room for both. Robots are probably doing more straightforward builds rather than technical builds and there is no substitute for well-honed expertise and craftsmanship passed from one generation to the other.
"However, introducing this type of automated technology could speed up a build, provide less waste days and allow more efficiency. And of course, it could be a vital way of combatting the continued materials and skills shortage that the construction industry is now facing."
Another type of AI which is becoming more prevalent in the construction industry, is building information modelling (BIM). This process imitates the construction process in a virtual environment, meaning an entire project can be scoped and costed before a single shovel of dirt is turned.
This intelligent software modelling process means that architects, engineers and contractors can collaborate on a building's design, construction and operation, in a more risk-free and cost-effective setting.
According to Dodge Data and Analytics, users of BIM systems report benefits such as an improved ability to manage complexity, improved design quality, reduced errors and reworks, better ability to meet customer and design requirements and increased stakeholder buy-in.
Parm believes BIM systems have been a game-changer for the construction industry. "It's the foundation of digital transformation within the industry. It means that we go into each project fully prepared and with a comprehensive understanding of scope and cost.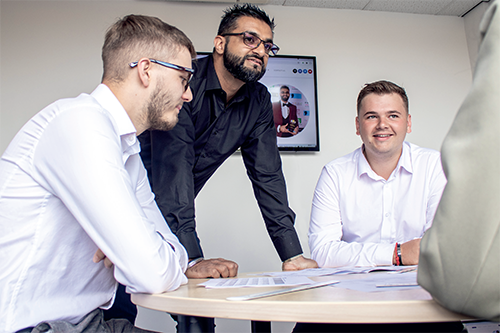 "Quite often, a problem that could have derailed the whole build will be solved before construction work on a project has even started.
"BIM is an absolutely vital piece of AI technology which is improving the way we build across the world. I am confident that we will only see this type of technology become more prevalent in the coming years."
AI technology can also be used to alter the design itself. Parametric design is the practice of using AI to alter design parameters and achieve staggering design feats. AI analyses thousands of blueprints as source material for a project, then designs its own concepts with this new knowledge. This can lead to innovative design elements based on 'best practice' designs from across the world.
But AI technology isn't just confined to scoping out projects. It can also help when hiring the skilled people who will deliver these projects. AI HR software supports quality recruitment efforts by analysing applicants, an essential cog in the construction industry machine.
AI technology can also keep a detailed personnel record, enabling the software to predict employees who might be inclined to lead or employees that may be close to leaving. This can inform management's decision-making for taking the appropriate actions to form teams and help employees grow.
The uses of AI in the construction industry don't end there. It is predicted that technology such as surveillance drones, wearable tech that learns workers' habits and schedules to personalise safety alerts, 3D printers which detect and repair structural design flaws, and autonomous equipment which perform heavy-duty tasks which are unsafe or unreachable for humans, will all become a more commonplace sight in years to come.
Parm said: "The future uses of AI in the construction industry are countless, and we're seeing new technologies emerge all the time. I do not believe that this means redundancy or lack of opportunity for an average construction worker. Rather, AI exists to make projects more streamlined, stress-free and safe.
"So what are the downsides? Quite often, the initial upfront cost for purchasing one of these types of AI is prohibitive, and may put many business owners off. Also, some can be put off by the lack of human intervention. After all, the industry was built on human relations – right from the teams who plan out a building project through to the workers who build them.
"However, we are facing a labour shortage which cannot be underestimated, and AI technology could play a vital part in alleviating those concerns somewhat. I would encourage business owners to do their research on AI technologies and make an informed decision.
"With all new technology and incoming trends, it is vital to look at how it will affect you and your business and plan accordingly for that, ensuring you adapt to stay strong in the market."
Parm Bhangal
www.bhangals.co.uk
Parm Bhangal is Managing Director at Bhangals Construction Consultants. Parm is a regular on Business and Construction podcasts as well as writing articles about the Construction industry. In 2019, he won 'Entrepreneur of the Year' and 'Employer of the Year'.
Bhangals Construction Consultants offers quantity surveying and estimating services to builders, architects, property developers and homeowners to support them with their renovation and development works. It can supply one service or complete project management. It talks to customers and help them to make the most out of their budgets and keep their construction project costs down.