Artisan (UK) Developments
Artisan (UK) Developments is a subsidiary of Artisan (UK) plc and is a respected commercial business park and property developer with a proven track record of success operating in the UK
Workspaces that work
Artisan (UK) Developments is a subsidiary of Artisan (UK) plc and is a respected commercial business park and property developer with a proven track record of success operating in the UK
Established in 1994, Artisan (UK) plc specialises in developing residential properties, through Rippon Homes Limited and business parks and client buildings, through Artisan (UK) Developments Limited. Artisan was incorporated in England and Wales in September 1998 with its main country of operation being England. Artisan was admitted to the Alternative Investment Market (AIM) of the London Stock Exchange in December 1998, delisting in Feb 2012. As a listed company good governance was necessary and this ethos has been continued since delisting. In 1999 Artisan (UK)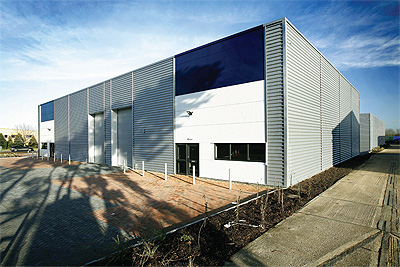 Developments launched its commercial development activities throughout East Anglia and has successfully developed business parks at 14 locations.
Artisan (UK) Developments Managing Director Michael Eyres spoke about the methods by which it has managed to evolve, taking on a new business approach geared towards succeeding in the post-recession world and ensuring it has come out of the tough period stronger: "Our focus is engaging with land owners who have land but need a development partner to realise the latent value tied up in that land. And also businesses, that have a property requirement, and need a delivery partner to help them do that."
A key strength of Artisan is that it simplifies the development process by organising all aspects of the initial evaluation, design and supply chain, with a flexible and personal approach. It is able to take a client's vision and requirements, then turn these into reality, as Michael clarified: "Most of the time we will use our in-house building team, but sometimes we will use external contractors, and act as project managers overseeing the design and delivery of the building. So as a business it is making it as easy as possible for clients, making the process streamlined, cost effective, and quicker. There are a number of parties we have worked with, who without our expertise, the projects might not have happened. We take great pride in delivering the buildings on time and at budget."
In essence, it is a modern approach to property development in the 21st century, as it offers a comprehensive solution to the prospect of a construction project that can be daunting. This philosophy is one of the reasons why Artisan was selected as the preferred developer for delivering Cambridgeshire and Peterborough Fire Authority's new headquarters, training and fire station, on land they are in joint venture with St Johns College Cambridge, this project will comprise a two storey building of 30,000 square feet, training and fire station with ancillary external yard and car parking areas. Through a selection process in November 2015, Artisan was selected to design and build the project, and construction is planned to commence in the first quarter of 2017. This was a great endorsement by the Fire Authority, selecting Artisan as the company trusted with the design  and construction of a building that will be crucial to one of the emergency services for the region.
Artisan's simplicity in its approach is something Michael highlighted as key to the business' success: "What we are trying to be is a one-stopshop to make it easier for those parties who have land they are wishing to promote, to be able to provide the certainty on deliverability potential occupiers require. Our expertise can guide those occupiers through the development process whilst they are able to focus on their business. If they are not careful they go down the more traditional route where there are a number of parties they have to deal with to get to the end product. We can
evaluate the specifics of the site, help them through any legal process if required, and appoint the design team. With our development skills we can provide value engineering without them losing what they are looking for architecturally; by doing so we bring a commercial perspective to the build, that benefits the occupier."
Over the past 15 years Artisan has been involved in a variety of commercial developments, from roadside sites, business parks and industrial estates, to the design and build of bespoke headquarters buildings.
More recent developments include a 51,000 square feet headquarters and manufacturing facility for Linx Printing Technologies an example of how the complexities of delivering a bespoke building can prove to be complicated for the Occupier and where a project could quite easily have not been able to progress because of cost and delivery issues. Michael says: "We were able to help clarify the situation for the client, in terms of what they wanted, the best way forward, and secure the project they wanted within the cost constraints set."
Artisan has recently contracted to design and build a children's nursery on one of its own business parks in Huntingdon as well as a new regional office for the UK arm of a leading European animal feed producers on land it controlled.
Thanks to the successful completion of projects such as these, Artisan will increasingly be the first port of call for all those in need of property development in East Anglia and the Northern Home Counties, both of which are likely to see future investments and development. These locations are already becoming the areas where overflow from London turns to, in terms of population, and brings the city's wealth with them; plus there are also many major businesses that are turning to look to these regions as the ideal areas to invest and expand into, in order to take advantage of this growing market. The increasing demand for an all-in-one property business, which can handle all of the processes, from design, planning permission, to the final build, is not likely to slow down.
Artisan (UK) Developments Limited
Services: Commercial, industrial, and residential, property developer