British company ATG Access is not only a global leader in perimeter security solutions, but is also playing a key role in ensuring international standards support such critical infrastructure protection
Secured for the future
British company ATG Access is not only a global leader in perimeter security solutions, but is also playing a key role in ensuring international standards support such critical infrastructure protection
ATG Access started from humble beginnings," says its MD, Mark Clegg. "We have always built upon a very solid engineering reputation and as such were responsible for the UK Highways Agency's first automated bollards and the first automated impact-tested bollard for anti-terror use in the UK security market." Through a consistent programme of innovation and product development, supported by CPNI (Centre for the Protection of National Infrastructure) approval, ATG has today evolved into a global engineering solutions company for perimeter security. In recent years it has experienced considerable growth thanks to the successful completion of London 2012 Olympic and the Qatar NDIA (New Doha International Airport) projects – the latter of which is the world's largest perimeter security project to date.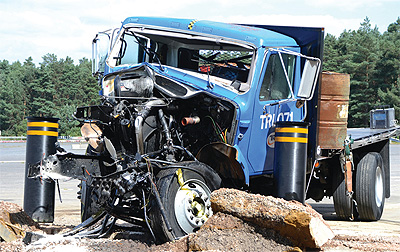 Bollards, road blockers, barriers and gates form the core of the company's security offering, and its market focus is split into two separate divisions, commercial security and high security. It is this high security division (where all of its products are impact-tested) that ATG focuses much of its attention, having maintained its position at the very front of the market as innovation leaders with the widest portfolio in the market. It is in the robustness of this offering that Mark sees the foundation of ATG's success: "We believe our core strength comes from the fact that we offer a full turnkey service," he highlights. "This extends from the development of products to the manufacture, installation and servicing of them. We are also the lead company in the market to offer corrosion protected systems and these are secured by patents in key regions of the world."
The company's approach to innovation is also a key part to this successful market leadership. "It is very much customer-centric and market led, in that we work closely with our customers to develop solutions for their unique needs and then assess that product for wider market appeal," Mark continues. "The vast majority of our products are developed and brought to market in this way, with a small proportion coming from looking ahead and anticipating future trends. This is what we have done with the recent Stealth bollard, which is a fully certified and test-approved retrofit solution for certain kinds of existing casings already installed within high security sites. These allow customers to upgrade very quickly in areas that are very high security and cannot afford any downturn. We have had some early contracts with this around London but I think we will really see it develop over the next five to ten years."
Other recent innovations include a state-of-the-art shallow road blocker, which has just passed the highest level of testing, and a column protection system made up of a series of bollards protecting critical supporting columns from inadvertent traffic incidents. ATG also works closely with architects to develop highly discrete HVM (Hostile Vehicle Mitigation) systems, allowing them to blend into a site unnoticed. By either creating aesthetically pleasing sleeves or integrating them into bench structures, lamp posts, flagpoles and even planters Mark points out that you can walk past these everyday in capital cities round the world without realising their true purpose. Completed contracts at the London Shard and on going work at the Heart of Doha are key examples of these systems. It also provides obvious HVM systems to military and other high security sites, and as such holds a framework contract for a major international oil company operating in Iraq.
ATG is present around the world with its biggest markets in the UK, Middle East, Asia and Europe. Manufacturing partners across these regions enable it to react quickly to customer needs right around the globe, and a network of independent security consultants help support and influence the route to market for new innovations. Despite such a far-reaching footprint having already been established, expanding this further is a major strategic focus for the company as it moves forward. In particular in South America and India, where it has already developed manufacturing partnerships, as well as in China.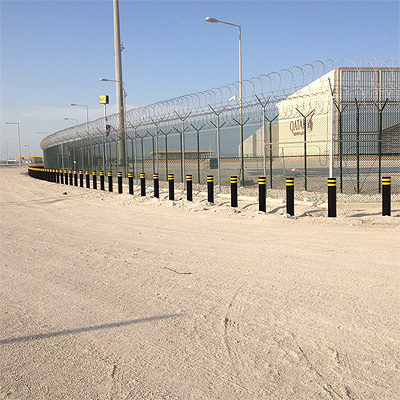 However, Mark points out that when it comes to ATG's security products high quality is absolutely critical and ensuring this is recognised around the world is a particular challenge. "We have the British PAS and American ASTM standards, and there is an attempt at the moment to consolidate these into the European IWA standard to create an internationally utilised and familiarised set of regulations," he outlines. "International standards, when they are in place and are enforced properly, give us a great opportunity for our high-end quality and innovative technology. Yet when they are not enforced we are faced with the problem of lower cost, lower quality imports as competition. This threatens the integrity of a market that is supposed to ensure the highest levels of security."
To try to overcome these pressures and influence the well-regulated international adoption of such standards, ATG is playing a vital knowledge-based role in supporting the security industry. "We do this firstly by working closely with key governmental bodies, like the CPNI in the UK, and then through various technical seminars that we hold in British Embassies around the world with the support of the UKTI," Mark highlights. "Recently we have held these in places like Hong Kong, Singapore and Dubai and have a couple coming up in Abu Dhabi, Trinidad and Tobago, and London. These are knowledge based and not entirely geared towards our products with independent security consultants speaking with general advice and updates being offered. It is all about raising awareness in parts of the world where threats inevitably exist and where adopting an integral regularity system will be key to protecting national infrastructure."
Supporting this global system of quality standards will clearly play a significant role in ATG's future as it also looks to expand its global presence with a further 15 new manufacturing partners over the next five years. As with the success it has already achieved much of this growth will continue to be driven by product development and innovation. "We're also going to carry on developing the commercial security division where we have provided significant traffic management systems around the UK, and we also see the personal residential market opening up here," concludes Mark. "Ultimately, by bringing all of these growth and support streams together the future is very positive for ATG. At present we have a pipeline of around £60 million and we would be looking to increase this by 100 per cent over the next four to five years."
ATG Access
Services: The world's market leading perimeter security solutions provider