Through continued innovation and commitment, Atlas Copco MEYCO helps its customers achieve durable new space underground
Put on the map
Through continued innovation and commitment, Atlas Copco MEYCO helps its customers achieve durable new space underground
Since inventing the first gunite machine to operate according to the rotor principle in 1957, the MEYCO GM, which was followed by the MEYCO Piccola, Atlas Copco MEYCO, originally known as MEYCO Equipment, has continued its tradition for innovation with further technological developments that have led to an increasingly stronger market position.
Through this commitment to modification, alteration and enhancement of its product range, the strong team at Atlas Copco MEYCO is able to take on all of its customer's engineering requirements in a safe, cost-effective and punctual manner. Through its mobile equipment range, the company can apply sprayed concrete in underground operations.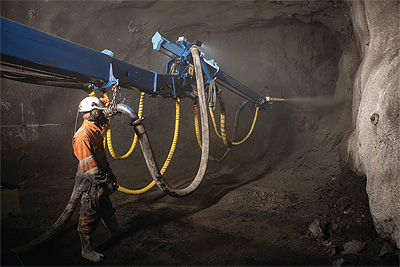 Options within the company's product range include MEYCO Piccola, a smaller version of the first rotor-type machine, the MEYCO GM, that Atlas Copco MEYCO invented more than 60 years ago. Today both MEYCO GM and MEYCO Piccola are modernised versions of the original machine and operate in accordance with the widely used rotor principle. These highly robust, versatile and easy to operate dry spraying machines are used for the pneumatic transportation and spraying of sprayed concrete/gunite, mortar, repair, dry materials and sprayable membranes; they can be used for all types of dry shotcreting projects and can be custom equipped to the customers specific requirements.
Benefits of using the MEYCO Piccola include its highly robust and simple design, its long operational life from its ease of use and its high degree of safety; meanwhile, MEYCO GM offers customers adaptability and an extremely flexible performance and control due to its modular system. The MEYCO Piccola has a maximum conveying distance of 500 metres horizontally and 100 metres vertically, has a maximum grain size of 16 millimetres and runs off electric and air engines.
There is also the MEYCO Altera, a twin-piston pump that is suitable for concrete conveying, grouting, hand-spraying, repair work and spraying with small manipulators. Compact and durable, the MEYCO Altera wet spraying system is versatile enough for use at any site in the world; it maintains CE standards of safety despite being easy to construct and operate. It boasts a covering distance/height of up to 300/100 metres, a maximum grain size of 16 millimetres and runs off an electro-hydraulic engine.
In addition, the company offers the wet spraying MEYCO Suprema; specifically designed for the spraying of medium to large volumes of concrete, it is equipped with integrated MEYCO total dosing control (TDC) as well as a patented push-over system. To compile and extract data for analysis and quality control, the machine operates through an interactive display and MEYCO data; it has a maximum conveying distance of 300/100 metres, a maximum grain size of 16 millimetres and runs off an electro-hydraulic engine.
Perfect for large profile tunnelling, MEYCO Potenza offers customers a completely mobile spraying system that comes with integrated accessories such as MEYCO TDC, MEYCO Data and an optional compressor, all of which are mounted on a 4×4 chassis. MEYCO Robojet, a spraying manipulator with a large range, can be mounted on the carrier to offer a maximum spraying height of 14.5 metres and comes as the standard. Meanwhile, MEYCO Compacta, (14.7 metres), MEYCO Maxima (16.8 metres) are available options. However, Atlas Copco MEYCO is not just a supplier of its own designed and manufactured products, it also provides customers with an efficient after-sales service via the worldwide Atlas Copco network of competent personnel.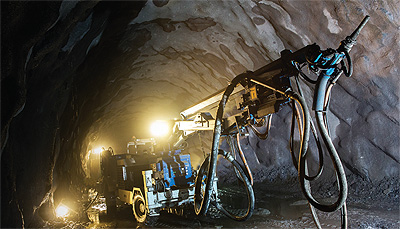 Originally under the ownership of chemical giant, BASF Construction Chemicals Europe AG, the Switzerland-based company's equipment segment was acquired by industrial group Atlas Copco in April 2013, while BASF retained the materials segment. With shotcreting becoming a growth area due to increasingly stringent safety standards in tunnelling, Atlas Copco was keen to add MEYCO's broad range of products to its portfolio. Indeed, by placing Atlas Copco MEYCO in its Mining and Rock Excavation Technique business area, Atlas Copco has extended its service offering to existing customers with a unique package of equipment, innovative technology and application expertise.
The Mining and Rock Excavation Technique segment, which boasted 13,347 employees and revenues of MSEK 26,092 in 2013, provides equipment for drilling and rock excavation, as well as a comprehensive range of related consumables and services through a worldwide network. Focused on innovation for sustainable productivity in surface and underground mining, civil works, well drilling, infrastructure and geotechnical applications, this business area develops and manufactures products in units based in Sweden, the US, Canada, India and China.
Since becoming part of Atlas Copco, MEYCO now benefits from its parent company's sales outlets that are based in 60 countries, which has led to a change in Atlas Copco MEYCO's sales channels. Furthermore, the subsidiary can now also offer its customers an increasingly local service thanks to the 4000 service engineers operating within its parent company.
Looking ahead, Atlas Copco MEYCO will become further integrated into its parent company, while Atlas Copco and BASF co-operate in the development of state-of-the-art concrete-spraying technology. Through merging experience and combining operational strengths, all companies involved will benefit from a leading position in a fast growing market.
Atlas Copco Meyco
Services: Manufacture Concrete Spraying Equipment for tunnelling, civil and mining sectors