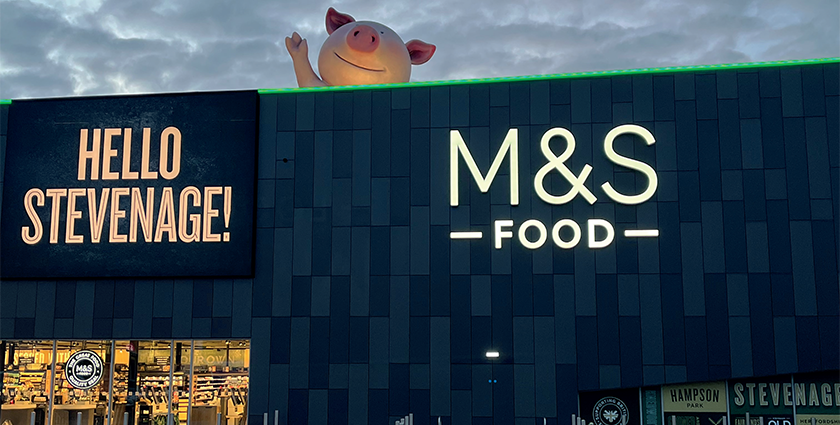 Relationships, reputation, people
Operating nationwide, Audas has built up an enviable reputation for delivering first-class quality, good value, and excellent customer service, and now boasts an impressive portfolio of bespoke fit-out, small works, and refurbishment projects
It's really founded on relationships," says James Bowater, Commercial Director at Audas, when reflecting on the company's success to date. Founded in 2007 by a team of three, the company began life working for Asda and Marks & Spencer, before steadily building out its roster, eventually evolving into the £25m-to-£30m business it is today, offering fit-out work for a number of blue-chip clients in and around the retail sector.
Touching on the name 'Audas', James explains that it comes from a foreshortening of 'audacity'. It serves as a testament to the willingness of the company's founders "to go out on a limb, take a leap of faith, and have the courage to go it alone."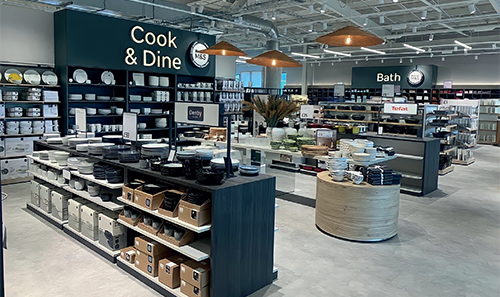 Today, M&S continues to provide the company with its largest client, with the bulk of work coming from the need to service the brand's transformational journey. But it's not the only household name to which Audas caters. "We've also worked on a number of projects with Primark," James confirms. "They're very different clients to work for, which has given both the business and our staff some welcome variation.
"Lately, we've also carried out work for IKEA, as they look to sustain their momentum," he adds. "That's principally come under the umbrella of planned maintenance, including quite a bit of refit work, along with elements of their in-store refurbishment. Moving forward, we hope to maintain that client traction."
Following on from an impressive growth trajectory in recent years, the focus for Audas now lies in ensuring the ongoing strength of its business. As James puts it: "We want to be sustainable for our clients and for our people." In achieving this goal, Audas profits from a flat organisational structure, with close proximity between employees irrespective of title or role.
"Our founders, Phil and Steve, very much pride themselves on being hands-on, and staying in touch with the day-to-day," James continues. "That's been useful in keeping our speed of growth in check. Currently, we don't want to further extend ourselves to the point where we risk undermining the value we can give to our clients. Instead, it's all about providing quality service."
The closure of the majority of retail outlets throughout the Covid-19 pandemic saw the sector suffer more than most. Yet, despite the initial uncertainty, Audas remains thankful for its clients' continued confidence with regards to future investments.
"M&S in particular have continued to transform their estate, which is paying dividends for them," James comments. "That, in turn, is excellent for us. At the same time, as a lean organisation ourselves, it meant that we were able to weather the storm and look after our clients. Every supplier we deal with, we're always looking further down the road, building relationships, and supporting them to grow their businesses."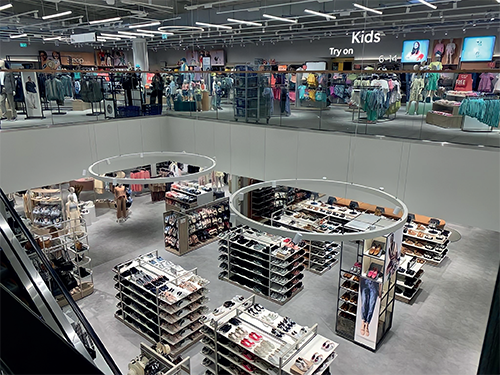 Evidence of this continued confidence was provided recently, in the shape of Audas's multi-million-pound contract with M&S for its new store at Stevenage's Roaring Meg retail and leisure park. An atypical project for Audas, it saw the company take on full responsibility for the significant shell amendments to the two-storey former Debenhams store.
"Although we're predominately fit-out in nature, we are happy to conduct building remodels, including changing escalator locations, removing and installing lifts, and more," James tells us. "In this case, the mezzanine floor had some significant atriums which didn't align with M&S's desired layout. We closed those areas up, removing the ground floor slab, putting in foundations and additional columns, and extending the first-floor slab to increase footage, allowing M&S to deliver an improved customer experience."
Following on from its work at Roaring Meg, Audas has agreed to a contract to work on yet another significant M&S store located in Leeds. It's further testament to Audas's quality of service, and speed of delivery.
"We've given them confidence in having a single source," James insists. "From a commercial perspective, we replicate a lot of what we do from one store to the next. That gives us a precedent in terms of cost, which can then easily be applied to different site locations. It gives our clients confidence in the knowledge that they're moving forward with rates that are commensurate with the market."
For James, the hard work and dedication of the company's people is something not to be overlooked, and Audas works hard to repay its staff by fostering a positive and encouraging company culture. "Making people feel like they are part of a team goes a long way," he states. "Everyone here is valued, and we try to let them know that their role is as important as the next. Although we outsource a lot of training, we're currently developing an in-house database for our employees to use as a source of relevant information. We'll also host one-on-ones, giving positive feedback and trying to understand where and how we can do things better. It all filters back into the business and allows us to strive for continuous improvement."
Turning to the future, James is keen to reiterate the company's commitment to cautious, thought-out progress. "In the context of the construction industry, the main point for us is to still be here in five years, for our clients and for our employees," he says. "Any growth we look to develop will be steady, drawing on our partnership with educational institutions to support the introduction of new talent – something that is quite a challenge for everyone across the sector.
"Of course, we obviously want to sustain the relationships we have with our current client base and others, while exploring new opportunities as and when they arise," James concludes. "There's a lot out there. By being particular about who we partner with, it gives us that ability to foster long-term relationships and align ourselves with clients to whom we can add the most value."
Audas
http://audas.co.uk
Services: Specialist bespoke fit-out contractor