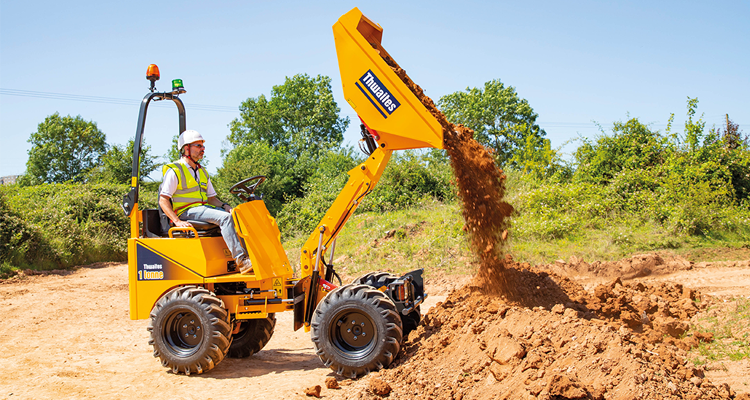 Award-winning business, Lloyd Ltd, is taking the construction industry by storm with unrivalled service
George Lloyd has worked at Lloyd Ltd for nearly two decades. As the third generation within the business, he now serves as the Managing Director under the mentorship of his father Barry. "We started as an agricultural machinery firm, and we've spent the last 60 years growing our business into eight different sites across the North of England and southern of Scotland. Soon we will be moving into Lancashire to expand our services further. While our roots lie firmly in the agricultural sector, we have expanded to cover additional, complementary sectors including construction, professional ground care and domestic lawncare for which we offer world-leading machinery brands and industry-leading maintenance and parts support. The business was established by Ralph Lloyd, my grandfather, then Barry built it, and hopefully I can continue the legacy successfully."
George's journey to Managing Director has not been without hard work. Like his father before him, he has worked his way up through the business and it has been one of the best life lessons he has had the honour of learning. "I didn't appreciate it at the time because I was 18 and didn't know any better, but my dad started me off as a yard sweeper and then I have slowly moved through every position within the business. What I've gained is an understanding of how the business works, both the positives and also people's frustrations. This means that in the instance where I cannot change the actual tasks of the job, I am able to assist with solutions to make the task easier because I've been there myself. From my point of view, that is the best thing I ever did because I have a lot more sympathy for the battles our team faces internally, which then helps our customers even more. So, I'm grateful to my father for making that happen."
Like his father, George believes that investing in people and premises is the way to continue the company's growth, cementing its place in the machinery sector for decades to come. "Over the past few years we have either extended our current premises or built new ones as a sign of our commitment to our customers and our industry. Our Bishop Auckland dealership is our flagship showroom for both our business and the industry as a whole. We are in the process of developing our Kelso branch building to give our customers and staff a more pleasant environment in which to do business and to showcase our manufacturers' products more effectively. Having expanded north into Mid & East Lothian and now south into Lancashire we will be developing premises there soon too and be able to deliver the same high standards of service and support to our new customers as we currently do in our current areas."
In recent years Lloyd Ltd has increased its focus on construction machinery, with excellent results. "Some of our manufacturers' product ranges cover both the agricultural and construction sectors. One such brand is Manitou wwhich has developed telehandlers for both markets. "These range from machines that reach four metres to 36 metres and can lift up to 35 tons. We have a portfolio of their assets that cover all needs. Our success with Manitou is as a result of our strong relationship; they are fantastic to partner with, and if there is a problem, they are incredibly transparent," George says.
Award-winning
Supplier relationships are crucial to the company's success, and to keep those relationships strong, George believes communication is key. "At the end of the day, it's important that the brand we offer is a good name, both in quality and in service. We are fortunate that this is true for all the businesses we represent. They care about what we do, how we do it, and they look after us, and our customers," he says.
The business' focus on excellence within its vendor network has brought it tremendous success. This can be seen in the awards Lloyd Ltd has won, the most recent of which are the 2022 Garden Machinery Dealer of the Year Award from Service Dealer magazine and New Holland's Dealer of the Year for 2022,
which they received last month. Both of these awards reflect the company's continued investment in its premises, its sector-specific sales and service teams, and its increasing sales for its manufacturers.
For George, however, the most significant was the Bobcat Dealer of the Year award, which the company received in 2019, as it demonstrated that the company's renewed focus on its construction sector activities had paid off. "We more than tripled our sales for Bobcat within only a handful of years and we have continued to grow even more despite the challenges we have all experienced in recent years. I am hoping we achieve it in 2023 as well. I think it's fantastic to be acknowledged by our suppliers as being a valuable part of their team. It is also great for the team to reflect on the work they do and know how valued they are. It's a wonderful sense of achievement, and we look forward to going for it again."
Growth potential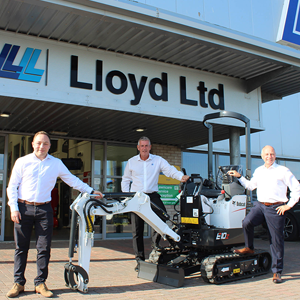 Tying in with its offering of high-quality assets, Lloyd Ltd is dedicated to maintenance and servicing to improve productivity for all its clients. "Every sector we've expanded into has been to make the processes of our customers easier. From our construction machinery range of diggers, dumpers, loaders and more to the more niche Mercedes-Benz Unimog, these machines are out there making money for people, so if we can save them time, regardless of where they are located, we will go out, diagnose any problems, get the parts, and keep the down time to a minimum. We also hold loads of stock, investing heavily in back-up units for customers so even if it's for half a day, we will have something we can give to clients, just to keep them going.
"These machines maintain livelihoods, and it is up to us to ensure they operate optimally. If we can't get them turned around quickly or keep them going in the field, we are impacting someone's business. So, if we continue to do what we do right, then there is no need for our customers to go to another brand of machinery," George expresses.
With these specialisms in mind, George then turns to the company's future. When he thinks about the journey that lies ahead, he is optimistic about its growth potential. "In the short term, I think the important goal for us is to integrate into more areas. Additionally, I want us to continue to look after customers and their businesses as well.
"In the longer term, we are going to push ourselves to fill the mantlepiece with as many awards as possible. If we continue to strive for excellence, and look after our customers, we are going to go very far. We have the depots now in place to be the best, so we need to focus on getting our Lancashire operations up and running to the level of the rest of the branches, then we will see a significant amount of growth within our business," he concludes.