Ballast Nedam is a leading name in the installation of offshore wind farms
A breath of fresh air
Ballast Nedam is a leading name in the installation of offshore wind farms
Ballast Nedam, based in the Netherlands, offers a wide range of products and services relating to construction. The business develops infrastructures, constructs houses and other buildings and also provides associated products and services. Ranking among the top five construction firms in the Netherlands, Ballast Nedam's strengths lie in its ability to provide appealing and cost-effective
construction projects along with the knowledge and expertise of its staff. The company is aiming to achieve structural increase in profitability through a shift in its activities. This will include more development at the front end of the business and more management and operation than construction at the back end. It will also focus on niche segments including offshore wind farms, industrial construction, international projects, high-rise construction, hospitals and renewable energy concepts such as CNG stations.
The company has a long and successful history in the construction sector; recently it has enhanced its already strong reputation with the installation of offshore wind farms. Marcel van Bergen, project manager at Ballast Nedam, outlines recent developments in this sector of the business: "We have chartered our installation vessel including crew for the construction of the Walney wind farm in the Irish Sea, near Liverpool. We also made an agreement with Dong Energy in July 2008 that we would supply our heavy lift vessel, the Svanen, and its crew to aid the installation of the farm, taking place in 2009. In addition to this we are also contracted to install 30 foundations near the Thames estuary."'
Recently Ballast Nedam designed and built the first Dutch wind farm in the North Sea in partnership with the Danish wind turbine manufacturer, Vestas. The Offshore Windpark Egmond aan Zee (OWEZ), which consists of 36 turbines with a shaft height of roughly 70 metres, is located 15 kilometres from the coast of Egmond aan Zee. The foundations were fixed using the Svanen floating crane and overall the installation was a huge success. The entire project formed part of the Dutch government's ongoing commitment to develop innovative methods of generating renewable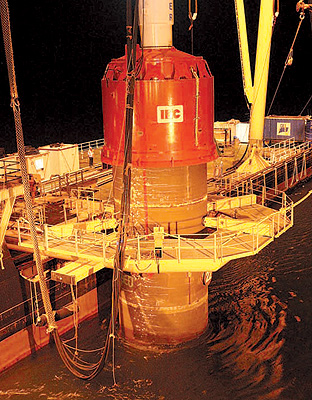 energy. The OWEZ project afforded Ballast Nedam the opportunity to take a step closer to its aim of being one of the key players in the European offshore wind energy market. In the 1990s the organisation built two offshore wind farms in the Dutch IJsselmeer, using offshore techniques.
The products and services provided by the company are principally aimed at the Dutch market, although Ballast Nedam is active overseas and operates in several markets outside the Netherlands. Marcel comments on the foreign wind energy industry: "Traditionally we were a Dutch building contractor and while we still do a lot of work there, the focus is shifting a bit now. In comparison to many other Dutch contractors, though, we've always had quite a strong focus on foreign projects. The offshore wind industry is a very strong market and there is currently a high demand, particularly in the UK, which is very active in this sector. The market is also growing in countries such as Denmark and Germany and so we're seeing growth here while we are also hoping that the Netherlands will follow suit and start to build new wind farms as well."
Marcel is confident that this strong demand in the European market will continue and that Ballast Nedam can cater for its clients' requirements: "We are seeing an enormous amount of requests from new companies who want to establish wind energy systems. We always try to be involved from an early stage in the project, when the client is looking at feasibility and so to provide further services to our customers at this point, we have begun offering feasibility studies as a part of the project."
Despite having a promising future outlook, the offshore wind industry, like many others, has not been without its difficulties. Marcel elaborates: "Specifically in the Netherlands, there was a challenge at first with regards to the permits and the political support for offshore wind farms. Now, however, the industry has grown and become stronger after the initial quiet period when wind farms were first established. It is the same in other areas within Europe, such as Germany, where the industry is now picking up despite facing delays at the start due to permits and feasibility planning. Every country has felt the difficulties facing the industry, but more recently the market has begun to grow and so we, as a business, can overcome these setbacks as long as we can keep on top of the market."
In order to remain a prominent installer of offshore wind farms, Marcel describes the business' plans for progression: "We are looking at developing the company through investment in two areas. Firstly we are planning to extend the capabilities of our current installation vessel, which is now focused on installing foundations and we are developing add-ons to install complete wind turbines. Secondly, we are looking atadditional vessels that match the growing demands and the differing sizes of the foundations of wind turbines that we are seeing. These developments will ensure that we continue to be one of the top names in the wind power industry."