Barclay & Mathieson (B+M Steel) has over 130 years' experience as steel stockholders and fabricators in the UK
Architectural support
Barclay & Mathieson (B+M Steel) has over 130 years' experience as steel stockholders and fabricators in the UK
Beginning life as a general steel stockholder in Wallace Street, Glasgow during 1877, Barclay & Mathieson Ltd. has grown into a leading steel stockholder with bases throughout the UK. Barclay & Mathieson operates as an independent business that today offers its traditional range of general steel and Access and Safety products under the B&M Steel brand, as well as a comprehensive line of architectural solutions that are distributed by B&M Architectural. "Over the years the company has grown through a combination of internal investment, new depots and acquisitions. B&M Steel is currently a steel stockholder with 14 sites throughout the UK, around 220 employees and a turnover of around £60 million. We have two depots in Scotland, one in Aberdeen and one in Glasgow,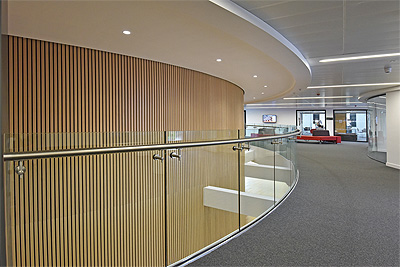 while the remaining sites are spread throughout England," elaborates Finance Director, Alastair Macphie. "We have a good geographical spread with depots in the northwest of England, as well as depots at Sheffield, Nottingham and Peterborough. We have also recently opened two new sites in the south of England, one located in Winchester, which opened in 2012 and most recently in Sittingbourne, which opened in June 2016. The combined investment in these two sites was over £7 million."
Each of the company's network depots carries a full stock of steel products, which allows B&M Steel to supply clients at short notice throughout the UK and Ireland. "The model that we employ in running the business is to ensure that we have steel available and in stock, which allows us to get it out to clients as quickly as possible," Alastair says. "The focus of the business is centred around customer service. Our customers vary greatly. We have around 5000 customers on our books, which range from large structural fabricators to one-man operations and we provide them all with the same level of excellent service."
B&M Steel provides a comprehensive range of steel products including merchant bar' sections and channels; plates and sheets; tubes; colour coated steel; rebar; stainless steel and aluminium; Access and Safety products. Further to being able to supply customers all over the UK, the company is also able to meet the needs of clients across a broad scope of industry sectors. This means that while individual market sectors might experience a downturn in demand, B&M Steel is able to counteract the impact of this by supplying to more active markets. "We have a widevariety of customers and are not focused on a particular market sector, meaning we are not overly exposed to any one area. Looking at the market generally, although the first few months of 2016 were relatively slow, demand across the board has really picked up during the past six months," Alastair explains. "A lot of our customers who use steel products also use other construction related products, which we are able to supply through our access and safety range. This covers products such as walkways, handrails, gate components and glass-reinforced plastic (GRP). We started to sell these products as a result of demand from our existing customers and now supply these from all of our depots."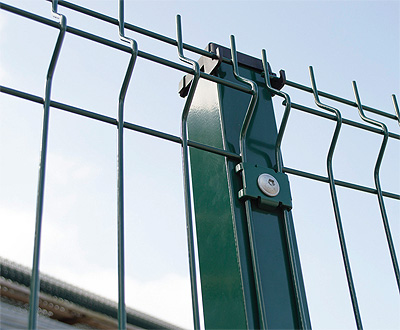 In addition to its traditional suite of steel products, Barclay & Mathieson Ltd introduced its architectural products division during 2012. B&M Architectural is today a market leader in providing stainless steel glass fittings and fire-rated glass systems to major retail, hotel, leisure, commercial and office projects throughout the UK and Ireland. "We currently divide our product portfolio into four main lines, which are comprised of stainless steel and glass balustrades; frameless glass doors and partitions; structural glazing and glass canopies; and fire-rated screens and doors. B&M Architectural is a system supplier, meaning that we supply systems as a kit to be fitted on site. All our products are tested to comply with British and European quality standards," reveals Director, Jean- Pierre Lajarige. "We hold all of our stock in Sheffield and from here we are able to distribute over the UK and Ireland. We also have a technical team of around ten people, which enables us to offer solutions to customers who come to us with drawings and technical enquires requiring bespoke components. We have recently completed The Diamond for Sheffield University, which was a modern teaching flagship and we have also have worked on several prestigious projects in London including Cannon Wharf and Royal Wharf, high end apartments in London."
Barclay & Mathieson Ltd is dedicated to providing the highest levels of quality and customer service, which will be a crucial factor for the business as it continues to consolidate its position and grow following continued investment in the company. "Our strategy comes back to customer service and our focus in getting the detail right. One of our strengths is our position in the market. We are mid sized, which makes us large enough to buy steel at good prices and pass these on to our customers, but not so large that we have become inflexible. We have a flat management structure and are able to respond to client requests and market opportunities quickly," Alastair concludes. "During the next 12 months we will be concentrating on consolidating our position, establishing our new depot, and continuing to invest in the company by improving our warehousing facilities, upgrading our lorries and so on. Over the coming years we do have ambitious growth plans – we do not want to stand still. This growth will come through expanding our customer base and product lines andby continuing to offer excellent service and competitive prices, we will continue to bring new customers into the business. If the right opportunity comes along at the right time, we will also consider further geographical expansion.
Barclay & Mathieson Ltd (B&M Steel)
Services: UK steel stockholders and steel fabricators