Fruitful customer partnerships and commitment to training and promoting its talented members of staff have helped Barlows (UK) LTD become a valued provider of property maintenance services
Ethical business
Fruitful customer partnerships and commitment to training and promoting its talented members of staff have helped Barlows (UK) LTD become a valued provider of property maintenance services
As well as a family-owned company, Barlows UK also gives the impression of being not merely a business oriented at profit-making, but a bona fide big family, whose members support and care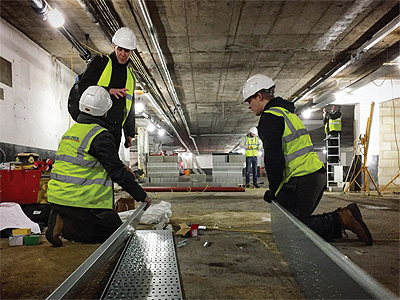 for each other as they grow professionally. A multi-disciplined specialist contractor with an expertise in providing complete installation and maintenance services across the UK, Barlows UK is celebrating its 70th anniversary in 2018 going through the most successful period in its history.
"We place a lot of emphasis on developing our staff and making sure that our people are trained well and feeling valued," begins Operations Director, Mark Holden. "One key principle of our philosophy is the idea that we should be giving our employees the opportunity to progress within the company. We have based our business model upon a commitment to recruit a number of apprentices every year for a three-year course in our recognised Skills Development Centre, where we train young people, who, after the completion of the programme, are ready to go out in the field and start practicing the engineering profession. A lot of our managers and directors, including myself, have started as apprentices and have progressed through the ranks over time."
Given the steady efforts to engage with its employees, it is no surprise that Barlows UK was presented with the 'Employer of the Year' award at the 2018 Cheshire Business Awards. Mark comments: "It is a signal to our staff and clients alike that we are doing our job the right way. I am especially satisfied with the fact that we beat a very strong competition of big organisations in the area, which says a lot about our company."
Offering clients value for money and striving to create and nurture positive long-term business relationships are two other tenets that form the core of Barlows UK's system of values. "When working with a customer, it is important for us to build mutual trust between each other. I believe that one of the reasons why we have kept going for 70 years now, is our fair treatment of clients. We have always been focused on the future, unlike some other companies that have fallen by the wayside over time, because they were simply trying to offer their one-off services for a higher price," Mark discusses.
Barlows UK's company structure is composed of different departments, which, albeit being rather autonomous, also work together and move in the same direction for the greater good of the enterprise. "It is true that we have various teams, which provide a range of services – for example, installations or reactive engineering, as well as a Compliance department, which generates quite a lot of work on the planned preventive maintenance (PPM) side of the business. In a way, these are little businesses within the wider organisation that are responsible for their own costs and whose managers are especially conscious of every little detail that surrounds their operation. It is then the Directors' job to ensure that there is a good working relationship between the sections and get across the message that we are all interdependent on each other," Mark points out.
Wisely, the company has tried to spread its customer base evenly across multiple different sectors to avoid the risk of losing business during hard times for one industry or the other. "Not relying on only one sector has definitely helped us achieve the success we are enjoying," Mark maintains. "To illustrate this with figures, our turnover last year was £24 million, but our biggest client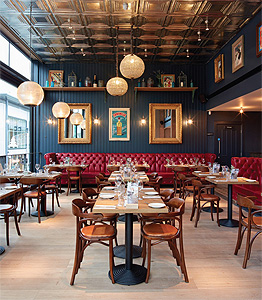 accounted for just three per cent of it. In total, we had 89 customers spending more than £50,000 with us, which is an encouraging sign."
Headquartered in Malpas, on the border of Wales and Shropshire, Barlows UK has been operating a Manchester office for 15 years. A couple of years ago, driven by its customers' needs, the company also decided to open an office in High Wycombe to strengthen its position in the South East of England, plus it also has a branch in Lancaster. "Our intention is to emulate what we have set up in Cheshire and export our success to other communities in the country. The multiple branches also make us a good fit for some national clients, such as Giraffe Concepts and JD Sports, because we are now present in the regions they want us to be," Mark adds.
"The goal for 2019 will be to concentrate on serving our existing customers. We have a fantastic base of clients that we are eager to develop and provide with a proposition that is constantly being optimised for their benefit," he turns his attention to Barlows UK's plans for the future. "Our company has expanded by word of mouth and we are extremely happy to see that businesses have now started to come to us asking for our services, rather than us going out looking for them. This has put us in a good position where we can pick the jobs we would like to take on.
"In the long-term, we will consider setting up another two offices, probably in the Bristol area, as well as further north in Scotland. In addition, our overreaching targets remain continuously improving our efficiencies, increasing our profitability, and being innovative, thus ensuring that we are one step ahead of the competition," Mark concludes.
Barlows (UK) LTD
Services: Property maintenance solutions