Renowned for its eco-friendly construction methods, Baufritz enjoyed another year of growth in 2018 and continued to draw clients' interest in each of its targeted markets
Homes of the future
Renowned for its eco-friendly construction methods, Baufritz enjoyed another year of growth in 2018 and continued to draw clients' interest in each of its targeted markets
Speaking candidly of the effects caused by the Brexit-induced uncertainty upon the construction industry, Oliver Rehm does not deny that for much of 2018 Baufritz was engaged in monitoring the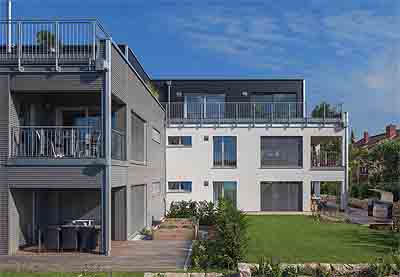 situation closely and thinking hard about the best way in which it can respond to the challenges posed by the upcoming divorce between the UK and EU. In fact, the Managing Director of the prefabricated construction company's UK branch insists that Baufritz' biggest success of the year lies in the fact that the complicated political picture did not affect at all the interest of potential customers in what the business has to offer them.
"As a German manufacturer that exports to Britain, we have obviously been concerned about the nature of the future relationship between the UK and the EU, but we are incredibly happy that people continue to recognise our offering as good for them," Oliver notes. "It is encouraging that the interest in our eco-friendly methods of home building is unbroken and not strongly influenced by the unpredictability of political affairs."
Indeed, Baufritz has been involved in a number of exciting projects in all of the countries where it has established a presence, having also made strides in the Norwegian market for the first time in its history. Oliver discusses the company's incipient activities in the Scandinavian land: "Norway has a fantastic tradition of timber building, so we felt we would fit that market very well. What is more, the country is known for importing lots of structures and timber from abroad and Germany's geographical proximity to Norway enables us to take advantage of that.
"Truth being told, Norway is currently in the process of developing new industries that are going to be a lot more environmentally-friendly," he continues. "In construction, in particular, the country is keen on adopting our building methods, so that the newly-built timber structures are both sustainable and energy-efficient."
Two strategic partnerships underline Baufritz' commitment to expanding in Norway. The company has set up a relationship with an Oslo sales organisation, as well as with a construction firm based in the vicinity of the capital. "Our vision is to continue to produce components in Germany and then bring them over to Norway for our contractors to do the fitting-out there. We have just launched an extensive training programme for our Norwegian partners to teach them exactly how to build with our system and, hopefully, in 2020, we will begin working in earnest on our first projects in the country," Oliver discusses.
Eco-friendly architecture
Going back to Baufritz' operations this side of the Channel, he refers to the company's undertaking of two key projects in London, whose successful implementation are said to strengthen its presence in the UK considerably. "We are hoping to get a planning permission for our first five-storey apartment building in London, as we are willing to expand our offering in the UK to involve multi-storey units," he says. "In addition, we believe that our construction method is ideal for the building of roof extensions on existing structures. In the autumn, we are looking to deliver our first roof extension on a four-storey building in Camden and we are convinced we can tap into this particular market, because the combination of shortage of land and the increasing demand for units makes these extensions a sought-after solution."
Having acknowledged the fact that building plots are getting scarce, with more and more people relocating to live in the big cities, Baufritz has come to the conclusion that the construction of three- or four-storey buildings with a maximum of 12 flats, is a trend worth following in the coming years. "There is a decline in the number of detached houses being built, in sharp contrast to the rise of small-scale apartment buildings. This is mainly due to the rapid urbanisation and the ageing population, especially in countries like Switzerland and Germany, where older people prefer moving into a smaller dwelling when they retire, instead of having to stay in and maintain their large houses," Oliver analyses.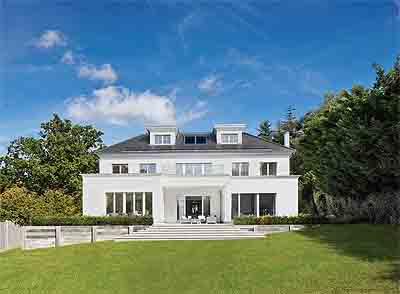 "Whilst we are certainly moving in this direction now, we are aware that we need to adhere to building regulations different to those we are used to when developing single-family homes," he adds. "For example, we have to modify our system, so that it meets a range of regulations related to acoustics, fire protection, and fire escapes. As these are areas that require greater and more specific competence, we sometimes need to appoint experts to help us design the apartment buildings."
Viewed partly as a precautionary measure that will allow Baufritz to develop further in Britain even in the event of an unfavourable Brexit, in the last couple of years, the organisation has reignited its idea of offering its services in Ireland. "We tried to enter the Irish market back in 2007, but just then, the financial crisis hit the country and we had to shelve our plans. Fortunately, the situation is a lot more positive now, Ireland is a flourishing economy, and we have decided to get in contact with a local property developer who wants to build 24 single-family detached homes just north of Dublin," Oliver reveals. "The project is something that has not been seen before in the country, with regards to the eco-friendly architecture of the building. We are presently in its planning phase, which seems to be taking longer than what we were hoping for, but we expect to press ahead by the end of 2019."
Aiming for zero-waste
A year ago, Oliver shared with us that Baufritz had an objective to attain the status of a carbon-neutral manufacturer in 2018. While he announces the accomplishment of this mission, he also admits that the overall operation of the company (including the offices and its transportation activities) still renders it carbon-negative. In order to change that, Baufritz has introduced various improvements to its heating system, investing further in renewable energy.
Oliver goes on to remark that being carbon-neutral is an ongoing process that requires the business' constant attention. "As a company, we had a ten per cent growth last year, which means that our sustainability measures need to keep up with this rate, lest we start producing higher levels of CO2, which would make our factory carbon-negative again.
"Our big aim for 2019 from a 'green' point of view is to engage in the process of becoming a zero-waste manufacturer. We already recycle a huge amount of material, but we want to extend these practices to our suppliers, too. We feel that we need to change their culture, as well as that of anyone who is currently working or is about to be employed by Baufritz. It is well-known that every day our society produces more and more waste and its management is becoming harder. For us, the solution is more co-operation between the different entities within the supply chain and keeping a firm hand on the rules that need to be applied in fighting waste," Oliver suggests.
In conclusion, he touches on the importance of attracting talented people into the business, regarding it as a guarantee of future success. "Opportunities abound in our industry and following our heavy investing in new technology and machinery, we now have to find the right personnel to train and develop. There is no denying that this is a challenging task, given the direction the education system has taken in the past few years and the reluctance young people express towards working in a manufacturing or construction business, even though these are industries where they can learn real craft. Nevertheless, we do our best to provide a super attractive workplace for our future employees where we build innovative, aesthetically pleasing, and environmentally-friendly buildings."
Baufritz
Services: Construction of prefabricated timber homes