With well over 100 years of experience throughout Europe as the premiere provider of luxury timber homes, Baufritz GmbH&Co.KG has earned a well-founded reputation for delivering ecologically friendly, bespoke structures
Natural growth
With well over 100 years of experience throughout Europe as the premiere provider of luxury timber homes, Baufritz GmbH&Co.KG has earned a well-founded reputation for delivering ecologically friendly, bespoke structures
Sylvester Fritz founded the company during 1896 as a group of carpenters to build roof constructions, churches and agricultural buildings from its base in Erkheim, Bavaria. Baufritz delivered its first timber houses during the 1930s and today has grown to employ 280 personnel, while retaining its family heritage and as a fourth-generation company headed by Dagmar Fritz- Kramer. Today Baufritz remains true to its roots as a supplier of bespoke designed, ecological and healthy homes and boasts numerous awards and accolades that differentiate the company as a leading name in timber construction.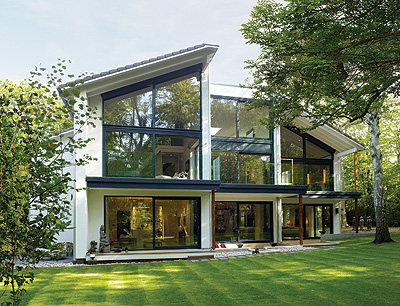 Since the turn of the millennium Baufritz has continued to define itself as a leading specialist in ecological timber construction, reaching several important milestones between the year 2000 and the present day. During 2006 the company founded a British subsidiary named Baufritz (UK) Ltd together with its managing director and export director Oliver Rehm, which today has completed as many as 50 individually designed homes for satisfied clients throughout the UK. Furthermore following the continued success of Baufritz within Germany and the UK, Dagmar Fritz-Kramer was awarded Entrepreneur of the Year 2008 by the Bavarian SDP and in only one short year later in 2009 the company was named 'Germany's most sustainable company', an award given under the patronage of Chancellor Angela Merkel.
Baufritz retains its original Bavarian headquarters, which has evolved from a relatively small workshop into a state-of-the-art, contemporary manufacturing facility covering 14,000 square metres. Also located at the company's headquarters are its show rooms and comprehensive design facilities, which form the heart of the business. "The design process begins with customers meeting one of our designers, who are usually architects, surveyors or engineers," Oliver explains. "They are specially trained to work with the Baufritz building system and this means that are able to understand the way we work with timber as a building material and to know how to use it in the best, most economical way."
From the opening stages of designing a unique bespoke home for its clients through to procurement and construction, Baufritz offers a complete turnkey solution and is on hand to guide customers through every stage of the project from conception to completion. Once a client has an approved building plot and the design process is started, the company's architects can draw on around 120 years of experience to follow every project to its conclusions. "We deal with all of the standard work stages that an architect normally goes through, with sketch design, planning and with the actual submission of a planning application," Oliver elaborates. "During the process we run costing exercises so that a customer knows exactly how much the construction will cost and this is a huge advantage for them. Our business has all of the skills available in design and costing because these areas have to go hand in hand for a project to be successful.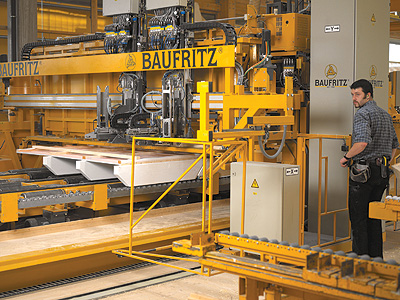 "Once the customer has been granted planning permission, the project will move to the next stage of design. We start work on drawings and technical calculations, thermal calculations, building regulation approval drawings and the customer can also come to see us at our headquarters and showroom in Germany where they can specify the material finishes and the final specification of the house. The customer is guided by interior designers and the project manager to make all of the final aesthetic decisions and once all of these decisions have been made we can procure all of the materials that are needed and begin the manufacturing process."
During the course of its long history Baufritz has continuously refined its production processes by incorporating new technology, while remaining true to its core value of providing ecological and environmentally safe homes. Its unique insulation material made from wood shavings was recently awarded Cradle to Cradle gold status by the Technology Innovation Institute, which marks it as a unique and industry leading technology. "It is all-natural and the fire protection and the anti-fungi protection preservatives are all natural too. This is unique in the world and we are very proud of that," says Oliver. "We have been developing this since the 1940s and it has been used in thousands of homes, we are very excited that it has finally been awarded to such a high standard."
Although Baufritz has developed a strong reputation as an industry leader within its native Germany and throughout Europe, the company is keen to further enhance its reputation and also to expand into exciting possible future markets. "We want to really become the number one supplier of eco homes, especially in the UK for private homes and also small-scale developers," says Oliver. "Furthermore two years ago we set up a new entity called Baufritz International, we are looking into all international markets and are looking to build into new regions that are not our traditional markets, we are looking at new areas like Canada, New Zealand, Australia and even Africa. These are long-term considerations because we want to be kept busy for the next 100 years!"
Baufritz
Services: Luxury timber homes