Baufritz's approach to providing eco-friendly and healthy homes is proving successful as sales continue to grow across Europe
A breath of fresh air
Baufritz's approach to providing eco-friendly and healthy homes is proving successful as sales continue to grow across Europe
One hundred and twenty years ago Sylvester Fritz founded a group of carpenters to build roof constructions, churches and agricultural buildings in Erkheim, Bavaria. In the 1930s it delivered its first timber houses and today, under its fourth generation of family management, over 300 employees are producing 200 prefabricated homes a year. Truly bespoke, ecological and healthy homes are the defining feature of the present day business – a leading light in quality and sustainable buildings.
Baufritz's biggest market by far is its domestic German market, where unique houses represent the firm's design and build capabilities in all corners. Switzerland, Luxembourg and the UK trail as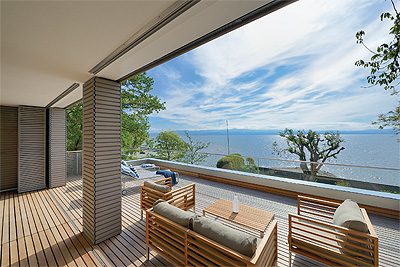 key satellite markets where the business has been able to overcome local challenges and tap into a host of opportunities. "Across these markets there are only a few competitors that also specialise in timber buildings, and there are even fewer that offer an offsite manufactured proposition, so the market is still very niche," explains Managing Director Oliver Rehm.
"When people decide to go with us for a self-build project they do so because they receive a bespoke product that is made by machines to a very high standard," he continues. "They are given a certainty of cost and they are given 120 years of experience in building timber buildings. We provide a complete turnkey service from design and manufacture to the installation and all other associated site works from planning permission to ground works, and can complete this with internal fit out and the creation of bespoke furniture. We are a one-stop-shop for people's dream homes, with a certainty of price and timescale and an approach to sustainability and ecological security that is arguably unrivalled."
Baufritz takes its responsibility not only to its customers but also to its surrounding environment very seriously. The level of service afforded to its clients is open and honest, with the company inviting prospective homeowners to visit the production facilities in Erkheim, to visit show homes and even to speak to former customers. The health of its customers is also important and leading innovation has seen the firm develop solutions such as Electrosmog ventilation systems and non-toxic, 100 per cent organic external paints to ensure its homes are as safe and as healthy as possible.
"Sustainability is the core of our business," Oliver explains. "We only produce buildings that protect humans and nature in harmony, and this means we are continuously developing new ways of building this into our homes. This could involve the way we produce, how we source our materials and how we apply certain products. We have, for instance, developed our own LED lighting systems and even established our own assessment standards that go beyond those required by legislation. This includes energy efficiency levels, the materials used, the air quality, ventilation performance and so on. We want to be pioneers in this field so we have to stay ahead of the market."
Two of Baufritz's newest show homes in Germany perfectly represent the level of attention the company not only pays towards the quality of its houses but also to sustainability. Oliver highlights the healthiest building the company has ever built on the shores of Lake Constance in southwest Germany, designed to showcase the Baufritz signature of solid design and eco-friendly living. "Prospective customers are invited to spend a night at the health-certified property to get a feel for living in such a beautiful environment," he comments. The second sits just outside Munich and is Germany's first 'MinEnergy-A-ECO' and 'Sentinel' certified house. Thanks to solar, wind and fuel cell systems, the building is near self-sufficient for heat and power.
Other recent highlights for the company from a business perspective include a large development of 25 semi-detached homes in southwest Germany in partnership with a property developer. "This is the first time this has happened as our solutions can often be too expensive for a property developer to take on," outlines Oliver. "However, by developing a hybrid construction concept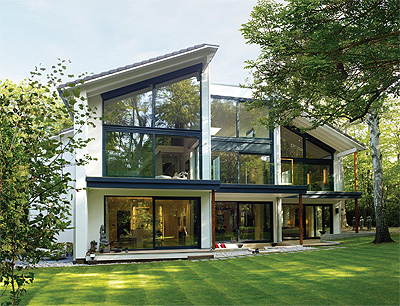 that combines our prefabricated timber wall and roof sections with prefabricated concrete elements, material usage and costs were reduced and we are now looking to develop this type of partnership further. We have also funded and developed 12 flats for the open market here in our home village, which is interesting as these are much larger and taller buildings than we are used to and shows just how versatile timber and Baufritz's expertise is."
Looking forward to the next two years, Baufritz currently has a full order book following a strong period of growth as markets become more receptive to high-end, eco-friendly homes. With favourable investment conditions in Germany, this remains the strongest market with Luxembourg showing similar signs. However, with land in the UK becoming more and more scarce and subsequently expensive, Oliver notes that customer's wishing to follow a self-build route here are often cash buyers looking for large projects. Nevertheless, with business as strong as it is, Baufritz will soon be embarking on a significant expansion programme at its home factory. An extension designed to connect the two existing factory buildings will be installed in September this year, with new machinery and upgrades taking place at the same time.
"We will also be redesigning our layout to improve work flow," Oliver says. "Overall it should increase capacity by about 30 per cent, so there is lots of work to do to prepare for that and it does mean that factory will be down in December and January, but afterwards we should be seeing a lot more homes coming out, which is great. We will also be opening a new show home on the site in October."
Also helping to meet increased demand the company has recently brought on a number of new staff to increase the scope of expertise held at Baufritz. "Integrating these people into the business over the coming months will be very important," says Oliver. "Making sure they are happy is key to us running a successful business.
We will also be focusing on improving our customer service and aftersales business to forge long-standing relationships with our customers and ensure we look after them long into the future. In terms of our own long term vision, it's difficult to say, as market conditions are changeable, but ensuring we retain our competitive edge with new innovations and developments will remain core and our people and their skills will be central to achieving this."
Baufritz
Services: Specialist prefabricated timber house builders