Despite a heavily saturated market, the Bauwerk Boen Group has established a leading reputation and is a strong global player in parquet hardwood flooring
Laying the foundation
Despite a heavily saturated market, the Bauwerk Boen Group has established a leading reputation and is a strong global player in parquet hardwood flooring
The Bauwerk Boen Group can rightfully be considered one of the world's leaders in hardwood parquet flooring. It benefits from a long history and the combined expertise of the Bauwerk and Boen brands, which collaborate in unison to provide the group with a synergy that sets it apart within the high-end parquet industry. Bauwerk Parkett AG was founded in 1944 and today the company is the leading Swiss manufacturer and supplier of twolayer parquet. Boen Bruk AS can trace its roots back into the 17th century, when two sawmills were founded near the Norwegian city of Kristiansand. These mills would lay the foundations that would lead to Boen becoming the formost supplier of three-layer parquet that its clients would recognise today. With the completion of the merger of the two companies in June 2013, Bauwerk Boen AG has consolidated its position as a leading supplier of high-end parquet throughout Europe and beyond. Today the company maintains a staff of around 1400 employees and produces over eight million m2 of parquet per year.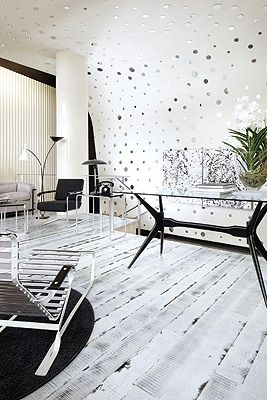 The group is able to manage its market focus across its two brands, which enables it to offer targeted services to ensure that it is able to operate efficiently and cost-effectively throughout the world. "Our Bauwerk brand has its main focus on distributing parquet, skirtings, glue and accessories for glue-down applications directly to European installers," says CEO Klaus Brammertz. "Whereas our Boen brand's main focus is on distributing parquet and corresponding skirtings to the world market, which is supplied mainly via trade partners."
The efficient management of a single supply chain and world-class manufacturing facilities, including one of the world's most advanced factories for hardwood flooring situated in Lithuania, greatly strengthens the synergy between the companies. Between its two brands, the group boasts a leading level of expertise and a rich history of innovation that has defined its leading position in the parquet market. Today the group primarily serves a European market, however its business is growing within Asia in China, Singapore and India, as well as in the United States.
Although the Bauwerk Boen Group is currently enjoying a growth in sales throughout its global operations, it is in the face of an increasingly challenging market as Klaus explains: "Hardwood flooring consumption has been in decline in Europe and had declined by five per cent between 2011 and 2012. The market in Southern Europe is currently very weak although other areas like Germany, Norway and Switzerland have seen small increases in trade. Other market players remain very fragmented, there are still approximately 200 companies operating with huge over-capacities. Consolidation within the market has only started with Kährs/Karelia, Tarkett and the Bauwerk Boen Group."
To ensure that the company continues to grow and maintain is market position the group has adapted to the changing tides of the industry and focused its operations where production is most cost-effective. Within Austria for example, production has ceased while the company's sales and marketing office will remain to continue to drive sales in the country, as Klaus elaborates: "The Salzburg facility was focused on small strip parquet, mainly used in projects, largely for the European market. Prices for these projects have declined by 40 per cent over the last five years. However, Austria still has the highest hardwood consumption on Earth and both the Bauwerk and Boen brands have strong positions there, which is why the group will retain its sales and marketing offices in the region."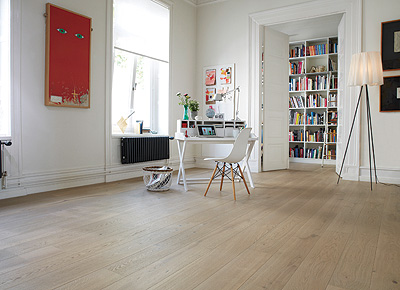 Further to this the group has recently completed the transfer of its production plant in Germany to its new location in Lithuania. "This move has been planned within Boen for quite some time," Klaus explains. "The lamella cutting and press lines had previously been relocated to Lithuania in recent years. The main benefits of the move are increased efficiency and decreased production costs within a highly competitive market environment."
As 2013 draws to a close and 2014 appears on the horizon the Bauwerk-Boen Group will contemplate how it intends to navigate the market over the coming year and beyond. At present it is enjoying growth of around six per cent despite the challenges posed by an uncertain market and competing companies and the group will seek to maintain this growth through innovation and strong service as well as through potential mergers and acquisitions. Core to ensuring that the company is able to continue to deliver its world-class range of parquet products are the group's 1400 staff, whom the group routinely invests in to drive the company forward. "Skilled personnel are key for us," Klaus observes. "We work with standardised processes regarding individual target setting for all of our employees, as well as appraisal talks and individual training. We run team building events and seminars at al levels of the group and also a very well received talent development programme, which will soon be complimented with a senior management programme.
"Through these and managing the transitions in supply chain we aim to remain the preferred brands of our customers and to gain a sustainable market share in all of the group's focused markets around the globe. We will also run one of the largest new line launch programmes ever in both brands."
Bauwerk Boen Group
Services: Parquet and skirting experts