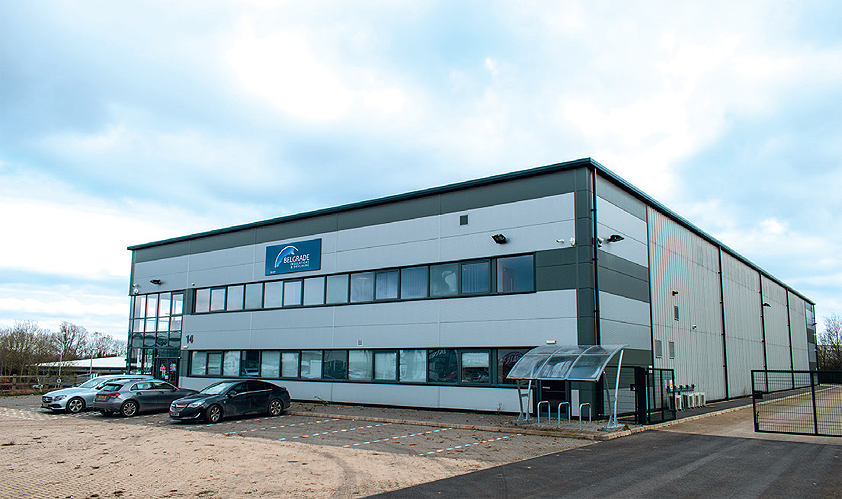 Belgrade Insulation & Drylining
Investing for the future
First established in Northamptonshire in 1976, Belgrade Insulation and Drylining (Belgrade) is today a respected, recognised specialist distributor of Insulation and Drywall systems. In 2010, a management team lead by Managing Director Alex Khan acquired the business from its previous owners. In the time since, Belgrade has been the beneficiary of significant investment, not only in the development of its original trading site in Wellingborough, but also through the opening of five new distribution centres, located in London, Leeds, Birmingham,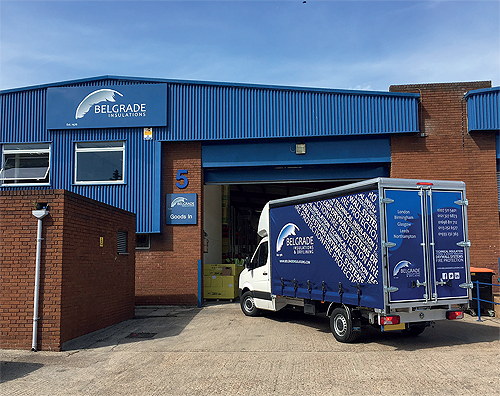 Portsmouth and Glasgow. Together, these sites allow the business to service both the Building and Technical Insulation markets.
The company has specific expertise in the Technical Insulation (HEVAC), Fire Protection and Fire Stopping, and Building Envelope sectors. These cover applications across the building market including roofing, flooring, and brickwork in traditional construction together with modular and offsite construction.
There has been rapid growth in the use of gypsum boards for a variety of applications and Belgrade has supply agreements with the major UK manufacturers that ensures specification compliance. To service this market, all branches have vehicles with mechanical offload capability.
"When we acquired the business in 2010, we did so with the belief and confidence that gaining access to a network of well-established suppliers would enable us to develop a comprehensive and far-reaching distribution business," Alex begins. "In March 2011, we opened up our Leeds branch – where our head office was relocated – before opening sites in Birmingham in 2012, Glasgow in 2014, London in 2017, and Portsmouth in 2019. In that time, we have taken a business turning over approximately £2 million in distribution from a single site, to one that achieved turnover of over £52 million in 2020 from six sites."
Impressive growth
Today, the company excels in what Alex refers to as 'specialist market sectors', while Belgrade's Business Development Director, Phil Proom, notes that the company's activities can broadly be broken down into two categories, these being structural insulation and technical insulation. "In the case of the latter," Phil continues, "we are talking about insulation to pipework and ductwork, the fire protection of those systems, together with fire stopping of penetrations.
"Our membership of industry trade associations ensures our sales teams are aware of latest products, their application and regulatory compliance across all the sectors in which we operate. Belgrade are members of bodies including, ASFP, BMF, FIS, NFRC, and TICA."
It is Phil who goes on to offer an important insight into what has helped Belgrade to achieve such impressive levels of growth and success in a relatively short space of time. "For me, it has to do with several factors, including the nature of the relationships that we build with our suppliers, customers, and the consistent quality of our service," he details. "Said relationships are built upon providing our customers with what they want, when they want, by always delivering on-time and in-full. Furthermore, as you will know, the construction industry is very much a people-centric industry, and we take incredible pleasure in being able to rely upon the quality, commitment and passion of our teams throughout the UK."
Looking at the recent performance of the company, particularly during 2020 and the height of the Covid-19 pandemic, both Alex and Phil are humble enough to note that they – like many of us – have been pleasantly surprised by how strong the recovery in a number of sectors has been since those initial months of lockdown in the spring of last year. "With construction being designated a key industry in those early weeks of the pandemic, we worked tirelessly with not only our own teams, but also our customers to ensure that whatever we were doing as a business, that it was being conducted in a safe environment," Alex stresses. "We initiated procedures, systems and equipment to make our branches Covid-19 secure and safe for our colleagues. Where it was possible and practical a number of our teams worked from home. We did make use of the furlough scheme for a few weeks, but soon brought these people back and have come through the last year in spite of some incredibly unique challenges."
New space
Indeed, in spite of the pandemic, Belgrade was also able to move forward with its ongoing investment in its facilities, including acquiring additional space for its Birmingham site in November 2020.
In February 2021, it also announced the relocation of its Wellingborough branch to the Brackmills Trade Park in Northampton. The enhanced stock holding covers products for Building and Technical insulation, together with Drywall Systems and Passive Fire Protection. The fully Covid-19 compliant branch also boasts expertise in building envelope insulation and associated fire stopping solutions.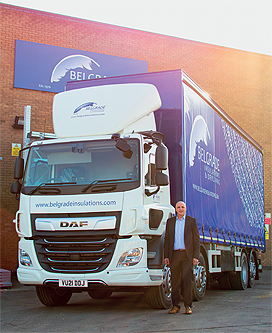 Another key feature of the branch is that it holds the latest storage and mechanical handling equipment to fully utilise floor and height space. It is complemented as well by secure external storage and a dedicated material handling area. "The biggest cost to the business is arguably warehousing, so it is imperative that we get as much use out of this space as we can," Phil notes.
Positive outlook
In the coming months of 2021, Belgrade will also be moving forward with a planned relocation of its Leeds facility. "At the same time," Phil notes, "we will continue to invest in our people, developing them through training courses with the goal being to promote them up into more senior roles as time goes by. For some time now, we have recognised the need to grow talent from within the business, and we are starting to see the benefit of that approach in the advancement of our people."
From a more longer-term perspective, Alex and Phil believe that the future hopes and goals for Belgrade rest on it continuing to deliver what it has done so consistently for the last decade, namely increasing its volume of sales, improving its margins, and cultivating talent within its employ wherever possible. "The outlook for the industry is very positive, and while crystal balls are in somewhat short supply at the moment, the general consensus is that the UK will see increased investment going forward in things like hospitals, schools and other key infrastructure areas," Phil affirms.
"So, with that in mind, we anticipate a future for Belgrade that looks very promising indeed."
Belgrade Insulation & Drylining
www.belgradeinsulations.com
Products: Specialist distributor of insulation and drywall systems