Bell Equipment (UK) Limited
Bell Equipment (UK) Limited set up its UK operation in 1998, and the original Bell philosophy of first class products and the very best customer service still rings true today
Strong reputation
Bell Equipment (UK) Limited set up its UK operation in 1998, and the original Bell philosophy of first class products and the very best customer service still rings true today
Bell Equipment manufactures and supplies the most reliable; most fuel efficient and most technically advanced articulated dump trucks (ADTs) in the world. The company's products bring together the very best in power and drivetrain technology and efficient, innovative design. They are created to be dynamic vehicles that more than double their weight when loaded, which means they can economically deliver extra production or offer, as Bell describes it: 'absolutely the lowest cost per tonne in the business'.
With a customer base ranging from the quarrying, mining and construction sectors to waste, recycling, energy and general plant hire, Bell Equipment is able to draw upon years of experience in a range of sectors in order to ensure its trucks meet the needs of its end users. With industry leading technology and reliability built in, Bell Equipment's ADTs have a renowned reputation. Its current offering comprises two ranges – the proven D-series (currently in its Mark VII version) and the brand-new E-series, the next evolution in Bell design.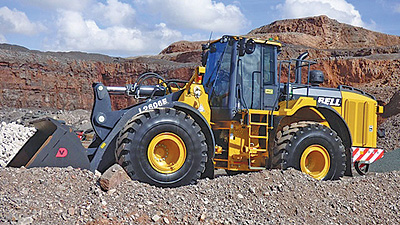 Building upon the strength and reputation of this range, the company also introduced a range of reliable and efficient wheeled loaders. This comprises a total of seven machines and has already received critical acclaim from the construction, quarry and recycling markets.
A perfect illustration of the high quality of these machines is the decision from Barry Wood Plant Hire (better known as Woods) to demo a Bell wheeled loader at the Hillhead 2014 exhibition in late June. This leading international exhibition saw companies presenting the latest plant, equipment and materials, and Woods put the newly purchased Bell Equipment L2606E wheeled loader at centre stage on its stand. It performed a series of demonstrations and gave visitors an idea of exactly what the L2606E – the largest loader supplied by Bell – is capable of, from stockpiling and re-handling, to movability around the often tight restraints of crushing and screening sites.
In addition, a second next generation E-series machine was on display on Bell Equipment's own stand. The E-series was officially launched in the UK in late 2013 and instantly proved its credentials. The next generation in articulated dump truck design and technology, the E-series builds upon the proven legacy of the successful D-series, in order to deliver increased production payloads, lower daily operating costs, superior ride quality and uncompromised safety standards.
Key amongst its advantages is unrivalled fuel efficiency – a quality that has already seen the E-series selected for use by major names in quarrying, earthmoving and plant hire. "The E-series is even more remarkable in real-life than we promised [in 2012]," noted Nick Learoyd, managing director of Bell Equipment.
Bell also used the Hillhead event to highlight the environmental credentials of its wheeled loaders. 2014 is a year of change in this market with the switch to full Tier 4 engines in line with the clean air regulations established by the EPA and European Union. Ahead of the launch of the legislation, Bell used Hillhead to demonstrate how this necessary evolution in emissions technology is being integrated to complement the existing advantages of Bell loaders.
"With Tier 4 being introduced specifically to tackle emissions, it is more important than ever that customers seek a machine that can meet the range of complex and demanding tasks expected of modern loaders," explains Nick. "Regardless of their class of engine, Bell loaders can meet and exceed those expectations."
This degree of innovation and dedication to design is greatly appreciated by a loyal customer base, who after their first purchase, frequently return to Bell for subsequent machines. Woods, mentioned earlier, has seven Bell articulated dump trucks in its fleet, and four of its nine loaders are from Bell. Another customer, Levenseat, a waste management and materials recycling business operating from two sites in central Scotland, also added more of the company's equipment to its fleet in May 2014 when it ordered a new Bell ADT.
The machine represents the third Bell ADT purchased Levenseat, but it is the first E-series. "This is another brilliant result for the E-Series," says Sandy Fairweather, Bell Equipment's sales manager in Scotland. "And no wonder. The B30E ADT can tackle tasks that would confound other machines. It's a high performing truck that's powerful, fuel-efficient, hard-wearing and a pleasure to operate."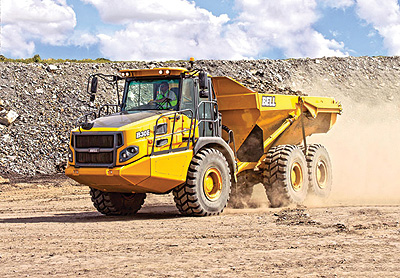 Sandy added: "It's also the first time Levenseat has used the Fleetm@tic system, and already it has presented key information that will assist with productivity, as well as cost-efficiency." Fleetm@tic is an advanced and user-friendly fleet management system that enables customers to accurately monitor their fleet from anywhere in the world – helping them save both time and money. It can provide basic data such as machine hours and average fuel burn to more detailed information such as individual tipping reports. Fleetm@tic is the only such system in the world that is able to link machine performance with actual tonnage moved.
Bell equips all ADTs with a free entry-level Fleetm@tic package as standard, though customers have the option of upgrading to a subscription package if they require more detailed reporting capability. Fleetm@tic also allows owners to monitor the exact location of each machine, set virtual geo-fences around their ADTs and monitor individual driver behaviour using unique driver ID codes.
"To us, this further demonstrates Levenseat's confidence in our equipment and we are positive that they'll benefit from many productive years from the truck, irrelevant of challenges it's presented with," Sandy concluded.
Bell Equipment has now established itself at the forefront of the industry, with the D series dump truck widely regarded as the market leader, and the E Series already gaining a following. Not just based in the UK, Bell is continually increasing its customer base across the globe, supported by the recent creation of Bell Equipment North America. In addition, the company's UK division is directly responsible for a number of foreign dealers and distributors, encompassing Ireland, Iceland, Norway, Israel and the Middle East. "Bell is increasingly a player in diverse markets around the world," confirmed Nick. Today Bell Equipment is a truly international company with users of more than 19,000 machines operating in over 60 countries around the world. As the construction and civils market continues to improve, the company looks forward to supplying both new and existing customers with its innovative and exceptional equipment.
Bell Equipment
Services: Articulated dump truck/wheeled loader manufacturer