From its humble beginnings as a small engineering and repair service in South Africa, today Bell Equipment is a global leader in the manufacture of a wide range of machinery for the construction, mining and waste management sectors
World-class construction equipment
From its humble beginnings as a small engineering and repair service in South Africa, today Bell Equipment is a global leader in the manufacture of a wide range of machinery for the construction, mining and waste management sectors
In the UK, the company offers a market leading range of articulated dump trucks (ADTs) – including the world's largest ADT, the 50 ton capacity B50D – and a versatile portfolio of wheeled loaders.
Central to the Bell ethos is its commitment to reliability, quality and cost-effectiveness. Bell prides itself on offering exceptional fuel efficiency with the lowest cost per tonne on the market, backed up by expert engineering and service.
Bell Equipment works tirelessly to have a comprehensive understanding of its customers' markets, in order to ensure that its solutions are fit for purpose and can add real value – especially in difficult economic times.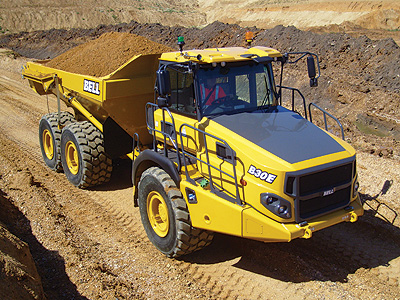 "The decision to hire or purchase an ADT or wheeled loader represents a major investment, so it's vital that our customers can have the peace of mind they are getting the best possible solution for their needs," explains Nick Learoyd, managing director of Bell Equipment UK.
"Everything we do in terms of product engineering and customer service is tailored towards meeting those expectations."
2013 is the Year of the E-Series
2013 has seen the launch of the Bell E-series – the next generation in articulated dump truck design and technology. The E-series presents an evolution that builds upon the proven legacy of the successful D-series, in order to deliver production boosting payloads, lower daily operating costs, superior ride quality and uncompromised safety standards.
The E-series is now available in the UK in two sizes – the 25 ton B25E and the 30 ton B30E. "Since we launched the E-series, we've not only seen a lot of interest from new and existing customers, but those models that are already working on site have proven their credentials," confirms Nick.
Essex-based contractor and plant hire firm Tom Blackwell has become the first UK company to invest in the new E-series of (ADTs) from Bell Equipment.
Prime reasons for the selection of two Bell B30E ADTs by Tom Blackwell include the machines' enviable fuel efficiency, with the lowest cost per tonne on the market, and the E-series' in-board oil-immersed brakes.
The first of the models has already been put to use, moving overburden to expose sand and gravel. "Sand and gravel can be very abrasive on conventional brakes, and we see in-board as the way forward for ADT braking," explains Sam Ratcliffe, contract manager at Tom Blackwell.
Another aspect of the E-series that has proven popular is its redesigned cab, which offers a greatly enhanced ride and improved ergonomics thanks to a full colour display, reduced noise levels and better interfacing with the truck's management systems.
Proven fuel efficiency
The E-series also continues the Bell tradition for fuel economy, supported by the company's Fleetm@tic fleet management system. Tom Blackwell has paid close attention to the figures. "Fleetm@tic is a fantastic management tool and has long been a major selling point for us, as it allows us to see usage patterns for ongoing evaluation of eachmachine's performance," confirms Sam.
Fleetm@tic data confirms that the D-series ADTs used by Tom Blackwell have set a high standard. "Bell outperforms other brands in our fleet every day of the month. The print-outs from the trucks show there is no comparison in terms of the cost per tonne, and Bell machines are easier on our tyres as well compared to other brands."
Tom Blackwell is delighted that the E-series has matched, and even bettered, these results. "The E-series is outperforming non-Bell models on fuel efficiency, and the payload is up slightly compared to our experience of using the D-series."
Independent proof of Bell fuel efficiency came in 2012, when Bell UK decided to commission the Millbrook Proving Ground to conduct an independent test whereby its D-series ADTs could be put through their paces on two measured, timed and carefully independently monitored track-based drive cycles.
Millbrook Proving Ground is one of Europe's leading locations for the development and demonstration of every type of land vehicle, from motorcycles and cars to commercial, military and off-road vehicles. Bell UK chose this arena so that the results would be transparent and credible within the industry.
The trucks tested were the latest Bell B30D MK6.3 and the latest VolvoA30F. Both were fitted with tailgates and 750 Wide Tyres. Manufacturers' specifications were given to the Millbrook team so they could make sure the manufacturers' guidelines were adhered to. The machines were operated by trained, independent Millbrook personnel.
To accurately measure speed, distance and location, a GPS data logger was fitted to each test truck prior to the test commencing.
The first test undertaken was to measure and compare fuel consumption results from the high-speed steady state route, with the second test being on a more typical cross country route. Both machines were ballasted to their rated payload and fuel consumption was measured over two repeatable tests.
The results confirmed that, on the high-speed steady route, the Bell B30D MK6.3 was 6 per cent more fuel-efficient. On the cross-country circuit, this advantage increased to being 17.6 per cent more fuel-efficient. These results show that the harder that each truck worked, the more fuel-efficient the Bell B30D became over the Volvo A30F.
Wheeled loader quality
The Bell range of wheeled loaders have provided first-class results for traditional markets of quarrying, mining, construction and earthmoving – as well as newer markets such as recycling and waste management – thanks to their build quality and highest specification on the market.
In terms of engineering, Bell loaders benefit from a strategic partnership with John Deere, which manufactures the loader to the same high standards as Deere-branded loaders in the US.
In the UK, Bell wheeled loaders offer the highest 'as standard' specification on the market. This means that Bell not only supplies all machines with its unique design elements but its machines are also factory-fitted with elements that other manufacturers typically include only as optional extras.
Examples include the reversing camera and reverse radar detection system, embedded payload system and keyless start with lockout codes for added security.
"We don't like 'hidden extras' when it comes to selling a loader. We much prefer to be upfront about what our customers can expect to receive from a machine, so they can make an informed decision about the suitability and cost-effectiveness of our solutions," explains Nick.
Aggregates firm Holme Sand & Ballast LLP has increased productivity by ten per cent since purchasing two new wheeled loaders from Bell Equipment.
"We do a lot of blending and our shovels are really on load and carry duties for most of the time," explains managing partner Trevor Poole.
"I am interested in the production cost of the sand per tonne. It's as simple as that. The two Bells fitted with the biggest buckets I could use means we are much more productive and hence our costs are reduced.
"In real terms, it means that I can complete our weekly production in five days rather than five and a half days. A ten per cent improvement in production is a massive saving. The Bell deal represents a fantastic payback."
Bell Equipment's commitment to its customers doesn't end with the delivery of a machine. Robust service programmes ensure that the company is on hand to meet all customer requirements so that ADTs and wheeled loaders continue to perform throughout their working lives.
"Long-term reputation isn't based on how a new machine performs in its first week, month or year," explains Nick. "Only over time can we prove our credentials to customers, so no job is too small to keep the machines up and running."
Nick confirms that many customers are long-standing partners of Bell, with a significant proportion of their fleets in the familiar yellow livery. "Trust in our reliability and performance means that many big names in plant hire and contracting come back to us again and again to expand their ADT or loader fleets, or for assistance with specific projects."
Customer satisfaction
A customer satisfaction survey conducted in 2012 on behalf of Bell Equipment UK has scored the highest result seen worldwide in recent years – across any industry.
International customer survey specialist InfoQuest, who carried out the survey among more than 60 of Bell customers last year, said the results were 'exceptional'.
The responses, based on 56 questions covering all aspects of Bell's business, found that 75 per cent of customers were 'totally satisfied' with Bell.
And when compared with the levels of 'total' satisfaction achieved by the 130,000 businesses surveyed by InfoQuest since 1989, Bell's percentile rank is 96 per cent, with the average company scoring only 62 per cent.
Subjects ranged from parts provision and warranties to sales support, invoicing and general relationships.
In some areas, Bell scored even higher than the impressive 96 per cent (percentile rank) achieved in the customer satisfaction section: It scored a percentile rank of 97 per cent in terms of 'ease of doing business', 98 per cent for 'business practices', 98 per cent for 'customer support' and 99 per cent in terms of the 'management' of Bell.
"We have set a high benchmark with these figures – but Bell is committed to maintaining these high standards in all of our dealings with our customers," concludes Nick.
Retaining its original philosophy of delivering first class products and the very best customer service, Bell Equipment anticipates a positive and highly successful 2014. As the company continues to develop its innovative machinery with a view to enhancing productivity for its customers, there is no doubt that Bell Equipment can carry the load of such high expectations.
Bell Equipment
Services: manufacturer of articulated dump trucks and wheeled loaders