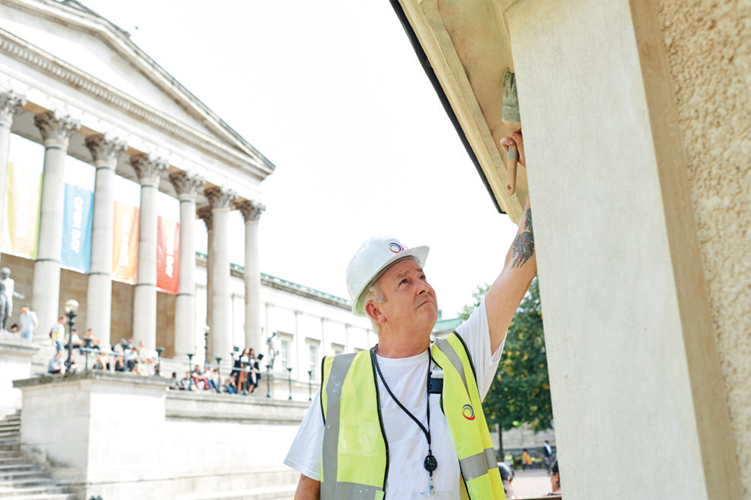 Transforming the future
As a result of targeted acquisitions and strategic expansion, Bell Group has grown to become one of the largest painting, decorating and building maintenance contractors in the UK, all while remaining family-owned and operated to this day
It was in April 1984 that George Bell – Chairman and Founder of Bell Group – made the decision to set up his own commercial painting and decorating company. Then known as Collins and Bell Ltd, the company originally operated throughout the central belt of Scotland, but has since grown both organically and through acquisitions to become a market leading painting and building maintenance contractor.
"From a painting perspective we are the largest painting contractor working today in the UK, however painting constitutes only around 50 per cent of group revenue," explains Bell Group's Sales Director, Lee Hamill. "Over and above this core business segment, we also provide enveloping and building fabric works across numerous trades, be it roofing, passive fire works, or general refurbishments, and operate in multiple sectors, including the commercial, retail, leisure, historical buildings, healthcare, education, social housing and local authority spaces. We also have a separate business that specialises in high-end residential painting and decorating, as well as a company based in the East Midlands that works on new build housing."
With a total of 32 branches operating on a local level, Bell Group now covers every square mile of the UK mainland, from Inverness in Scotland down to Plymouth, and is home to approximately 1800 PAYE employees. However, despite its remarkable rate of growth, the group remains family-owned and operated, has stayed true to its family values, and remains committed to its principal objective, which is to provide the optimum quality of workmanship in all aspects of the services it offers. This has resulted in year-on-year repeat business from a host of blue-chip businesses including Barratt Homes, National Trust, Engie, BT, and various NHS Trusts and housing associations including; ongoing work at the Palace of Westminster; a 15-year relationship with Balmoral Castle; Windsor Castle; Blair Athol Castle; The Sandringham Estate and various National Trust Properties throughout the UK.
Hungry for growth
Meanwhile, the commercial side of the business completes projects for many of the country's leading Social Landlords including formal agreements with 25 of the 50 largest in the UK, 120 local authorities, 30 NHS trusts, hotels, and many education establishments such St Andrews University, Cambridge University and Royal Holloway University.
"The values and ethics that have been instilled throughout the business have been crucial to our success over the years," Lee declares. "As a team, we always strive to conduct ourselves in the right way, get things right first time, and we take great pride in our first-class levels of customer service. Going hand-in-hand with this is our industry-leading quality control process. In fact, Bell Group was the first company in its field to achieve ISO: 9004 certification back in 1987.
"Another characteristic that has allowed the group to get to where it is today is hunger. We are hungry to grow as a business and driven by a desire to create opportunities for our people and teams. This has helped us to build a successful, sustainable business, and allows us to reinvest profits for the greater good of our people."
The aforementioned hunger that Bell Group possesses has created a scenario where it not only continues to enjoy annual client retention rates of close to 90 per cent, but is also regularly bringing in new business. "By diversifying ourselves, the services that we can provide, and the types of project that we can deliver, we have managed to achieve year-on-year growth of approximately 12 per cent every year since our founding as a business," Lee enthuses.
Ethical & professional
What has made the above all the more impressive in recent times is that this pattern has continued in spite of the considerable challenges posed by the Covid-19 pandemic in the last 15-plus months. "To say that the last year or so has been something of a rollercoaster is probably an understatement, and it has certainly been a challenging time for everybody, with our business not immune to this," Lee states. "Having taken the decision early on in the pandemic to close our doors, once we reopened with all of the necessary safety precautions in place, we went on to have a tremendous second half of 2020. In fact, we ended up having three record months last year, delivering an extremely healthy net profit in the process.
"This aside, however, what made myself especially proud was both the reaction of our people to the challenges they faced, and the way that the group rallied around to protect not only their health and wellbeing, but also that of our clients and their personnel. It is a matter of immense pride to be involved with an organisation such as this one, which has conducted itself in such an ethical and professional manner during such an unprecedented and unpredictable period of time."
The ethical and professional nature of Bell Group can also be identified in a number of other important initiatives that it undertakes. One example would be its attitude towards apprenticeships and upskilling its people. "George Bell himself was at one stage in his early career an apprentice, and he has remained very passionate about apprenticeship programmes ever since. As a matter of fact, it was in 2019 that he was honoured to be presented with an OBE by HRH the Duke of York in recognition for his services to apprenticeships and charity," Lee reveals. "To date, we have qualified over 1100 apprenticeships here at Bell Group, and we have just recently announced a commitment to take on a further 500 over the next five years as a means of supporting the growth of our industry.
"To facilitate this, we have also now opened a dedicated Apprentice Training Centre in Airdrie, where we have also been granted authorisation to award apprenticeship qualifications directly. This is something that is highly unique, and I believe makes Bell Group the first family-owned business of its kind to offer such a service."
Forward plans
Where Bell Group also excels is in being a market leader when it comes to pursuing environmentally sustainable goals. Various targets and initiatives are being implemented throughout the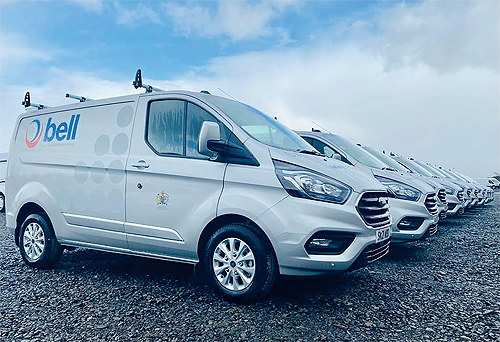 group, right down to its fleet of vehicles, which in the coming months and years will increasingly be replaced with hybrid and electric alternatives.
"For some time now," Lee says, "we have been working with several large manufacturers to effectively exit away from using harmful products that are still available within the marketplace. We are also pushing on with the adoption of ever-more innovative products and solutions that we are introduced to. A great example would be our use of a product called Airlite, a revolutionary, innovative and environmentally friendly paint that purifies the air. This phenomenal product actively purifies the air around it by attacking and neutralising pollutants and microbes, providing a cost-effective solution for improved air quality when compared to green or living walls."
Coming in 180 colours, Airlite can be applied onto any typical surface inside or outside to eliminate 99.9 per cent of bacteria and mould, reduce air pollution by 88.8 per cent, and neutralise odours. Having become familiarised with the product, Bell Group is now enthusiastically working to introduce Airlite to its extensive client base.
This year – 2021 – has already been a significant one for Bell Group, with it completing a successful management buy-out (MBO). "In simple terms, the MBO represents the passing of the torch down to the next generation of the Bell family," Lee highlights. "George Bell has been instrumental in building the business to the point where it is today, and now it is his son Craig who will lead it forward for years to come."
Under its new leadership, Bell Group plans to grow through acquisitions, continue to diversify its services, and improve business operations as part of an exciting organic growth strategy. "I feel that I can safely say that what we have in front of us today is the group's strongest ever forward plan, and that makes us all extremely excited about what the future holds," Lee declares. "In the short-to-medium-term, we will focus on increasing our capabilities in areas such as flooring, roofing, passive fire works, and general planned maintenance contracts. In doing so, we are confident that we can – and will – double the size of the group within the next three-to-five years, and that is a goal that everyone at Bell Group is looking forward to working towards!"
Bell Group
www.bellgroup.co.uk
Services: Painting, decorating and building maintenance