Aiming high
Bennetts Cranes is constantly modernising its fleet and responding to emerging market needs. Having grown significantly in the last five years, the company has now been identified among the fastest growing in its sector both on a UK and European level
Since 2008 Managing Director, Edward Seager, has been focused on growing and developing Bennetts, a specialist tower crane hire and sales company. Eager to bring the crane hire business to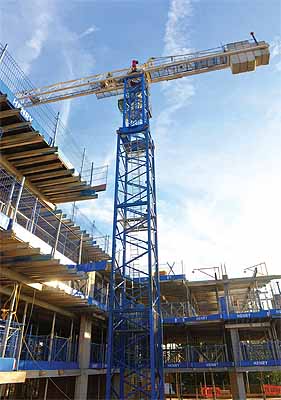 the 21st century, Edward invested heavily to grow the size of the company, build a strong team, and develop an extensive fleet of modern saddle jib, luffing jib, and self-erecting cranes.
"Saddle jib cranes are used widely across the UK and Europe, being a cost-effective lifting solution on spacious sites," he points out. "However, luffing jib cranes have grown in popularity during recent years, due to three main advantages they possess. First, because in the UK you legally own the air space above your property, companies cannot over-sail it with a crane or its load. Luffing jib cranes work with their jib raised to reduce its radius and avoid over-sailing during use. When out of service, a crane must be parked in 'free slew', so that the jib can weather vane. Therefore, a luffing jib crane has the major advantage that it can be parked at a short radius, in some cases almost vertical, to prevent over-sailing.
"Then, luffing jib cranes are a particularly efficient option for tall buildings. The use of a saddle crane jib on a tall building requires a significant tower height to ensure the jib, chains, and loads safely clear the building, which may mean the tower has to be tied into the building. In contrast, by using a luffing jib crane, part of the height can be achieved from the jib, which eliminates the need of the crane tower to be so tall, also reducing the number of ties required," Edward analyses.
Last but not least, he underlines the luffing jib cranes' suitability for multi-crane sites. "On busy sites, where several cranes have to work in close proximity to each other,luffers can work at a short radius, which avoids the needs to erect saddle jib cranes with very tall masts to enable the jibs to safely over-sail each other."
Demonstrating its marketleading approach, in November 2017, Bennetts took delivery of the first Jost JTL 68.4s in the UK – the first topless luffing jib crane with a four-metre out of service radius, the shortest one can get on the market. "We were the first company to put one of these into operation, when we deployed the luffer on the site of a new block of student accommodation for the University of Exeter. The hydraulic crane is a perfect solution for small sites and urban areas where contractors face issues of over-sailing nearby properties," Edward comments.
Furthermore, in 2016, Bennetts became the exclusive UK dealer for Raimondi Cranes – a heritage manufacturer of tower cranes in Italy, which allowed the British company to purchase a number of Raimondi cranes as part of its fleet modernisation. Earlier this year, Bennetts took delivery of the new Raimondi LR330 luffing jib crane, which boasts an incredible 18-tonne lift capacity. In another world first, Bennetts also became the first firm to erect the Raimondi LR213 luffer. The milestone was achieved in just two days in January 2018, when the tower crane was put into service in the heart of Wembley, where it will remain for approximately two years, playing a central role in a mixed-use development project by HUB that will include 239 apartments, retail space with
commercial use, as well as a community centre with car and cycle parking.
Continued investments
Along with buying new cranes for its fleet, Bennetts has just set up a test facility at its headquarters in Gloucestershire. "We needed this space to erect all new tower cranes, prior to their delivery to the customers' sites, in order to ensure that they are fully reliable," reasons Edward. "As tower cranes become more complicated and building projects more timecritical, the need to guarantee that new cranes are in good working order grows ever more important.
"We have also invested in new technology from a company called BlokCam, which supplies innovative camera systems that film from the hook of the tower crane and send images to the driver in the cab, enabling them to see the slinger or the signaller, which is an especially useful feature, as many sites have blind spots and rely on radio contact. It is a great safety addition, which we will be looking to promote over the coming months," he continues.
Staying on this curve, Bennetts will carry on with the implementation of its programme to replace tower cranes and invest in additional taller cranes, reflecting the changing needs of the construction industry. "A recent trend within the sector is the use of pre-cast concrete and pods built offsite, which require taller cranes with bigger lift capacities," Edward remarks. "We can also benefit from the drive towards the construction of taller buildings, caused by the high cost of land, particularly in the South East. This encourages a move towards 1 fall and 2 fall tower cranes, like those manufactured by Raimondi, whose hoist speed is faster, resulting in a significant time saving when erecting a very tall building. Further investment from the company will involve the purchase of a shot blast and spray paint facility, as well as an increase in office space to accommodate the additional staff Bennetts has recruited over the past three years."
So far, 2018 has been a year of local, national, and international recognition for Bennetts. The company has been included consecutively on the South West Fast Growth 50, the FT1000: Europe's Fastest Growing Companies, and the LSEG '1000 Companies to Inspire Britain' lists. Discussing the latter award, Edward praises the staff's hard work and dedication, matched by the wise investment decisions made by the management, crediting these factors for Bennetts' success. "To be presented with such an accolade fosters a sense of pride and makes our team see that our efforts have been worthwhile.
"Now, we want to continue to expand and improve. We are leaders in tower crane knowledge and expertise, and the future for us is in the growth of our fleet and people. Our focus will be on navigating through Brexit, by centring on health, safety, and customer service, the way we always have," he concludes.

Bennetts Cranes
www.tower-crane.co.uk
Services: Crane hire and sales