Established as a fence manufacturer more than 130 years ago, Betafence has diversified its services to become the world's leading perimeter protection specialist
On the fence
Established as a fence manufacturer more than 130 years ago, Betafence has diversified its services to become the world's leading perimeter protection specialist
Today boasting the industry's largest fencing, access control and detection product portfolio, Betafence has used its 130 years of expertise in high quality fencing to set standards for the fencing industry as a whole. A leader in product and application innovation, the Belgium headquartered company has 1500 dedicated employees working at its eight production sites and 30 sales offices based strategically around the world. With worldwide coverage and sales of 360 million euros, Betafence delivers the best possible results to clients in 100 countries through unrivalled expertise, sales support and services.
"Betafence offers a range of products such as agricultural fencing systems, industrial mesh to steel stock holders and industrial products to a wide range of high volume end users. The main focus is on security fencing, ranging from high security crash rated systems for military & nuclear boundaries, to demarcation & deterrent fencing systems for schools, highways, and retail parks. There are various routes to market ranging from wholesale, retail and fencing contractors," explains James Timlin, sales manager at Betafence UK. "Our eight production sites are based in Belgium, the United Kingdom, Germany, Italy, Poland, South Africa, Turkey and the US."
A provider of comprehensive protection solutions for both residential, business and public locations, Betafence has supplied items such as access controls for perimeter protection and wire mesh products to large construction sites, ports, sports stadiums, Formula 1 tracks and infrastructure developments. "We are a global player and experts in the high security segment. We are the only fully integrated manufacturer in the UK – manufacturing wire, converting this into fencing by welding & powder coating – so we have full control of the supply chain. This assures the very best in quality and service," highlights James.
Strengthening its service
To further strengthen its service offering, the company acquired a majority share in Payne Fence, the leading US manufacturer of security fencing and gates. Well-known in America and focused on the innovative development of patented designs, Payne Fence offered Betafence an excellent opportunity for financial and geographical growth. Announcing the joint venture in July 2008, the contract also enabled Betafence to gain a vital link towards America, as well as the ability to offer new customers in the US a local service that complements their specific needs.
In line with this acquisition, Payne Fence invested $3 million in a cutting edge production line in its Texas based manufacturing facility to produce welded wire mesh. Used for a variety of industrial applications, Betafence's weldmesh product portfolio includes stockmesh, a range of standard panels in galvanised or copper washed wire, the use of which is constantly increasing in areas such as security, safety, storage and construction. Easy to use and easily combined with other materials, the EN ISO 9001: 2000 certified weldmesh offers a broad range of benefits to customers; these include strength, availability, no loose wires, widely applicable and little wastage. Available in a standard range of panels, the multifunctional weldmesh's wire diameter ranges from 2.5 millimetres to six millimetres, in variable mesh sizes from 25 millimetres and up. In addition, the company offers custom designed weldmesh, which offers high flexibility welding and coating, as well as strong bending and cutting capabilities.
Investment
More recently, Betafence invested £1 million in a UK coating line, which will enable a full manufacturing process at the Sheffield plant, a decision that highlights the opportunities for growth within the security sector following the economic crisis. "The coating line was a major investment and after contracting rapidly post recession this investment demonstrates our commitment to the UK and our strategy to grow in the value added segments," says James. "The business reacted quickly to the recession and consolidated its European operations and is now in a much stronger and leaner position. Markets are stabilising and conditions have improved over the last 12-months, group Ebitda is now growing YOY.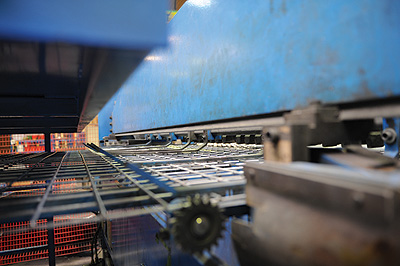 "Critical national infrastructure security levels are being enhanced by the UK Home Office and this is presenting many project based opportunities for high security applications. We can say that this sector is growing rapidly and that Betafence is experiencing unprecedented demand; Betafence appears to be the company of choice for critical national infrastructure projects."
Key to the group's success is its quality policy; focused on core values such as delivering true customer satisfaction, efficient management of product quality and customer service, Betafence strives for continuous improvement of its operations at all levels ofthe business. To ensure this policy is carried out, the organisation implements guidelines for staff to follow; these include key performance indicators (KPI's) that are set up annually and deployed throughout the firm, ongoing participation in the improvement of the company's processes and performance from personnel, who will contribute to safety and quality through pro-active thoughts and actions. Furthermore, each member of staff is regularly trained to increase competence and quality awareness.
As the need to secure one's business from threats such as theft and terrorism become increasingly more important to customers, Betafence has established itself as the total solution supplier for its extensive customer base. Constantly evolving with market demands, the dynamic company has surely secured itself a strong future.
Betafence
Services: Perimeter protection