Betafence is the world's number one perimeter protection specialist thanks to an enviable product portfolio that is merged with more than 130 years of operational excellence
A secure future
Betafence is the world's number one perimeter protection specialist thanks to an enviable product portfolio that is merged with more than 130 years of operational excellence
Proud to protect property across the globe in a manner that helps customers feel safe while also respecting their desire for freedom, Betafence is the global leader in fencing solutions, access control and detection for perimeter protection. Focused on its strategy of enlarging its global presence by delivering security solutions and support, Betafence is committed to continuous innovation as a way to guarantee optimal solutions for the enduser that are cost-effective and delivered on time and to budget. With its products found around industrial buildings, public infrastructure and highly sensitive sites as well as agricultural properties, livestock and private gardens, Betafence has accumulated a broad customer base since evolving from its original operations as a fence manufacturer.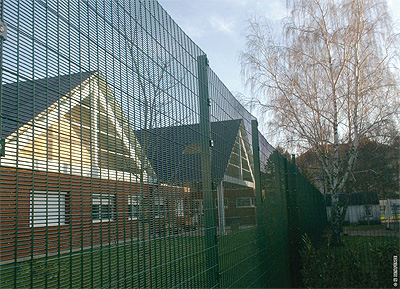 Today a total solution supplier for a variety of industrial applications with 1400 employees worldwide, a strong presence in 100 countries, ten plants and 30 sales offices across the globe, Betafence has continued this trend of diversification. As the UK arm of Betafence, Betafence UK has played an integral role in this strategy since it was previously featured in Construction & Civil Engineering magazine in July 2014, as Managing Director of Betafence UK Christopher Morris comments: "Betafence UK has been through a difficult period over the last two years. The recession has impacted our traditional markets and inevitably the company has had to respond with changes to our operation and production facilities here in Sheffield. We have expanded our capability with the addition of an in-house powder coating line and implemented further new equipment to support additional capability in wire production and agricultural products. Significant gains in productivity and OTIF performance have subsequently been seen over the last 18 months, which has positively impacted on our service levels to customers."
Elaborating further on the company's enhanced manufacturing capabilities, Christopher continues: "Betafence UK has seen significant development in recent years, thus making us capable of responding to customer needs across the market sectors we serve. For example, the ability to convert steel rod raw material to finished high security fencing or agricultural wire/stock fence products in a short lead-time – with all processes carried out on site – gives us a competitive advantage as this capability allows us to react faster than our competitors when it comes to meeting the needs of clients. Furthermore, we have an inhouse product development capability that is backed up by significant group resources across several countries. We are able to respond to customer challenges and innovate to solve problems; this process will see several new product launches this year!"
This commitment to continuous improvements has ensured Betafence UK has remained competitive in a challenging market and resulted in the firm winning confidential high security contracts, as Christopher notes: "Although current market conditions are quite difficult due to pressures on price that are driven by currency fluctuation and the decline in metal prices globally, we continue to see a generally improving picture; this is a result of our ability to supply a recognised premium quality product that is competitively priced and has the security of the Betafence brand as well as the inherent guarantees of quality and service that go with this. We currently have several large security projects for export to the Middle East and African continent, which involve protecting and securing high value critical assets."
Indeed, as part of a larger global group, Betafence UK benefits from the support of its parent company when it comes to areas of the business such as product development and project management. This competitive advantage, merged with innovation, an ever-growing product portfolio and long-term expertise in a wide range of industries means Betafence UK has earned the trust of a wide range of clients, from oil and gas sites, windmill parks, military areas, medical facilities and correctional services to airports, race circuits and banks. However, Betafence UK is aware that these strengths also require a close working relationship with clients to establish trust and ensure the most suitable solution to a specific situation is found.
Looking ahead, this commitment to customers is set to continue as Betafence UK seeks out new opportunities while also strengthening its presence within the markets it currently operates in. "We are able to offer high quality and innovative products, which is backed up by class leading levels of customer service," says Christopher. "It is our intention to continue to build true partnership relationships with our customers over the next 12 months, with the aim of building our market share across the sectors we support. Over this time frame, we will also launch new products that will open up markets that have not previously been supported by Betafence UK.
"On top of this, we are developing several new products, which we will bring to market at an appropriate time over the coming months. First of these will be a new residential range that will be launched in May 2016. Here too, we will seek to provide the same levels of quality service and value, which will enable similar growth of our market share and recognition of our brand. Strategically we are driving for growth and intend to achieve this via ever closer partner relationships, exceptional customer service and ongoing product innovation that is derived from listening to the needs of our customers," he concludes.
Betafence
Services: Total supplier of perimeter security