Beton- und Monierbau is a dedicated construction firm, specialising in all kinds of underground structures
Tunnel vision
Beton- und Monierbau is a dedicated construction firm, specialising in all kinds of underground structures
Founded in 1964, Betonund Monierbau is an Austrian-based underground specialist that is held in high regard by its colleagues, as well as other leading industry players, for its quality workmanship. It has worked on many high profile tunnelling projects around Europe, most notably in England, Germany, Sweden and, of course, Austria, its homeland.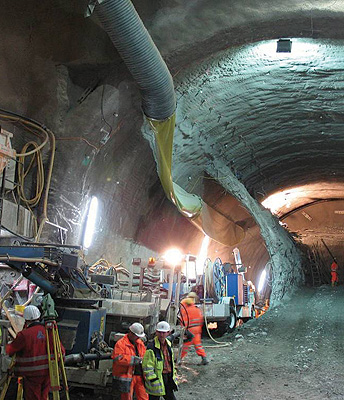 An ambitious company, Beton- und Monierbau continually seeks ways of improving and developing its integrated management system, which helps place its services amongst the best on the market. As part of this, Beton- und Monierbau recently implemented a series of structural changes intended to smooth the flow of information and bring the company into the 21st century. This has seen the company appoint two managing directors – Josef Arnold and Helmut Westermayr – whom are excited about the challenges and opportunities that lay ahead.
Talking further about the organisation he has been associated with for 28 years, Josef Arnold comments: "We are a specialist enterprise for the engineering construction of all kinds of underground structures and for the implementation of refurbishment and securing works. In the field of the construction of these structures, our know-how makes us one of the leading suppliers."
Tasked with the challenge of taking the company forward, he continues: "From an operative point of view, nothing has changed within our company. The changes we have implemented are for administrative reasons. It forms part of our plan to build on the success we have enjoyed in the past and remain a leader in our field. To do this we must be able to offer and implement our services in accordance with state-of-the-art knowledge."
Optimism is high across the construction market, and some positive signs coming from Beton-und Monierbau's key markets offer Josef reason for increased confidence. He believes the opportunities open to the company are vast and he is keen to maximise the company's potential for profit: "The market is good and the future looks bright. There is a great demand for our services in our key markets of Germany, Austria, England and Sweden and we are excited by what will happen."
The market in England is particularly buoyant – there are a number of infrastructure projects already underway and many more ambitious projects are planned for the coming years. The London 2012 Olympic games, as well as the London Cross-Rail project, have added to this and Josef aims to build on his company's already strong relationships with English partners to guarantee its share of the work.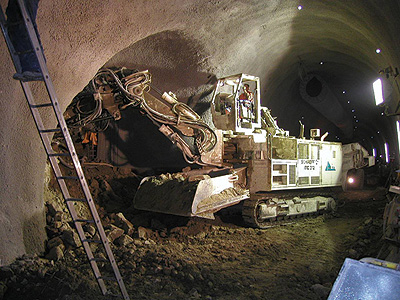 "We are no strangers to the UK and have worked on many high profile tunnelling projects in England. The announcement that the 2012 Olympics games will be held in London means that there is a lot going on and we are looking to tap into that."
Beton- und Monierbau is currently involved in the multi-million pound Kings Cross Tunnels project, working alongside partner Morgan Est on the scheme that involves the construction of complex tunnels up to 9m internal diameter under Grade I and II listed buildings. Providing passenger links between the new Northern Ticket Hall and the deep Piccadilly, Northern and Victoria lines, the project for London Underground is due for completion in 2008.
"We are working on this extremely technical project with our partner Morgan Est," explains Josef. "We are delighted to be involved; our skill in this area is unrivalled and this project highlights our broad industry knowledge."
Beton- und Monierbau has a number of unique selling points, not least its industry experience, flexibility and know-how. In addition, the company also has an in-house design capability – a unique attribute for an underground construction specialist. Josef says: "We have our own inhouse design, which is unusual in this sector as normally construction companies do not have this capability. Our expertise and experience, as well as this ability to design and construct underground is highly sought after and world renowned."
With thoughts to the future, he adds: "We see major potential in Sweden and this will be a big market for us in the coming years. The Cross- Rail project in London is also interesting from our perspective as there will be a need for refurbishment as well as new-build. We have strong partners in all of our markets and, in the future, we will seek to strengthen our relationships so we can move forward, together.
"At the moment we are looking to fix our share in our existing markets, consolidating our position and building on the opportunities in England, Sweden and our other
markets. We continually look to improve and invest considerable sums in the development of our staff, design capabilities and services."
In conclusion, he comments: "We are looking to expand our design and consulting elements and aim to gain more experience in this area on projects around the globe. This is a thought-provoking development, as we believe there is a real opportunity for us to act as advisers for local contractors around the world. At present this does not contribute hugely to our turnover, but it is a growing market and one that interests us greatly. Our engineers are willing and flexible, and are able to travel the globe, so we are excited by what the future will herald."