Birchwood Price Tools is leading the way when it comes to innovative solutions and powerful brands for the world's tradesmen
A leading light
Birchwood Price Tools is leading the way when it comes to innovative solutions and powerful brands for the world's tradesmen
First established in 1974 and becoming a flagship trade brand branch of Travis Perkins plc in 2011, Birchwood Price Tools (BPT) is a pioneer in the design and development of innovative and high quality brands for tradespeople. Under its umbrella sit eight exclusive brands including, Scruffs, for safety workwear and footwear; Defender, a site power and lighting brand; Van Vault, for secure storage solutions; Bullet, a professional fixings brand and Punk, a range of power tool accessories. The company also acts as a distribution partner for well-known brands such as Bosch, Makita and Stanley.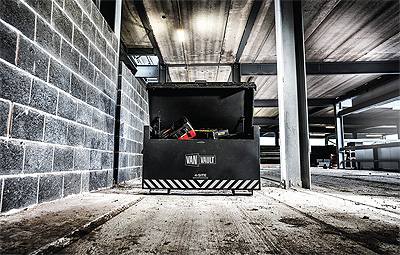 "We design, develop, market and sell brands that are 'built to inspire'," begins COO of BPT, Fiona Hornsby. "A focus on quality and innovation is at the heart of everything we do and our product development process is focused on adhering to ever changing health and safety regulations. We are passionate about delivering long-term sales and profit growth for UK and international customers by providing outstanding performance and value."
Based in Nottingham and served by around 150 dedicated employees, BPT currently distributes throughout 27 countries worldwide. Strong branding and striking marketing campaigns support the development of innovative products, and it this very market led and unique approach that has awarded the company with the ability to compete in a challenging global market.
Serving through both the retail and hire sectors with leading merchants, hire companies and wholesalers, as well as over 8000 national and independent electrical, plumbers and builders merchants with a growing international base, as well, BPT's performance in the market is unrivalled. Fiona highlights that in 2015, despite challenging marketing conditions, the business was able to outperform many of the more established brands in the market. "We have ambitious growth plans and are confident that we can continue to outperform the market over the coming years as well," she adds.
Also setting it apart in the market as a supplier is its portfolio of owned and exclusive trade brands. To do so, it has in-house expertise in product design,development, engineering and manufacturing across all its brands "We have a set of strong values which drive everything we do," Fiona continues. "We challenge ourselves to stand out by developing innovative, award-winning products, creating powerful brands and delivering impactful communication both on and offline. As such, our design and marketing are both recognised as being the best in the industry."
Demonstrating the strength of BPT's position in the industry particularly well is its long established Defender brand, which has been developing and delivering cutting-edge power distribution and lighting solutions to the industry for over 20 years and is now represented in over 20 markets around the world. "Whether it is illuminating a site to support maintenance and engineering works underground or a railway track, it all comes down to performance and safety for Defender," outlines Fiona.
"We continue to work hard to create exceptional products that users can trust to deliver the light and power needed to get a range of jobs done. A prime example of the brand's success is the award winning Defender Uplight product range, which has revolutionised lighting, delivering shadow-free illumination perfect for plastering and decorating. The Uplight is celebrating its 15th anniversary in 2016, demonstrating its success and continued demand in the market."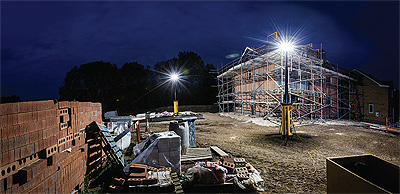 Defender is also a pioneer in LED site lighting, having been the first into the UK market in 2009 and BPT continues to develop sustainable solutions that challenge the norm and meet more user requirements. For instance, the LED Light Cannon Rechargeable Floodlight is a lightweight, portable solution that is essential kit for use when access to power is limited. In 2016, the company has also launched the LED Luminator Floodlight Tower, a portable solution delivering 30,000 lumens of super bright light. The product is wind resistant up to 65mph and made from solid materials designed to be safe and durable on site. "Key benefits of the tower include its four-metre extendable mast and its ability to alternate light spread from 360 degrees to 180 degrees, helping to save energy and manage light pollution," Fiona notes.
Another well-known brand within the BPT portfolio is Van Vault, the UK's first purpose-built range of mobile site security containers when it was launched in 1997. Van Vault has maintained this leading position in the market as a frontline defence system to defeat the rising tide of tool theft and protect livelihoods. "Indicating the level of brand success Van Vault has achieved, it has over 80 per cent brand awareness amongst tradesmen," points out Fiona. "The range includes security solutions for both commercial vehicles and onsite uses. The original Van Vault-2 is a high security steel storage box for commercial vehicles and continues to remain a best-selling line. Equally, the onsite range features purpose built solutions suitable for storing flammable liquids and hazardous chemicals, offering safety and security on a worksite."
Brand development and product innovation continue to be the driving forces behind BPT's success. Moving forward the company has an ongoing pipeline of products and patented technologies that will be brought to market over the coming years in line with the ever-changing demands and regulations within the marketplace. "Making sure we are agile and able to respond quickly to these evolving needs is a big challenge, as is protecting our intellectual property from competitors," says Fiona. "However, we also see some major opportunities, particularly in our digital presence and how we can serve, support and communicate with our customers through these new channels. We also see some big opportunities to strengthen the presence of our key brands in international markets."
The plan for the next 12 months very much falls in line with these challenges and opportunities. Continuing to invest in innovation and developing a product pipeline for the next five years, building its digital capability, continuing to internationalise and maintaining investment into its people and process to ensure it can continue to deliver the best quality and service to its customers, will all be central to 2016. Following a year in which BPT gained ISO 9000 and Investors in People accreditation, further reinforcing its drive to ensure it has the best approach to quality management and the best people in place to serve its customers, the future for BPT looks bright. "We have ambitious plans over the next five years," Fiona concludes. "Our vision is to continue being an innovator and supplier of exciting brands, to grow internationally and to double our turnover."
Birchwood Price Tools
Services: Leading designer, manufacturer and wholesaler of products and equipment for use by tradespeople