With Bowater Doors now part of Birtley Group, there will be a renewed focus for the group on becoming a nationally acclaimed leader across the range of sectors it operates in
Opening new doors
With Bowater Doors now part of Birtley Group, there will be a renewed focus for the group on becoming a nationally acclaimed leader across the range of sectors it operates in
A wholly owned subsidiary of Hill & Smith Plc, the Birtley Group was launched in 2014 when two of the UK construction industry's most trusted names, Birtley and Expamet, joined forces. Established in 1956, the County Durham based Birtley Building Products was originally a steel fabricator but went on to become a UK-wide force in construction design technology and product development. Within its portfolio are supergalv lintels, residential doors, and galvanised and metal finishing services.
Expamet Building Products, meanwhile, was formed in 1889 as the British Metal Expansion Company in Hartlepool; later changing its name to Expamet it is today the leader for Builders Metalwork and plasterer's accessories. Expamet previously had the sole European rights for the manufacture of expanded metal mesh, which is mainly used as reinforcement and lath in the rapidly expanding concrete construction sector. However, since growing the company has gained a more diverse portfolio that is comprised of builders' metalwork, expanded metal mesh and lath, plasterers' accessories, BAT masonry support and Hy-Rib permanent formwork.
With this new group structure in place, Birtley Group was able to bring widespread efficiencies that significantly enhanced customer service and market-leading value. Enjoying continuous growth since 2011, the company spent the last two years delivering record performances across each of its product areas. To remain competitive through the strengthening of its capabilities, the group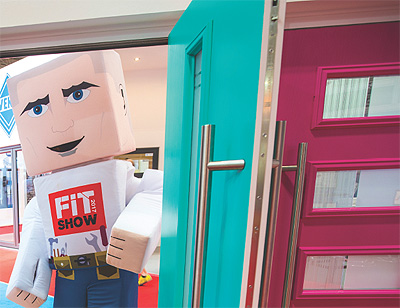 made the strategic decision to acquire Bowater Doors from Veka Group in 2015. A nationally known name that is synonymous with top quality and innovative composite residential door design and manufacture, Bowater Doors' ranges are provided directly to the consumer as well as social housing organisations.
During December 2015, all of Bowater Doors' production facilities were relocated to the North East during the Christmas period to make sure the manufacture and delivery of Bowater products could restart in January 2016. While offering huge opportunities, the acquisition of Bowater Doors proved challenging throughout 2016 as Birtley Group sought to add new, specific door skills and experience to its team. Today, with the resources and attention to detail that Birtley Group continues to provide, Bowater Doors is now home to a complete spectrum of residential doors, from budget friendly to high-end.
During this period, Birtley Group maintained continuity for existing Bowater customers by retaining the brand's commercial function, such as customer service and technical support, in the Midlands, where the company is historically based. With the dust now settled, the group's strategy has been focused on merging the Birtley Doors and Bowater Doors brands into one single brand within Birtley Group's portfolio. As part of this strategy, Birtley Group has continued to serve its loyal trade base, while Bowater has exercised its strengths in the national direct-to- consumer and social housing sectors.
Great people
As a larger group, Birtley Group's ethos has remained centred around quality and putting each customer's needs first via innovative products, trusted technical advice and on-time product delivery. Talking with Construction & Civil Engineering magazine in February 2017, Graeme Miller, Managing Director of Birtley Group, discussed the importance of having the right employees in place to ensure customer satisfaction: "Business is about people, nothing more and nothing less, and at Birtley we are so fortunate to have great people around us. We have very loyal and supportive customers, we enjoy special support from our long standing PLC owners and, most importantly, we have a really strong team of people at Birtley that go the extra mile each and every day. Our success is their success and with their continued support the future for Birtley Group is very bright."
Indeed, since February 2017, the group has enjoyed consistent, steady growth in line with financial expectations despite market fluctuations and the uncertainty surrounding Brexit. "It's been a very busy time for us," Graeme confirms. "We successfully launched our new Bowater Doors brand at the 2017 FIT Show and the relaunch of our Supatherm lintels product has surpassed all expectations, experiencing significant growth this year. This is mainly due to more developers looking for new ways to meet Part L compliance without impacting negatively on budgets coupled with our dedicated efforts to raise awareness on the merits of this unique product in the construction sector."
Range of choice
Products launched at the FIT Show at the NEC included composite, fire, steel and flood defence doors, with the company's composite door range alone offering more choice than most competitors thanks to both 44mm and 68mm doors being available. There is also a wide range of colours available thanks to the diverse range of colours available at Birtley Group's in house paint line; the efforts made in developing this range ensure superior aesthetics, energy performance and security for customers.
Thinking about the group's success throughout 2017, Graeme comments: "In terms of this year so far, the first quarter was as expected, although the market did seem to slow during the second quarter, which, although unusual for the time of year, can be fairly attributed to challenges in the market such as skills shortages, rising material costs and Brexit. In response to these issues, we have worked hard to develop products that help the sector to meet building regulations at the right price, without compromising on quality.
"Despite these uncertainties, there continues to be much to be excited about for us here at Birtley Group. Enquiry levels across our brands continue at record levels and we have strengthened our senior management team with the appointment of our new Group Sales Director, James Matthews, and Kevin Taylor, formerly of Warmseal, who joins us to oversee operations in our Bowater Doors division."
With three strong, established and recognised brands, Birtley Group has recently launched its brand-new website, with each website for each brand redeveloped to include functionality that is helpful to the construction sector. "This stems from our new PSI value calculator and BIM object library right through to an improved stockist locator and downloadable data sheets," comments Graeme. Expamet's site, for example, boasts the company's greatest ever product line-up, including builder's metalwork, plasterers' accessories, expanded metal mesh and lath, Expamet BAT windposts and masonry support.
Alongside these developments, the company has made a conscious effort to increase its communications with architects and builders' merchants throughout 2017, which has proven to be a success following improvements to its point of sale and literature. With strong relationships with its existing customer base and stockists alike, Birtley Group anticipates more of the same over the coming 12 months as it seeks to create real partnerships across the sector. "Whether it is architects, builders' merchants, national and local developers or tradesmen, we want to deliver products that make their jobs easier," says Graeme.
"Our long-term vision is to further develop on our customer centricity. We strongly believe that manufacturers have a responsibility to the construction sector in providing meaningful solutions to the challenges they face, and we intend to deliver this on remit," he concludes.
Birtley Group
Services: Provides quality branded products to the construction industry