Launched in October 2014, the Birtley Group has brought together two of the UK construction industry's most trusted names: Birtley and Expamet
Fusing the elements
Launched in October 2014, the Birtley Group has brought together two of the UK construction industry's most trusted names: Birtley and Expamet
The new Group structure brings widespread business efficiencies that enhance the delivery of even higher levels of customer service and market-leading value for money. In short, the Group aims to promote its strength through quality.
Birtley Group is a wholly owned subsidiary of Hill & Smith plc, which, with revenues of more than £400 million and a workforce of 3600 people provides an exceptionally solid foundation for future growth. From inspired new product thinking and trusted technical advice to right-on-time product delivery, the company is driven to put customers' needs first, together creating growth across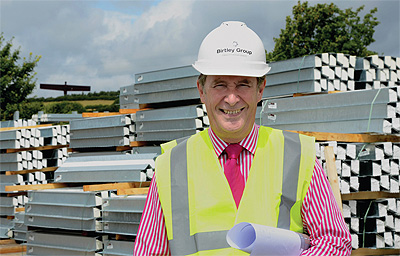 the industry, a sign of the Birtley Group commitment.
Birtley Building Products was established in 1956, based at the current site in County Durham. Originally a steel fabricator for the area's mining and power generation industries, the company made its first steel lintels in 1967. Bought by Hill & Smith in 1981, Birtley has grown from reliable local supplier to a UK-wide force in construction design technology and product development. Its recently acquired sister company, Expamet Building Products, was first established in 1889 as the British Metal Expansion Company in Hartlepool. It had sole European rights for the manufacture of expanded metal mesh, mainly for use as reinforcement and lath in the rapidly expanding sector of concrete construction. Later changing its name to Expamet, it is today the market leader for plasterer's accessories and is one of the key brands within the Group.
In an interview published on the company's website, Graeme Miller, group managing director, discusses the strategy behind the establishment of the group and what it means for the future of the company and its brands: "It was a natural first step of our strategy to deliver ambitious growth plans. Birtley Group allows us to formalise the ongoing relationship between our existing businesses Birtley Supergalv brand Lintels, Birtley Residential Doors, Birtley Galvanizing and our most recent acquisition Expamet. All our group product ranges will now go forward together under the iconic Birtley and Expamet brand banners.
"The obvious benefit that customers will see very quickly is the way we will now be able to market our combined Group products more effectively than ever before, giving customers across the UK even higher levels of sales and technical support. Group status will also allow us to expand both organically and indeed via acquisition as opportunities present themselves."
The reaction from its big and influential customer base has been very positive, recognising the fundamental basis of a growth strategy based on strength through quality. "If anything, our new status has further cemented our customer relationships – they're eager to see fresh thinking in the marketplace with innovative product solutions alongside our long established ones. They know
that Birtley Group has the will, the vision and above all the resources to deliver that next generation of products," points out Graeme. Long established product ranges have been highly successful, and therefore the only changes to the portfolio will be through an expanded offering, investing in new product development and new production facilities. The aim for Birtley Group in this sense is to provide the market with a lot more of a good thing.
Operating as a single Group, it will maintain operation on two separate production sites, as Graeme explains: "Both of our sites are centres of excellence in their particular product areas. The fantastic skills and experience of all our people remains right at the heart of our growth strategy." Advancing with this level of determination, the group has begun looking at growing and developing its team, bringing in new members, ready to take the business forward. "Our message is simple – it's business as usual, only more so. Our growth plans are ambitious and, of course, our success becomes our suppliers' success. When it comes to new product development we'll be collaborating closely with supplier companies to bring world-class technologies to market. On a practical note, our day- to-day relationships and terms of business won't change, so our suppliers can look forward to complete continuity," he adds.
The growth strategy underpinning Birtley Group is based on shaking up the marketplace with more innovation, more added value and higher-than-ever levels of customer support – both in sales and technical. All these things take more than know-how and commitment to deliver in the real world – they also need a strong foundation to ensure consistency. The Hill & Smith board believes firmly in everything Birtley Group stands for, and that backing ensures that the group has the all-important stability and critical mass to drive truly ambitious growth plans. Commenting on the years ahead, Graeme concludes: "We have such great people and great products across the Birtley Group it's impossible not to feel a real buzz for the future. The excitement right now is palpable. Personally, I'm looking forward to remembering October 2014 as the pivotal point when a new, game-changing chapter began for our business – with everyone involved inside and outside Birtley Group enjoying more success than ever before."
Birtley Group
Services: Manufacturer of Supergalv lintels, residential GRP Doors, BAT structural fixings, joist hangers, restraint straps, complete range of plasterer's accessories and galvanizing service