Blue Phoenix Group drives incinerator bottom ash (IBA) away from landfill by processing it to create a sustainable source of aggregate for the construction industry
Building from the ashes
Blue Phoenix Group drives incinerator bottom ash (IBA) away from landfill by processing it to create a sustainable source of aggregate for the construction industry
Owing to over 20 years of experience in processing incinerator bottom ash (IBA), Blue Phoenix UK (formerly known as Ballast Phoenix) which is part of the Blue Phoenix Group has gained a huge amount of confidence that its knowledgeable approach for aggregate re-use is sensible and pragmatic – one that not only ensures its long-term future, but also prevents material from being placed
needlessly into landfill. Founded in 1998, the company's leading aim was to produce aggregate material that could not just replace virgin natural material, but also offer complementary benefits in many civil engineering applications.
"The business grew steadily until the change in regulation in the mid-2000s, which restricted the use of landfills by incorporating landfill taxes for waste. In turn, this opened the opportunity for energy-from-waste (EfW) to become more commercially viable. EfW is a key element of Government's strategy for dealing with municipal solid waste in an environmentally-friendly manner. The major residue from the treatment is IBA and our process and industry provide an effective and efficient creation of a very useful resource that would otherwise be landfilled," Paul Knight, Managing Director of Blue Phoenix UK and CEO of Blue Phoenix Group, discusses. "In addition to this, EfW plants tend to be near or inside large conurbations, which means that our aggregates are close to the market, and that contributes to the reduction of traffic congestion, exhaust emissions, and fuel consumption associated with aggregate deliveries.
"We currently process in excess of 1.5m tonnes of IBA per year for the UK market, from 12 facilities that are strategically located across the country," Paul continues. "Our business has quadrupled in revenue since 2012 and, as a result, we recently ranked as the second fastest growing company on Grant Thornton's top 200 most profitable companies in the East Midlands."
Beneficial properties
The very physical and chemical properties of incinerator bottom ash aggregate (IBAA) add to the environmental benefits of the aggregate, too. Paul explains: "First, its compacted bulk density is about 20 per cent lower than that of most natural aggregates, therefore, each truckload of IBAA delivered covers more ground. Secondly, IBAA has self-setting properties, which means that, once compacted, it continues to gain strength, leading to longer structure life.
"Due to these properties and to the fact that it compacts readily and does not segregate, IBAA is a great material for building pavement foundations as a capping or subbase," he sheds light on some of the product's construction applications. "Furthermore, it also works very well as an aggregate for hydraulically bound mixtures (HBMs) with cement, lime/fly ash or slag binder, and has also been used extensively as an embankment fill material or a backfill to structures. Over the years, IBAA has been used in these applications on many high-profile schemes, including 2012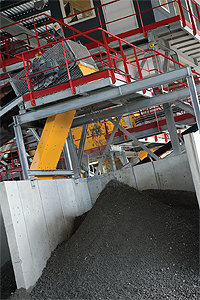 Olympics development sites, M6 Toll Rd, Docklands Railway, M1/M6/A14 intersection, as well as some sections of the M25 widening."
As mentioned at the beginning of the article, Blue Phoenix UK takes immense pride in its knowledge and technical expertise. The company's long years of experience have made it possible for it to develop a process, which ensures that, once processed, the aggregate meets customer requirements and aggregate specifications. Having recently completed the construction of its latest facility in West Yorkshire, Blue Phoenix UK has further developed its capabilities.
Expanding presence
Paul comments: "The bottom ash processing facility in Ferrybridge will be our largest UK operational site and we have incorporated ballistic separation technology to extend our ability to extract lighter metals from the process. What is more, the plant also includes more rigid material size fractioning equipment, which will enhance our ability to produce a consistent grading of product whilst processing at relatively high speeds."
To Paul's great content, everyone at Blue Phoenix is demonstrating endless passion about ensuring that they, as a team, can provide a sustainable future, through the application of the business' established approach. Emboldened by its successful exploits in the UK, the group is continuing to expand its presence into other countries, too. In pursuit of this goal, it continues to invest in and develop its technology.
Wider scope
"For instance, not only do we provide dry IBA technology for processing, but we also supply IBA washing technology, advanced dry recovery, and ballistic separation to the global market, which changes on a country-by-country basis," Paul points out. "With our investment, we have been trying to widen our scope to our clients, as well as to provide innovative solutions, which will be released into the market in the next couple of years. An excellent example of this is the opening of our first IBA washing facility in Nauerna, in the Netherlands, which will process 600 KT of IBA.
"We are hopeful that, in the long run, we will be able to provide more and more sustainable solutions to the Energy from Waste markets and the construction industry of more countries, as we know that what we offer, is a proven service," he adds. "Needless to say, alongside our desire to provide a first-class and professional service to all of our clients, the top priority for us will remain our culture of working safely and respecting our people. We are very proud of the professionals who are part of our team and their expertise in disciplines as varied as civil engineering, M&E, technical management, hydrogeology, and geology, is absolutely pivotal to our success. The same is valid for our processing and backroom staff, which we regard as the backbone of our service. If it was not for all these people, we would not be where we are," Paul wraps up.
Blue Phoenix Group
Services: Incinerator bottom ash (IBA) processing