In a market that has seen the rise and demise of many businesses throughout the years, BMSE has been born from a recycled strength and expertise, providing comprehensive precast construction solutions to businesses on a global scale
From start to finish
In a market that has seen the rise and demise of many businesses throughout the years, BMSE has been born from a recycled strength and expertise, providing comprehensive precast construction solutions to businesses on a global scale
Betonimestarit Oy was established in 1988, trading as a pre-cast manufacturer with just ten employees. During the first decade of its operation the company invested in new factories, machines and devices, and through the employment of professional and qualified personnel, utilised its advantages to grow into one of the biggest in Scandinavia.
This business, which continues to trade in the region, delivers pre-cast elements and finished construction solutions to clients throughout the local markets of Finland, Sweden and Norway. In 2009
Betonimestarit Oy established BMSE, producing and delivering comprehensive precast construction solutions. As a service concept, the company has been responsible for the establishment of pre-cast factories and the training of personnel far beyond the market in which its roots are still planted.
"BM Group has established in total 11 precast factories and at the moment it owns four of those totally and partly a fifth one, from the factory placed in the West of India. As a result the organisation has been able to develop an in depth knowhow of the processes, methods and techniques," says Juha Soilu, director, continuing: "We don't just develop and deliver solutions or machinery, but since 2009 we have been using that knowledge to generate a profitable business for third parties. Our full-service solutions include profitability analysis for production and factories, planning, production planning, organising equipment procurements and logistics as well as precast installation at construction sites."
The popularity of precast construction within Finland has been high for a number of decades, and as a result, it is not only businesses but also society as a whole that has developed a thorough understanding of the construction method. By placing high value on education and training the region has ensured such a skill set remains in trend, and this backbone has proven to be behind BMSE's success. "We begin by analysing the clients needs and addressing the specific elements so that we may draw up a production plan, ensuring that the correct degree of precast machinery is included in order to generate the most profitability for the client. Every factory has a different purpose and a market to which they are supplying, so ultimately the process is always different.
"We design factories with consideration for engineering, architecture, and production machinery, calling upon our years of experience. Once infrastructure and production systems have been installed, we are able to provide factory management, enabling the business to get the best start," says Juha. As the construction market picks up pace on a global level, BMSE has made this service available to both new and existing factories that seek to enhance profitability as well as introducing new product lines. It is the experience of manufacturing large quantities of precast products in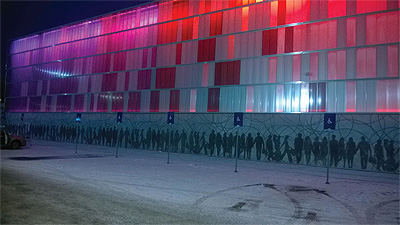 Scandinavia that has given the business the capacity to teach it to people in emerging markets. "In respect to ongoing business support, we have developed programmes dedicated to business management training and running a complex factory, as well as focusing on operatives and production staff," he adds. The business is also a key provider of safety training in precast production, valuable to the industry.
A successful contract close to Mumbai, India has led to involvement in contracts in Africa and the Middle East. "The speed of development within these countries is fast moving, and there is a need to be able to provide comprehensive solutions and services. The focus is to be able to equip business and employees with the skills to grow successful precast businesses," points out Juha. The varied scope of services provided by the business has resulted in it working with a number constructors, developers, and factory owners. "From solutions for large residential areas to developing systems that will speed up smaller scale projects, for years we have been heavily involved in the production and delivery of all concrete build elements. It is easy to assume there is little variation, but solutions depend greatly on factors such as the building type and length of span, it depends on the type of machinery, the design of products, as well as the design of the projects," he continues.
As the fourth biggest company of its type in Finland, outsized only by two major inter-global players and one other Finnish business, innovation has of course played a very important role, as Juha explains: "We have been responsible for some key innovations, particularly with pre-stressed columns and slabs. Development of our methods/ molds has resulted in quicker production time, and with greater productivity." Targeting the next few years, Juha explains his immediate focus is the successful completion of the two large, and concurrently running projects in the Middle East and Africa, concluding: "Improvement in turnover is something we are working towards, and specifically I am aiming to take the BMSE division and the global interests of the business to be greater than what we are currently achieving in Scandinavia."
BMSE
Services: Pre-cast manufacturer and total business service provider