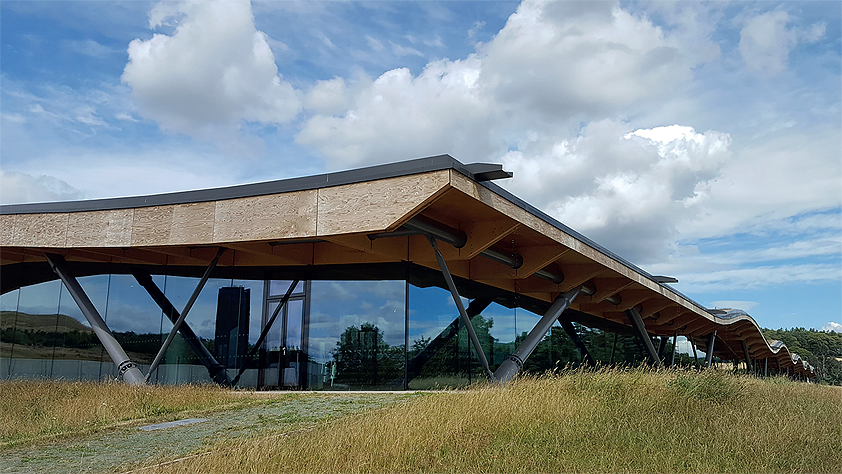 Smart solutions
BMSI is an industry leader in the BeMS sector and has been operating at the forefront of technological innovation within its field for over 20 years. An accredited, independent provider, it offers consistent and cost effective services, 24 hours a day, 365 days a year, for some of the largest BeMS installations in the country
Dedicated to making buildings smarter and helping businesses reduce their energy costs, solutions from BMSI help its clients to improve control over their buildings and achieve their environmental goals. Having grown to be recognised as one of the leading players in the BeMS arena, today BMSI can recite numerous prestigious buildings in the private sector that are benefitting from its services, as John Axten, Managing Director reported. "We were involved with the 'Scalpel' in Central London (a circa £3m total services package for us) and the new Macallan Distillery in central Scotland. We continue to work at Heathrow Airport, and recently completed an installation at 80 Fenchurch Street, which was a successful project for all concerned."
A Building Energy Management System (BeMS) ensures that a building operates at maximum levels of energy efficiency and comfort. Monitoring and controlling services such as heating, ventilation and air-conditioning, the system finds the optimal level of effectiveness by constantly sustaining the correct balance between operating requirements, external and internal environmental conditions, and energy usage.
In November 2020 BMSI announced it will be providing the BeMS installation at University College of London's innovative new building-complex on the prestigious East Bank Development. "This
is a recent award of a substantial new build contract," noted John. "UCL East will be part of the £1.1bn East Bank development, a collection of cultural and education institutions, including the London College of Fashion, BBC Music, Sadler's Wells and the Victoria & Albert Museum's collaboration with the Smithsonian Institution.
"This ambitious project will build on the fantastic legacy of Queen Elizabeth Olympic Park, creating a high specification, collaborative and state-of-the-art research, innovation and teaching facility in Stratford. BMSI have been appointed by Dornan Engineering to provide the required BeMS system."
BMSI's Major Projects Division will deliver the installation, located at Marshgate, Stratford. This impressive new building comprises a total of nine stories, including an academic block split over two floors, a roof-top environment, and a basement.
"We also provide services for schools, prisons, hospitals, police, fire and rescue services, and MoD installations in the public sector," added John. Overall, BMSI provides project installations, support services and integrated energy management solutions to many of the UK's leading businesses. "This ranges from proposing suitable solutions for both the retro-fit and new build market, to a complete project managed and installation capability, followed up by a first-class after-sales support service and on-going Remote Hosted services. Our focus is on our clients' requirements, be that installation of an initial SMART solution all the way through to a managed service with a focus on energy efficiency," John said.
"We hold formal partnership agreements with all the major manufacturers of BeMS equipment and systems enabling us to select the right product to suit the client's requirements, and we have off-site testing facilities to allow us to prove the operation of software and user interfaces before solutions are installed on site."
Having accrued years of working with partners with well-known names such as Trend, Schneider, Honeywell, Siemens and Cylon, BMSI has established a team that is well versed in the workings of the vast number of legacy BeMS systems that are installed across the UK. "We have a reputation for delivering on our promises with established safe, efficient, modern ways of working," added John, when asked to describe what sets the company apart from its competition. "We take pride in the skills and experience held within our workforce and work closely with our partners to ensure all of our engineers are informed and trained on the latest products."
Data visibility
BMSI has a national coverage across the UK via a network of local offices, which allows the business to provide a multi-site solution to customers. A further service that seems particularly pertinent given the current Covid-19 situation is BMSI's first-class remote hosted services capability, branded as Medi-Centre. The range of Medi-Centre services is focused on providing a full life cycle service for customers and creating a holistic view of the efficiency of a customer's estate. The core services are centred around the acquisition, analysis and presentation of data from a variety of sources, which is achieved by utilising BMSI's software platform, MEDIC, a software solution developed in partnership with Bosch.
"BMSI have been providing SMART building solutions for many years, allowing buildings to take automated actions to provide the required environmental conditions for its occupants – all achieved in a safe and energy efficient way," John explained. "Through our MEDIC solution, we look in detail at how the building is achieving its desired output to ensure best and efficient use of both primary and secondary plant items, as well as monitoring the installed BeMS System to ensure the complete building services systems are operating correctly. Internal Environmental Quality of a building's performance can then be overlaid on the energy performance to allow informed decisions to be made. The beauty of the MEDIC dashboard is that it features a customizable interactive display for viewing metering, energy, weather, wellbeing and BeMS information, all on one place. This means our customers have 360 visibility and real-time analysis of their data like never before, helping businesses to lower their operational costs and be mindful of creating a sustainable business model for the future."
SMART solutions
John noted that increasing numbers of customers are looking for SMART solutions such as these, to support their building operations in this modern and challenging world. "This includes providing more digital remote services for a wide range of buildings, and supporting the most efficient method of delivering actual on-site services. At 52 Lime Street, London (the Scalpel) we provide an off-site, remote maintenance service that allows on site engineers to focus their time on areas that need attention," he commented. "We pride ourselves on the best and proper use of SMART solutions. In today's connected world, it can be too easy for data to become noise. We work with our clients to ensure data – whether that is energy consumption, building performance and/or system monitoring – is securely collected and easily accessible to those it has value for. We are able to offer advice as well as carry out proactive interventions based on real time issues through the use of our Medi-Centre services. Our investment in our Remote Hosted Services is allowing our customers to continue to operate their buildings efficiently."
These new solutions are also opening up new prospects for BMSI. "Our understanding of truly SMART value-added solutions is leading us back into mainland Europe as well as creating opportunities in existing markets as customers continue to look for us to support them in ensuring their buildings are fit-for-purpose," he said. "Healthy buildings are just as important as efficient and SMART buildings – our proven expertise will help more customers achieve all of these aims."
Remote monitoring has proved especially valuable during the 2020 pandemic, with the various restrictions placed on occupancy within buildings over recent times. John pointed out that BMSI needed to make some adaptations to its own ways of working where necessary to ensure it could safely and efficiently deliver its services across the UK. "We worked closely with our customers and our supply chain partners on this," he added.
Naturally, making sure that its own staff were safe was a number one priority – BMSI sees its people as the 'BMSI Community' and the business recognizes its staff as its biggest and most valuable asset. "We offer all employees a career that is challenging and rewarding in equal measure. We invest in training and development plans for all employees and energise them to influence the future direction of BMSI," said John. "We are adding resource into business development and into our operational delivery teams to make sure that we are capable of delivering to the demands of new as well as existing customers."
BMSI has come a long way from the early days of providing day-to-day services on installed systems, but its initial focus on developing a dedicated and highly-trained team of HVAC/BeMS Controls Engineers hasn't waned. "We continue to invest equally in people and technology," agreed John. "Going forward, we will continue to be at the forefront of developing and delivering remote digital services to our customers whilst having trained engineers available for all on-site requirements – we are skilled Building Management Solutions Integrators and we will continue to focus on what we are good at. Whilst there are sectors of our business, most notably in the travel related industry, which are still experiencing reduced demand, the rest of our business units have seen a return to pre-Covid demand levels and a return to growth. We plan to continue building on the successes we have achieved over recent years, which have established us as a leading market provider of BeMS solutions."
BMSI
www.bmsi.co.uk
Services: Leading systems integrator of Building Energy Management Systems (BeMS)