Bonar today is an accumulation of decades of experience from a large group of talented individuals. The combination of individual enterprises together promotes a complete and complex service
The fibre provider
Bonar today is an accumulation of decades of experience from a large group of talented individuals. The combination of individual enterprises together promotes a complete and complex service
The complete merger of Colbond and Bonar Technical Fabrics was announced in January 2013, beginning operations as the global company Bonar. Positioned as a subsidiary of Low and Bonar, a multinational group of producers and suppliers of performance technical textiles operating worldwide, Bonar is a leading producer and supplier of nonwovens and synthetic woven fabrics, three-dimensional polymeric mats, fibres and composites to a broad range of end markets including civil engineering, interior, transportation, agriculture, building and industrial applications. The company's production facilities are based in Belgium, the Netherlands, Germany, UK, US, Hungary, and Slovakia.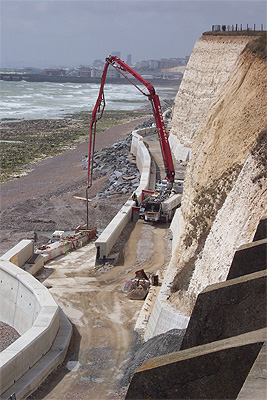 The former company Colbond, in the Netherlands, brings with it innovative product development and manufacturing expertise in extrusion, spinning, fleecing, and moulding of various synthetic materials. Bonar Technical Fabrics, in Belgium, with its history of supplying woven and non-woven fabrics and fibres to a broad range of end markets specialises in civil engineering with geo textiles, agriculture with agro textiles, industrial applications with industrial fabrics, and the construction industry with construction fibres. Adfil Construction Fibres are manufactured in Zele, Belgium, and in the UK with many innovative developments that strengthen an already extensive range.
The combining of the businesses further strengthens its firm stance in the industry, as product manager Martin Willis explains: "The Low and Bonar Group made the decision that the two companies, having seen a great deal of synergy between both, would ultimately work together as a formidable force in the production of performance technical textiles and fibres for the civil engineering, interior, transportation, agriculture, building and industrial markets. We wanted to get closer to our customers and really understand the market in greater depth than ever before. The merger has helped us organise this activity and enabled us to get the right people together to create strategic initiatives for solid growth in the coming years." Continuing with the growth plan, the business recently acquired Texiplast, a Slovakian company.
Texiplast produces an extensive range of woven and knitted geosynthetic products, used for the construction and maintenance of retaining walls, landfills, roads, highways, airports and railways. The company is mainly active in central European and former Soviet markets, but also has an established customer base in South America, Africa and Australia. Located in Ivanka pri Nitre, Slovakia the company employs 77 people, bringing with it a product portfolio that extends the existing Bonar geosynthetics product range with high tenacity products in the reinforcement segment.
Holding a rigid position in the industry, Bonar's strength comes from its flexibility. "We firmly believe that our renewed customer focus, driven by the strategic initiatives from Low and Bonar in London, gives us a real competitive advantage. We have brought together a great team of people and have already made big plans to develop our activities in key strategic areas. For instance in our Construction Fibres business, our ability to offer the full range of fibres is our real strength with many of our competitors offering just one type," say Martin.
A key focus for the business has been in the development of its products within tunnels. Martin comments on the developments in this business: "For fire protection in tunnels we have developed micro polypropylene fibres to prevent explosive spalling of concrete in tunnel fires. The same type of fibre prevents cracking in concrete slabs and adds abrasion and impact resistance long term. For the mining industry our new advanced macro fibre has excellent properties to reinforce shotcrete, with a significantly lower dosage compared to traditional steel fibres. Some companies only have one type of polypropylene fibre, whereas we have the full set and manufacture all the products ourselves. We are building a new line for producing our macro synthetic fibres in Belgium, which is a product we see as strategically very important."
As macro fibre speciality develops in performance capability year on year, Bonar is able to develop new uses, and commonly today its synthetic fibres are replacing steel mesh in concrete reinforcement. One of the biggest markets in Belgium has been the reinforcement of concrete slabs, designed with the elimination of steel mesh resulting in significant savings in the project. "Inventory is lower and there is no steel mesh to place, which means a big reduction in back related injuries as well as an elimination of the common issue of badly placed mesh. Macro fibres are simply added to the concrete mix and no further reinforcement is required," says Martin.
In addition to this important market the business has also witnessed a huge upturn in demand for its fibre for reinforcing shotcreted walls in mines, as Martin points out: "The process is simple, we just add the fibres to the concrete mix and the mine walls are reinforced as the concrete is sprayed. Again much less of our macro fibre is needed compared to steel fibre which reduces the inventory and saves time and traffic on site.
"We have had a tremendous reaction to our new macro fibre and have already secured many prestigious projects worldwide. We have spoken to many of the main contractors in this sector and have received plenty of sample orders in addition to the business we already have. But what we have now is just the tip of the iceberg compared to the ambitious plans we have. The market interest we have seen is in line with our strategic analysis of the mining sector and we know that sign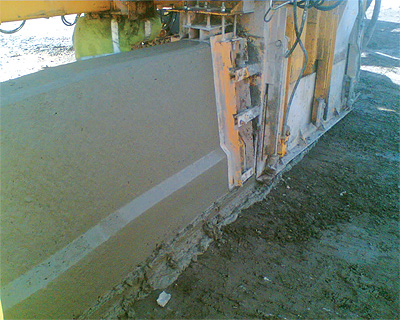 ificant growth is afoot here if we plan our approach properly. It has been the drive behind our investment in our new lines, people and technology."
The micro fibres work through mechanisms, which Bonar refers to in house as 'invisible magic'. The presence of the micro fibres within concrete provide a three dimensional protection that is evenly dispersed throughout the mix. Effectively this helps relieve the increased pressure during a tunnel fire and thereby stopping the concrete from exploding, giving people vital minutes to escape from the tunnel safely and protecting the emergency services. The tried and trusted mechanism is widely recognised throughout the industry and it is accepted that every new tunnel worldwide should have provision for micro fibres incorporated in the design.
Each fibre type has been developed and manufactured to provide optimum performance through dedicated research and development facilities, as Martin explains: "We have a dedicated facility for research and development in Arnhem, in the Netherlands, which constantly tests new ideas and products. Innovation is very important to us. We also have localised initiatives on a smaller scale that reflects the innovative nature of Bonar, supported throughout by Low and Bonar. We encourage all our employees to consult with the local markets and look for new opportunities wherever they go. This is then communicated to our global research, design and innovation teams who analyse the market needs for these products. We are sure that we are working on the most worthwhile projects all the time, and those with the best potential return for our customers."
Bonar is a key player in major projects in tunnels, mines and civil engineering with an excellent reputation worldwide and is active in every continent. The excellent performance characteristics of both its micro and macro fibres have helped in strengthening the reputation. Following the merger in 2013, Bonar has been making continued major investments across all its product range such as geosynthetics, non wovens and construction fibres. Several new lines will be set up in the near future across Bonar in key locations worldwide.
"Looking ahead to the future we see that there will be challenges, but our new structure and customer driven ethos gives us confidence that we can overcome these hurdles. Throughout the rest of 2014 we will be expanding our construction fibres business with the installation of a new line to produce macro synthetic fibres in Belgium, meeting the exponential increase in demand for macro synthetic fibres for the mining and flooring industry.
"Strategically, our ambition is to get closer to our customers and really listen to their needs. There is a drive across the group to be a company that produces new and innovative products, which our customers need, rather than producing new products that are easier for us in our laboratories. True innovation needs to be customer driven," Martin concludes.
Bonar
Services: Producer and supplier of nonwovens, synthetic woven fabrics and construction fibres